News and Events
Phi Alpha Theta History Honors Society and Speaker Series
Vanessa Rocco on "Photofascism: Photography, Film, and Exhibition Culture in 1930s Germany and Italy
Thursday, April 28, 2022 • 5:30 p.m.
Science Hall 181 • SUNY New Paltz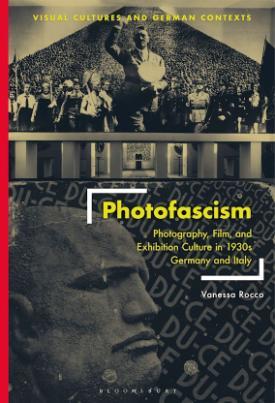 The History department will hold its annual reception honoring our students as part of the Phi Alpha Theta honors society induction and speaker series.
5:30 p.m. Welcome reception and Induction of new Phi Alpha Theta Members by History Faculty
6:00 p.m. Vanessa Rocco on "Photofascism: Photography, Film, and Exhibition Culture in 1930s Germany and Italy"
Abstract: Photography and fascism in interwar Europe developed into a highly toxic and combustible formula. The use of visual imagery in 1930s Germany and Italy is a potent case study for every generation, particularly in our current global political environment.
Photofascism demonstrates how dictatorial regimes have deployed photographic mass media, methodically and in combination with aggressive display techniques,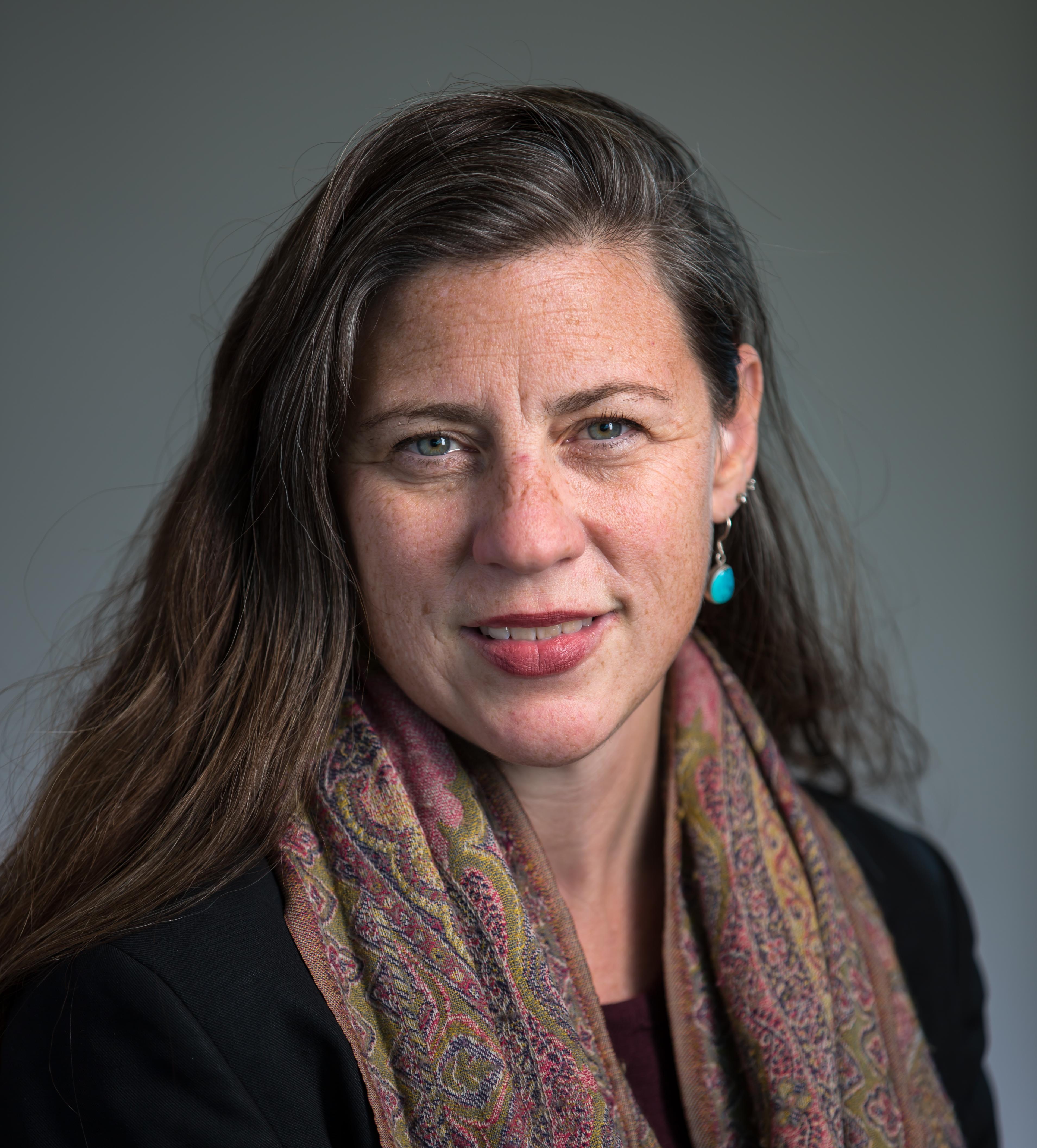 to manufacture consent among their publics, oftentimes with highly destructive — even catastrophic — results.
Vanessa Rocco is Associate Professor of Humanities & Fine Arts at Southern New Hampshire University and former Associate Curator at the International Center of Photography (ICP), New York. She is co-editor of The New Woman International: Representations in Photography and Film from the 1870s to the 1960s (Michigan, 2011).
Don Roper: A Tribute by Gerald Benjamin, Emeritus Founding Director of the Benjamin Center for Regional Engagement & Distinguished Professor of Political Science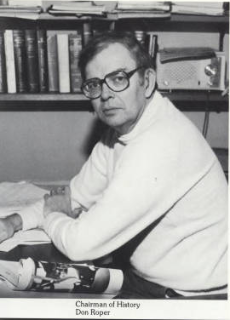 A Midwesterner, Don Roper came to New York to join the Division of History and Political Economy at New Paltz in 1964. (Our school was not yet organized in familiar disciplinary departments.) Professor Roper was among the first of a cohort of early career faculty members recruited to staff our transformation from an institution that primarily prepared elementary and secondary school teachers to a comprehensive college within the SUNY system. Others soon followed, a number of whom were hired partly on the strength of Don's supportive interviews of them.
Because he volunteered for military service, the G.I. Bill® helped pay for Don's graduate education. Additionally, he taught elsewhere before coming to New Paltz. Don therefore arrived here a bit older and more experienced in academia than did almost all the rest of us. Looking back it seems entirely natural, therefore, that he was available and inclined over the ensuing decades to take up an active role in college and community life.
Families grew; Don and Carol had three children, one now a distinguished colleague in the history department The Ropers knit us together. . I remember dinners served around their ping pong table in the dining room of their house on Holland Lane. (None of us at first had much money for fancy furniture). I remember picnics every Fourth of July in their back yard. Care had to be taken to avoid injury to Don's ripening melons growing on vines outside the garden fence.
On campus, Professor Roper served for a time as chair of the history department. In town, the Methodist Church benefited from his committed engagement. Also, Don involved himself in New Paltz politics and governance. Sometimes the distinction between church and state grew fuzzy. When I was running for local public office during the 80's, Don reminded me that it was traditional for candidates to attend the Methodist church's annual Black Diamond dinner. I bought two tickets from him every year thereafter.
Don and I shared an interest in legal history and the constitutional design of government systems. As my involvement in contemporary state constitutional reform grew I turned to Don, and profited from his command of the intricacies and still present influence of New York's original 18th century document. With others Don participated in the creation and delivery of our innovative fifteen credit course on Law the Legal Profession and Social Justice that generated numerous unforgettable moments for students during visits with judges, prosecutors, defense attorneys, legislators, police leaders and interviewees in the field, and encourage many successful careers in the law.
Also, Don and I shared a love of sports. We were teammates on the faculty intramural basketball team in 1969. Don – at 6'8" - played center; I was a 5'11" forward. Suffice it to say, he got more rebounds.
Outside the classroom, he and Carol were the greatest, most loyal fans of New Paltz's varsity teams. They were especially passionate supporters of women's basketball, and rarely missed a home game. There are seats in the gym now dedicated to their memory by the players for whom they cheered.
Don's knowledge of baseball was truly encyclopedic. He drew upon this treasure trove to create a course on the history of sports in American society. A Jewish boy from Brooklyn, my special heroes were Jewish major leaguers; sadly, apart from Hank Greenberg and Sandy Koufax – I knew of none. I tried to test the limits of Don's knowledge by challenging him, while we were on a six hour drive from New Paltz to a professional conference in Washington D.C., to name an all-Jewish major league starting nine. To make it even harder, I added the caveat that each member had to actually have played in the majors at the specified position. I was confident that the task was impossible. But for Don, no sweat. I still have (somewhere) the napkin on which I wrote down his lineup.
It was a regular part of daily life in town and on campus to spot Don walking. He walked everywhere, in earlier years sometimes with Mountain, the family St. Bernard, at his side. (I loved the uncommon proportionality of these two big gentle pals, ambling along together.) Informed by what I knew of the eclectic eccentricity of Don's interests, when I saw him on Main Street I'd sometimes ask myself: "Was the big guy headed for a meeting at the church or off to test his latest attempt to "improve the breed" at the OTB parlor a few blocks further down the road?"
Don Roper measured his personal profession success in the contributions of the teachers he helped prepare. A quiet observation that "that woman will be a great teacher" was the highest praise he could give. Indeed, we continue to share in his legacy through the impact of these teachers' work with students in history and social studies in schools throughout our region and beyond.
Thank you, Don.
Historic Places, African American Cultural Heritage, and Working to tell our Nation's Full History
A talk by Seri Worden
Thursday, May 3, 2018 • 3:30–5:00 p.m.
Old Main 1907 Room • SUNY New Paltz
Through the African American Cultural Heritage Action Fund, The National Trust is committed to crafting a narrative that expands our view of history and, ultimately, begins to reconstruct our national identity, while inspiring a new generation of activists to advocate for our diverse historic places. Seri Worden will discuss how the Action Fund will lead the way in drawing attention to the remarkable — and still largely unrecognized — collection of places and stories of African American activism, achievement, and architecture, and to tell our nation's full history.
Seri Worden has over fifteen years of experience in historic preservation, urban planning, and non-profit leadership. Seri is currently a Senior Field Officer with the National Trust for Historic Preservation, providing on the ground expertise for the national organization and is the lead on the Historic Neighborhoods of Philadelphia National Treasure project. Prior to joining the National Trust, Seri co-curated the widely acclaimed exhibition Saving Place: Fifty Years of New York City Landmarks at the Museum of the City of New York and was editor of the show's companion publication. Seri's international work ranges from studies of the ancient past with the Anglo-American Project in Pompeii to working with an international team documenting Modern architecture in Argentina. Seri has been widely interviewed as a leader and expert on cultural heritage issues. She earned a Master of Science in Historic Preservation from Columbia University, and a degree in Art History from Boston University.
Phi Alpha Theta History Honors Society and Speaker Series
Dr. Steven Garabedian on "Empresses and Assassinators: Blueswomen and Blues Protest"

Thursday, April 26, 2018 • 5:30 p.m.
SUB 62/63 • SUNY New Paltz
The History department will hold its annual reception honoring our students as part of the Phi Alpha Theta honors society induction and speaker series.
5 p.m. Welcome reception and Induction of new Phi Alpha Theta Members by History Faculty
5:30 p.m. Dr. Steven Garabedian on "Empresses and Assassinators: Blueswomen and Blues Protest"

Abstract: Launching from R. A. Lawson's recent conceptualization of blues music as "Jim Crow's counterculture" and building on the rich foundation laid by Angela Davis in Blues Legacies and Black Feminism, Garabedian's project highlights an expanded notion of African American blues music as an alternative form of resistance and historical repository – one that is not male-dominant, masculinist, or even necessarily "militant" in conventional socio-political terms.
Steven Garabedian is Assistant Professor of History and Intern Coordinator of History/Public History/American Studies at Marist College where he teaches and researches twentieth-century U.S. cultural history, with a specialization in race, Presented by the Department of History resistance, and political economy.
Contested Memory: Global Monuments, Memorials, and the Making of History
Tuesday, April 17, 2018 • 5:00–6:30 p.m.
Lecture Center 102 • SUNY New Paltz
The spring event in the "Without Limits: Interdisciplinary Conversations in the Liberal Arts" speaker series will explore how communities use memorials to create identity, demarcate belonging, perform citizenship, and produce social power. Panelists will explore these issues across a wide range of geographical regions and historical periods, including Ancient Rome, Buddhist India, postwar Germany, the Jim Crow South, and contemporary New Paltz. These various contexts will shed valuable perspectives for consideration of naming and memorial practices here on our campus and elsewhere.
Panelists include:
Andrea Gatzke, Assistant Professor of History, "Politics and the Condemnation of Memory in the Roman Empire"
Vanessa Plumly, Languages, Literatures & Cultures, "E-Recht-ing German History"
Akira Shimada, History, "The Buddha's Return: Discovery and Resurgence of Ancient Buddhist Monuments in Modern India"
Reynolds Scott-Childress, History, "Gray Ghosts and White Supremacy: Confederate Memorials and Twenty-First Century Anti-Racism"
Susan Stessin-Cohn, New Paltz Historian, "Forsaken in Life, Forgotten in Death: the Ulster County Poorhouse Monument Project"


History Department Newsletter Fall 2017

The inaugural department newsletter, available as a PDF download: History Newsletter Fall 2017. Alumni are welcome to contact us with updates for inclusion in future editions.
Faculty in the News
Lee Bernstein appears in the recent issue of Smithsonian Magazine. He was interviewed for a feature story on the 60th anniversary of organized crime's "Apalachin Conference." His research on organized crime was published in The Greatest Menace: Organized Crime in Cold War America, which came out in paperback in 2009 with University of Massachusetts Press.
In more local news, the Fall Newsletter from the College of Liberal Arts & Sciences prominently features the history department's teaching and scholarship contributions. Teacher of the Year Meg Devlin O'Sullivan's work on the Senior Seminar in History was the focus of a presentation she gave in the Faculty Development Center. It also is the basis of an article appearing in Teaching History. The newsletter's description of her experience teaching the seminar and overseeing students who would present their research at a history conference can be read here.
The newsletter also highlighted an interdisciplinary teaching collaboration between Department Chair Heather Morrison and two faculty in the Music Department. The students in her "Youth Culture in Europe" freshman seminar were taught about the Romantic era in music and the desire among youth to experience the sublime in the arts through their combined efforts. The background students received before being required to attend an evening Beethoven concert is discussed in this article.
Finally, the College's updates on recent publications by faculty shows the strength of our department's scholarship. See the inclusion of Professors Lee Bernstein, Louis Roper, and Heather Morrison in this list.
Phi Alpha Theta History Honors Society and Speaker Series
Dr. Hamish Cameron on "Highway through the Danger Zone: The Representation of Roman Power in the Mesopotamian Borderland"

Monday, April 17, 2017 • 5 p.m.
SUB 62/63 • SUNY New Paltz
The History department will hold its annual reception honoring our students as part of the Phi Alpha Theta honors society induction and speaker series. .
5 p.m. Welcome reception and Induction of new Phi Alpha Theta Members by History Faculty
5:30 p.m. Dr. Hamish Cameron on "Highway through the Danger Zone: The Representation of Roman Power in the Mesopotamian Borderland"

Abstract: In the first century CE, two major geographical writers (Strabo and Pliny the Elder) described the Mesopotamian Borderland between the Roman and Parthian empires. Both works are heavily invested in representing the relationship between space and imperial power, especially Roman power. This talk discusses the representational strategies of each work and how those strategies relate to the broader historical and archaeological record of the tense inter-imperial borderland in Northern Mesopotamia.
Dr. Hamish Cameron received his PhD in Classics from the University of Southern California in 2014. His forthcoming book with Brill is based on his dissertation research, and examines the representation of "Mesopotamia" as a borderland in Imperial Roman geographic writing of the first four centuries CE. Hailing from a far-flung colony of a former empire (New Zealand), Dr. Cameron is particularly interested in studying movement, borderlands, networks, geography,and imperialism in the Hellenistic and Roman periods.
Careers In History

Recent New Paltz alumni and History majors will share their own experiences and offer practical suggestions and insights in an opening panel session followed by a Q&A discussion forum.
Thursday, April 13, 2017 • 6:00–7:00 p.m.
Old Main 1907 Room • SUNY New Paltz
Panelists include:
Gregory S. Bailey graduated from SUNY New Paltz in 2010 with a Master degree in Adolescent Education: Social Studies. He was awarded the Outstanding Graduate Award in History. In addition to classroom teaching, Greg helped to create and manage an online learning program and currently works as a Technology Resource Specialist supporting English Language Learners across New York State.
Shannon Butler has worked in historic sites for over 10 years. After completing her BA at SUNY New Paltz in History in 2014, she earned an MA at SUNY Albany. She currently serves as a Park Ranger of Interpretation at Roosevelt-Vanderbilt National Historic Site in Hyde Park. Shannon Butler has also interpreted the Senate House State Historic Site in Kingston and has done archival work for The Saugerties Historical Society. She is currently working on a book about the Delano family.
Richie Rosencrans, born in Newburgh NY, is a 2004 graduate who majored in History and English. He then explored the US for a while, returned to the Hudson Valley, and landed at the Gomez Mill House Historic Site. As Visitor Services Coordinator he organizes the annual program series; researches, interprets, and presents the Site's history; promotes the Site at regional events; and facilitates site maintenance.
Ashley Trainor, is Collections Manager (2016-) and Registrar/Curatorial Assistant (2014-2016) at Historic Huguenot Street. She graduated from SUNY New Paltz in 2014 with a major in History and a minor in Anthropology.
The 2016 Election in Historical Perspective
Tuesday, Nov. 15, 2016 • 5:00–6:30 p.m.
LC 102 • SUNY New Paltz
Are there historical precedents for the 2016 election? How might a look at the past help us understand the election, the divisions it revealed, and how we might respond? The History Department at SUNY New Paltz will hold an informal conversation for students and other community members on the 2016 Election. The goal of the forum is to create a space to discuss the election in relation to past and present historical contexts. If you would like to discuss the election of 2016, please join us!
Trails of Tears and Freedom: Slavery, Migration, and Emancipation in the Southwest Borderlands, 1830–1887
A talk by Nakia Parker
Tuesday, April 19, 2016 • 4:00–5:00 p.m.
Honors Center • SUNY New Paltz
Nakia Parker is a Ph.D. student in History at the University of Texas at Austin. She completed her undergraduate degree in history at SUNY New Paltz, where she received department honors and graduated summa cum laude. Her research interests include Native American slaveholding and captivity practices in Texas, Oklahoma, and Arkansas during the nineteenth century, gender, antebellum Southern history, and memory studies. Last year, she was elected the National Graduate Student Representative for the Association of Black Women Historians. In March 2015, she was awarded a C.M. Caldwell Memorial Award for Excellence in Historical Research by the Texas State Historical Association for her paper "Bold, Bad Notorious" Hal Geiger: Politics, Violence, and Defiance in Reconstruction Era East Texas."
Gerald Sorin: Celebrating 50 Years of History at New Paltz
Thursday, May 5, 2016 • 5 p.m.
Sojourner Truth Library Atrium • SUNY New Paltz
A celebration of 50 years of the work of an American and Jewish historian, writer, intellectual, and university professor
From 1965 through 2016, Gerald Sorin's work as a contributing member of the history department, university community, and broader New Paltz community has been remarkable. Embodying teaching, research, and service, Dr. Sorin continues to make a mark on history graduates and the community of ideas.
We will be hosting a panel to celebrate his work as a New Paltz professor.
Welcoming remarks by President Donald Christian and Interim Provost Stella Deen.
Introductions by Andrew Evans, Chair of the History Department
Deborah Dash Moore, "Gerald Sorin's Moral Vision"
Mark Lapping (Class of '67), "Gerald Sorin and Mentorship"
William Strongin, "Gerald Sorin's Service to Jewish Studies and the Community"
Gerald Sorin, "Reflections on a Career"
Reception to Follow
R.S.V.P. at provost@newpaltz.edu
Phi Alpha Theta History Honors Society and Speaker Series
Dr. Paul Paskoff, Class of '70, on "The Folly of Conventional Wisdom"

Wednesday, May 4, 2016 • 5 p.m.
Jacobson Faculty Tower 1010 • SUNY New Paltz
The evening before the Sorin celebration, the History department will hold its annual reception honoring our students as part of the Phi Alpha Theta honors society induction and speaker series. To further celebrate Gerald Sorin's 50th anniversary of work on campus and our graduates, we invited a speaker who began his undergraduate career at New Paltz fifty years agoPaul Paskoff would go on to complete a Ph.D. at Johns Hopkins University and enjoyed a long career as a Professor of American Economic History at Louisiana State University. He credits his interest in his field to Professor Sorin's early influence. We invite you attend this event celebrating our departmental community, our students' and graduates' work to develop as historians, and this alumni's distinguished career and continuing intellectual contributions to American History.
5 p.m. Welcome reception and Induction of new Phi Alpha Theta Members by History Faculty
5:30 p.m. Paul Paskoff, "The Folly of Conventional Wisdom, or New Answers to Some Old Questions about the Civil War"
Abstract: Conventional wisdom about the past is not always reliable. That, at least, has been my experience in the course of doing historical research and writing. Three points of historical consensus I've encountered are: 1) the federal government played at best only a negligible role in stimulating economic growth before the Civil War; 2) the Civil War visited massive physical destruction upon the South; and 3) the Civil War was a "rich man's war but a poor man's fight." I must admit that when I began my research into these questions, I subscribed to the conventional wisdom concerning each. I no longer do.
Can Reading Make You Sick? The History of Pathological Books
A talk by Dr. James Kennaway, Medical Historian at Newcastle University
Tuesday, April 26, 2016 • 3 p.m.
Jacobson Faculty Tower 1010
Reading books might seem like a harmless pastime, but for much of the eighteenth and nineteenth centuries there was a huge amount of medical concern about its impact. Serious study could lead to the "diseases of the learned" and novels could, it seems, over-stimulate the minds and nerves of young ladies, leading to immorality, sickness and death. For many years more doctors spent more time writing about this than drug addiction. Come to my talk for a thousand excuses never to do your homework again.