Social Change Internships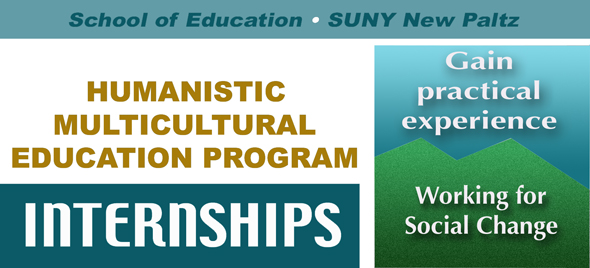 Graduate students in the Humanistic/Multicultural Education (HME) Program have a unique opportunity to gain practical experience in a human service, not-for-profit or educational organization through a semester-long internship. In this program, an internship is a structured and supervised professional experience in a regional or metropolitan organization, for which a student earns academic credit. It is an educational experience guided by learning goals and supervised by both academic and field-based personnel.
An internship supported by the Humanistic/Multicultural Education Program provides invaluable on-the-job learning where students have the opportunity to apply the knowledge and skills gained through course work to a direct experience working on social justice issues. Students can gain practical on-the-job training in a profession setting/career field of their interest or explore a new field. An internship may open the door to a career opportunity.
Basic details about HME Internships
Duration: Internships are semester long and can be developed during the fall, spring or
summer semesters
Academic credit earned: 3 graduate credits
Number of internships hours required:
Fall/Spring semester – 90 (6 hours per week for 15 weeks)
Summer semester – 90 (11.5 hours per week for 8 weeks)
For more information, please contact:
Dr. Shannon McManimon (845 257-2828 / mcmanims@newpaltz.edu)
or Dr. Robyn Sheridan (845 257-2827 / sheridar@newpaltz.edu)
• Internships need to be set up by the middle of the previous semester •
CURRENT INTERNSHIPS AVAILABLE
The HME faculty has worked with program alumni to establish internship opportunities in the organization that these alumni work in. These sites include a wide range of human service, not-for-profit or educational organizations. Students may also propose an internship site for consideration by the faculty.
Off Campus

The Art Effect (formerly Children's Media Project, Spark Media Project, and Mill Street Loft)
The Art Effect is a not-for-profit community-based, multi-arts educational center, dedicated to bringing a wide range of creative, educational, and culturally-enriching programs to diverse audiences throughout the Hudson Valley. MPS interns would work directly with The Art Effect's after-school youth employment program, Media Magic, where students practice digital/media literacy skills in a constructivist, project-based learning environment to collaborate in producing original works in film, radio, animation, graphic design, and video game design. Internship activities include: media education research, curriculum development, and direct instruction; assistance with program-related administrative tasks and grant reporting; assisting with clerical and other office duties.
Cornell Cooperative Extension, Dutchess County
The Green Teen Community Gardening Program
The Green Teen program empowers urban youth to be effective community change-agents by immersing them in the local food system. This youth development program teaches life and work skills through hands-on experiences in farming and gardening, health and nutrition, entrepreneurship, and leadership.
Activities include gardening, cooking, farm work, community activities, and workshops on topics such as composting, healthy food choices, farm workers, photography, and communication. Activities change often so interns will assist in whatever activities the program is working on that season.
Family and Consumer Education
FCE provides research-based community education to meet the needs of Dutchess County individuals and families. Focusing in the areas of Food, Nutrition, and Wellness, Parenting and Family Education, and Financial Literacy Education, interns will gain experience in all aspects of program planning, delivery, and evaluation with the on-going support of FCE team members.
Creative Response to Conflict
The Creative Response to Conflict (CRC) internship program combines volunteering for the Lunchtime Listener program, attending scheduled CRC workshops and light administrative work. Interns train primarily by observing CRC workshops in progress at schools and other sites. By participating gradually in facilitation, they then become facilitators on their own. Responsibilities are matched with the interests of the interns.
A program that works with formerly incarcerated women and their children is also offered. Opportunities for workshops in conflict resolution, bias awareness, bullying prevention and intervention, problem solving and mediation are available. Main duties will include: facilitating small groups within workshops, gathering materials for activities, writing, research, phoning, and working with children.
George Washington Montessori School
George Washington Montessori School is a public Montessori school in Kingston, New York. Situated in the Midtown section of Kingston, the school serves a large portion of students whose families fall below the poverty line, students of color, and those for whom English is their second language. Interns will gain a familiarity with the structure of the Elementary One Montessori classroom and curriculum within this diverse setting. They will gain teaching experience in a multi-age Montessori classroom, engaging in lesson planning and delivery for individuals, as well as small and large groups of students. Interns will also engage in student observation and record keeping and will collaborate with various specialists within the school. Opportunities will exist for communication and collaboration with families as well.
Hyde Park Central School District AVID Program
AVID, Advancement Via Individual Determination, is a college readiness system for elementary through higher education that is designed to increase school wide learning and performance, particularly geared for students who would be "first in the family' to go to college.
At the secondary grade level, AVID is an approved elective course taken during the school day. Selected students, for one class period a day, learn organizational and study skills, work on critical thinking and asking probing questions, get academic help from peers and college tutors, and participate in enrichment and motivational activities that make college seem attainable. The AVID elective is being offered at Haviland Middle School and FDR High School. Interns would tutor AVID students Tuesdays and Thursdays.
Maternal-Infant Services Network (MISN)
MISN is a regional not for profit dedicated to family and community health and wellness and eliminating health disparities across the lifespan in order to improve birth outcomes in near future and the distant future. MISN offers preconception health education, teen pregnancy prevention, youth development, prenatal and lactation support, and assistance enrolling in the ACA NYS of Health Marketplace health insurance programs. We offer Community Health Advocacy to help people get, use and keep their health insurance benefits.
Interns may assist with youth development and teen pregnancy prevention programming, breastfeeding coalition work, focus group facilitation, administering and analyzing surveys, Community Health Advocacy outreach, and researching community needs and gaps.
Orange County Youth Advocate Program
Our mission is to provide individuals who are, have been or may be subject to compulsory care with the opportunity to develop, contribute and be valued as assets so that communities have safe, proven effective and economical alternatives to institutional placement. Student intern will support training development, advancement of resources and tools for staff across the agency, aid with strategic consultation and program support and assist with creating strategies for wellness, recruitment/retention and safety.
Democracy Now: A Global, Daily Independent News Hour
Democracy Now! Internships are paid, 20 hour per week, temporary work placements to help students, people early in their careers and career changers to gain entry-level skills and experience in the fields of outreach, social media, education, fundraising, translation and archiving in a non-profit setting. All internships take place at our Manhattan studio where we produce our daily TV and radio news hour. Democracy Now! staff provide one-on-one mentorship and supervision to help Interns maximize their educational experience..
The Internship program is offered in three sessions per year with 10 Intern placements each session. Interns work with our Archive, Education, Outreach & Development, Social Media and Democracy Now! en Español departments.
Session Dates Application Deadline
Jan–May Nov 15
Jun–Aug Apr 15
Sep–Dec Jul 15
On Campus
Scholars Mentorship Program
The Scholars Mentorship Program (SMP) is a networking initiative for talented and high achieving general admission students of color. Divided into a three tier program, The Scholar's Mentorship Program monitors and supports students' success as they progress from mentee, to peer mentor, to student leader.
Internship activities include: program development, evaluation and working with students.
Educational Opportunity Program
SUNY New Paltz's Educational Opportunity Program is an academic program designed for capable students who, because of inadequate financial resources and academic preparation, have not had the same opportunities as other students to realize their academic potential. A personalized, highly structured academic support program, it offers admission to the University and provides academic, personal, and social counseling, as well as financial aid advisement.
Internship activities include: shadowing an EOP adviser, supporting students and working on special projects or programs.
Office of Compliance and Campus Climate
This internship will work closely with the LGBTQ Coordinator in the Office of Compliance and Campus Climate at SUNY New Paltz. The LGBTQ Coordinator works to provide broad for LGBTQ+ faculty, staff, and students on the SUNY New Paltz campus. Day-to-day activities include implementing LGBTQ+ Allies* workshops, assisting with programming, and supporting other LGBTQ+ initiatives on-campus. This position may require occasional evening and weekend hours. Interested candidates should contact Emma Morcone for additional information.
*The LGBTQ+ Allies are a network of faculty, staff, and students who offer support, communication, and dialogue on issues surrounding sexual orientation and gender identities.
---
To assist students in creatively thinking about other possible internship sites, here is a sampling of internships completed by previous Humanistic/Multicultural Education Students:
• Columbia University Summer Program
• Eleanor Roosevelt Center at Valkill
• Counseling and Career Services, Dutchess Community College
• Students Active for Ending Rape, Brooklyn NY
• Dutchess County Mediation Center
• Teaching Assistant in Undergraduate Courses at SUNY New Paltz
---