Biochemistry
#social-media-icons { display: block !important; }
Biochemistry is the scientific discipline that seeks to understand life at a very fundamental level. Students that are interested in the intersection of biology and chemistry will find our program provides a rigorous, hands-on experience and the opportunity to form intimate scholarly relationships with our faculty. A degree in Biochemistry is excellent preparation for further studies in other closely related fields such as pharmacology and health science or a variety of bachelor-level positions with laboratories, research facilities, private industry, chemical, pharmaceutical and biotech firms. Additionally, the unique inter-disciplinary nature of our liberal arts degree also builds skills in problem-solving and critical thinking that can be applied to a much broader range of career options in biology, chemistry, veterinary science, patent law and beyond.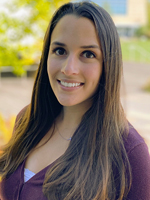 Alumni Profiles: Brittany Grandville '18 (Biochemistry)
Sample Management Coordinator, Regeneron Pharmaceuticals
When Brittany Grandville '18 (Biochemistry) first started as a sample management coordinator at Regeneron Pharmaceuticals in Tarrytown, New York, the alumni could never have predicted that a historic public health crisis would transform her work in research and development.