One key aspect of the Benjamin Center's mission is to bring key regional concerns to the attention of citizens and policymakers to support their informed discussion of the public policy problems facing the Hudson Valley. Quality information will help us to work together to develop our own, local solutions and advance the need for changes at the state level.
» Discussion Brief 23:
Discussion Brief 23: Assessment
The Benjamin Center's 23rd discussion brief, Adding to the Load: How Built-in Biases in Assessment Make the Property Tax Even More Regressive in Ulster County, was authored by Gerald Benjamin, Professor Emeritus and former Director of The Benjamin Center, and Sue Books, Professor of Secondary Education, with assistance from alumnus Marc Thurston '21 (International Relations; Economics). It offers a critical analysis of the inequitable results of taxation of single-family homes in three towns in Ulster County.
The study assessed values and sales prices of single-family homes in the towns of New Paltz, Saugerties and Wawarsing during the first quarter of 2021. It showed that built-in biases in assessment practices disproportionately add to the burden of the property tax for less affluent Ulster County homeowners. This confirms earlier findings of a massive national study, done at the University of Chicago.
The study concludes that in order to assure greater fairness, the state should require more timely, regular, and consistent revaluation, or consider additional formulaic adjustments of local property assessments under certain specified circumstances to prevent lags in keeping assessment values current.
Discussion Brief 23: Assessment
---

» Discussion Brief 22:
Hudson River PCBs: What the GE Clean-Up Brings to Life
The Benjamin Center's 22nd discussion brief, "Hudson River PCBs: What the GE Clean-Up Brings to Life," authored by Dr. Simon Litten of the NYS DEC Division of Water (retired) tells the story of how the river was polluted, the fight for remediation, and the policy lessons learned, from the experience.
Litten examines the rise and fall of PCB usage as an industrial material through the lens of the evolving values of worker safety, a burgeoning environmental movement, and a growing awareness of chemical toxicity. The brief describes a classic case study of the challenges – social, economic, and political - of dealing with toxicity to assure human and ecological well-being while balancing industrial and business requirements with public fears and expectations. When it comes to toxic pollution of our waters, this experience and others tell us that we need to worry far more about what we don't know about chemicals and their effects—and find a way to do something about it before, not after, crises develop. The alternative is endless repetition of our region's tortuous experience with GE's cleanup of PCBs from the Hudson. This is a matter on which all should be able to agree: prevention would be far better and far cheaper than cleanup.
---

» Discussion Brief 21:
Going … Going … Gone: Tax Lien Auctions, Hidden Costs, and Missed Opportunities for the City of Poughkeepsie
The Benjamin Center for Public Policy Initiatives at SUNY New Paltz has released its 21st discussion brief, "Going ...Going ...Gone: Tax Lien Auctions, Hidden Costs, and Missed Opportunities for the City of Poughkeepsie," authored by Joshua Simons.
Unlike most local governments in New York State, and every other government in Dutchess County, the City of Poughkeepsie does not use the tax foreclosure system to collect delinquent taxes. It uses a tax lien sale system where private investors buy the tax debt in the form of a lien on the property and charge interest on the debt. If the tax debt along with interest and fees in not paid off within two years of the sale of the lien, the property is transferred to the person or company that bought the lien, even if the value of the property exceeds the amount owed. Other jurisdictions that utilize tax lien sales in New York State require the purchaser of the lien to file for tax foreclosure before a property is sold at auction. The City of Poughkeepsie's practice not only strips people of their homes, but also deprives them of the remaining equity in their home which is
often times the most valuable, if not the only, investment that they have.
---

» Discussion Brief 20:
Tests are turning our kids into zeroes: A focus on failing
The Benjamin Center for Public Policy Initiatives at SUNY New Paltz has released its 20th discussion brief, "Tests are Turning our Kids into Zeroes: A Focus on Failing," a critical analysis of New York State's testing program in grades 3–8.
The report, authored by Fred Smith, with Robin Jacobowitz, examines statewide data from the State Education Department on the scores of 1.2 million students on written response questions, also called constructed response questions (CRQ), on the English Language Arts (ELA) test.
The research compares the percentage of students who receive a zero score on CRQs before and after alignment of the ELA test with the Common Core Learning Standards (CCLS). According to the test scoring rubrics, a zero is given to an answer that is "totally inaccurate," "unintelligible," or "indecipherable."
The research reveals a sharp increase in the percentage of students receiving zeroes on the CRQs from 2012 to 2013 when the CCLS-aligned tests debuted. Most striking, the percentage of zero scores was highest, at 21 percent, and remained consistently so throughout the study, to 2016, for grade 3 students, the youngest test takers.
New York City provided data for its test population of 440,000 students, allowing further analysis of the results by subgroups. English Language Learners and students with disabilities had a substantially higher percentage of zero scores than their general education peers, and black and Hispanic students fared far worse than white and Asian students.
Appendices:
Tests are turning our kids into zeroes: A focus on failing
---

» Discussion Brief 19:
State and Local Veteran's Service Agencies and Returning Veterans in New York
The Benjamin Center for Public Policy Initiatives at SUNY New Paltz has released its 19th discussion brief, "State and Local Veteran's Service Agencies and Returning Veteransin New York," co-authored by Afghanistan campaign veteran and recent New Paltz graduate Timothy Toomey '17 (Political Science) and Benjamin Center Director and Vietnam-era veteran Gerald Benjamin.
The brief looks at services offered to New York State veterans as they transition from active service to civilian life. The authors find a number of statutes and programs designed to assist returning veterans with employment, education, housing and other aspects of their lives, but also that the manner in which these services are delivered works against optimum performance. They argue that strengthening county veterans' offices, while retaining state oversight, would improve coordination and efficiency in meeting the needs of New York's veterans.
---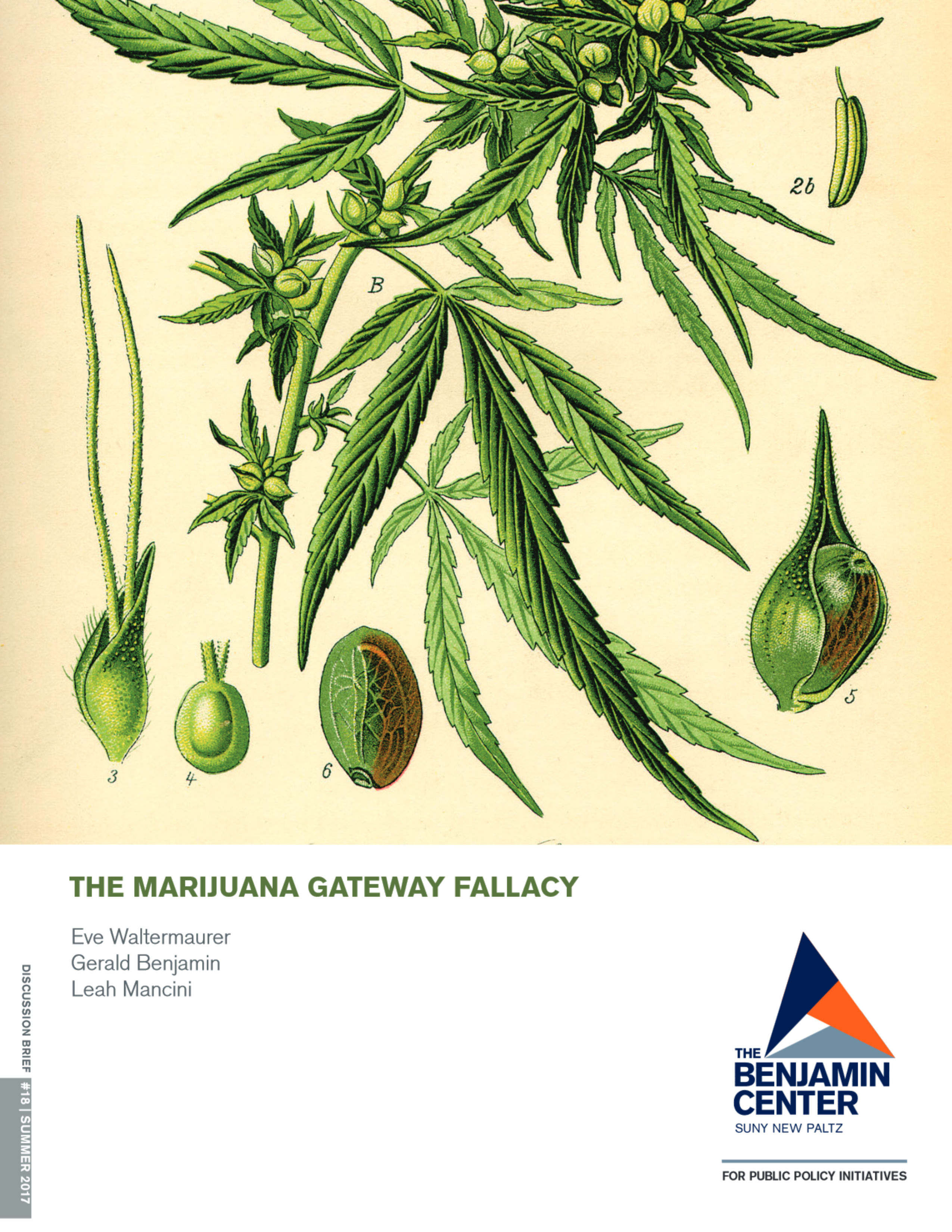 » Discussion Brief 18:
The Benjamin Center for Public Policy Initiatives at SUNY New Paltz has released its 18th discussion brief, "The Marijuana Gateway Fallacy." The report, authored by Eve Waltermauer, Gerald Benjamin, and Leah Mancini argues that is the myth that marijuana is a gateway that leads to harder drugs − not marijuana itself − which has the greatest harmful effects. There is compelling and enduring evidence that marijuana is not a gateway drug, the report concludes. Yet, in New York and elsewhere, a great deal of pushback against the decriminalizing of marijuana remains in both the public and private spheres.

---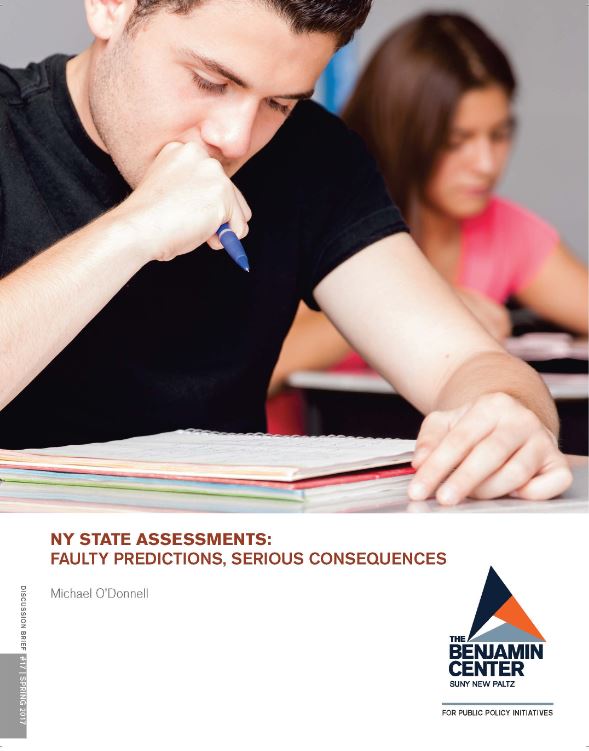 » Discussion Brief 17:
NY STATE ASSESSMENTS: FAULTY PREDICTIONS, SERIOUS CONSEQUENCES
A fundamental purpose of York State's program for testing students in grades 3-8 is to allow educators to predict students' college readiness upon completion of high school, and then intervene where necessary. The adoption of the Common Core State Standards (CCSS) and alignment of the NYS Grades 3-8 ELA and math assessments with CCSS was the cornerstone of this endeavor. This aim to be able to predict college readiness, however, has fallen far short of its stated goal, according to Michael O'Donnell, author of NY State Assessments: Faulty Predictions, Real Consequences. Estimates of college readiness derived from the NYS Grades 3-8 ELA and math assessments, he argues, do not align with actual measures of college readiness, such as college remediation rates. This misalignment is a disservice to our students, our teachers, and our education system more broadly.
---

» Discussion Brief 16:
THE WHO–WHAT–WHERE–WHEN–WHY OF VOLUNTEERISM IN ULSTER COUNTY
The Benjamin Center has released its 16th Discussion Brief: "The WHO-WHAT-WHERE-WHEN-WHY OF VOLUNTEERISM IN ULSTER COUNTY," which documents the breadth of volunteerism in our county. Utilizing survey data at the national and local levels, as well as interviews with nineteen leaders in volunteer-reliant organizations, the authors demonstrate that volunteerism is alive and well in Ulster County. The degree to which we will be able to provide and supplement services with volunteers, and the cost if we need to start fully paying for them with tax dollars, is a growing concern. This brief, both directly and indirectly, considers the optimal division of responsibilities for paying for and meeting of our shared needs. Given our robust volunteer engagement here, authors Sue Books, professor in the SUNY New Paltz School of Education and kt Tobin, Associate Director of The Benjamin Center, take up the question of reliance and cost: how much is achievable—and even desirable—through volunteerism? They conclude that, "We must find a way to agree on what we need and want to do together and then to collaboratively attend to the costs."
---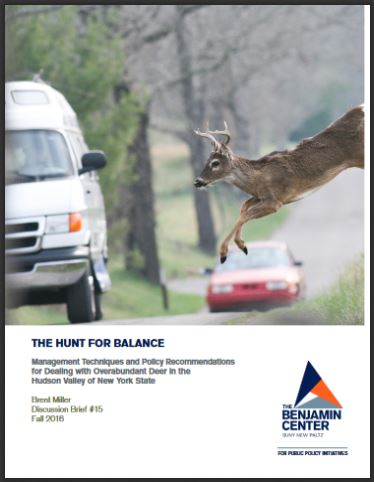 » Discussion Brief 15:
The Benjamin Center has released its 15th Discussion Brief: "The Hunt For Balance" written by Brent Miller, an alumnus of the SUNY New Paltz Sociology Department, currently working as the Northeastern States Director for the Congressional Sportsmen's Foundation.
Problems arising from an overabundance of deer are a serious concern in many Hudson Valley communities. This paper considers various management techniques to control the region's white tailed deer populations, including: contraception and sterilization, the introduction of large predators, and hunting (with a focus on archery hunting in particular). Research clearly demonstrates, it concludes, that hunting remains the most effective and efficient method for controlling free-ranging deer populations. Recent policy changes in New York will likely improve the ability of the New York State Department of Environmental Conservation to manage suburban deer populations. However, several additional policy changes are needed to improve efficacy in the years ahead, including: expanding the current archery and crossbow seasons, reducing the crossbow discharge distance to align with vertical bows, and implementing a science-driven public education campaign to encourage landowners in areas impacted by overabundant deer to allow hunting access on their property.
---
» Discussion Brief 14:
(The Benjamin Center) at SUNY New Paltz has released its 14th discussion brief, "Erosion of Instructional Time."The discussion brief notes that although time in school has long been considered one of the most important factors in student learning, there are widely misconceived notions about the amount of time students spend in school.
Author Robin Jacobowitz, Ph.D., director of education projects at the Benjamin Center, reports that despite New York State regulations that specify "180 required days of instruction," many public school students are actually in school for fewer than 180 days. Through a review of the literature, an analysis of bell schedules, school calendars, and teacher contracts in six school districts in the Hudson Valley region, this brief finds that in one sample school district, students lost between 9.5 (elementary school) and 14 (high school) instructional days due to weather, state-mandated testing, professional development, and time to communicate
---
» Discussion Brief 13
Classification of Property for Taxation in New York State
Property taxes are a central concern for state and local government in New York. Much attention has been given to the burden they impose, far less to the fairness with which they are levied and administered. The Benjamin Center at SUNY New Paltz takes up one aspect of this question of fairness in its 13th discussion brief, "Classification of Property Taxation in New York State: Issues and Options."
The creation of four classes of properties in New York City and Nassau County, and the taxation properties within each class at different rates, was an approach adopted by the state legislature over a third of a century ago to avoid potential major increases in homeowners' tax burdens that might have resulted from a state high court decision.
In a 2014 Benjamin Center report prepared for the City of Kingston, "The Impact of Kingston's Homestead Tax System on Kingston's Economic Development," authors Gerald Benjamin and Tom Cetrino found that:
Higher property taxes paid by non-homestead property owners are hard to displace onto renters, are capitalized in a property's value, and have a negative impact on that value.
Under the homestead/non-homestead system as non-homestead property values go down their property tax burden increases, while as homestead property values increase their property tax burden decreases. This widens the gap between the relative effective tax rates of the two property classes.
While there is no statistical evidence that higher commercial property taxes under the homestead property tax system have a significant influence on business location decisions, the homestead tax system has a "perceptual as well as real effect" on those decisions.
It is clear that localities that adopted the homestead/non-homestead system have experienced two sets of unanticipated, undesired effects of this choice:
unpredictable, uncapped shifts in the tax burden between homestead and non-homestead properties; and
an effective irreversibility in policy because of the potential effect of change on school districts and the resulting "tax shock" for city, town or village homeowners.
---
» Discussion Brief 12:
Public Education in Ulster County: Finding the Right Scale
The Benjamin Center at SUNY New Paltz has released its 12th discussion brief, "Public Education in Ulster County: Finding the Right Scale."
The discussion brief notes that in times of fiscal stress, policymakers look to find efficiencies in public spending with public education often an area of focus. To that end, school district consolidation is often promoted as a mechanism for achieving fiscal economies, and is frequently cited as a solution to overspending in schools.
Author Robin Jacobowitz, Ph.D., interim associate director of the Benjamin Center, reports that despite the public attention given to school district consolidation, it may no longer be a viable, blanket solution to achieving economies of scale in public education. In the brief, Jacobowitz suggests a conversation of "scaling-up" be considered as an alternative to determine the best way to achieve the desired scale without sacrificing quality or community.
"As we seek new organizational, administrative, and pedagogical models for assuring New York's children the very best education we can offer in an environment of ever greater social and economic diversity and constrained resources, this paper reminds us that we must avoid getting trapped into mere stylized reconsideration of conventional approaches," said Gerald Benjamin, the Benjamin Center director and associate vice president for regional engagement. "It also shows us how to think anew, in creative ways, of what might be truly innovative, efficient and effective regional solutions for the challenging years ahead."
---
» Discussion Brief 11
Poughkeepsie Plenty: A Community Food Assessment
The Benjamin Center today released the eleventh in a series of Discussion Briefs on regional issues: Poughkeepsie Plenty: A Community Food Assessment. The series seeks to inform citizens and decision makers on key issues, problems and opportunities facing our region.
Authored by Leonard Nevarez, Professor of Urban Studies at Vassar College, Susan Grove, Coordinator of Poughkeepsie Plenty Food Coalition, and KT Tobin and Joshua Simons of the Benjamin Center, the brief reports the findings of a two-year study of food access and security in the City of Poughkeepsie. The United States Department of Agriculture (USDA) defines food security as access by all people at all times to enough food for an active, healthy life. Conversely, a "limited or uncertain availability of nutritionally adequate and safe foods or limited or uncertain ability to acquire acceptable foods in socially acceptable ways" defines food insecurity. Poughkeepsie Plenty: A Community Food Assessment finds that food insecurity is a troubling problem in the City of Poughkeepsie.
Funded by a USDA Food and Nutrition Service Hunger-Free Communities Assessment and Planning Grant, the members of the teams guiding the Poughkeepsie Plenty research included the Poughkeepsie Farm Project, Cornell Cooperative Extension of Dutchess County, the Dutchess County Department of Health, Dutchess Outreach, Vassar College, and many other agencies, individuals, and local businesses. The initial goals of the Poughkeepsie Plenty initiative were: to create a research-based community food assessment (CFA); to draw upon community participation and input to create a plan (for improving the city's food system) using neighborhood and citywide action planning forums; and, to establish a community food coalition to facilitate and oversee the implementation of the action plan through coordinating projects, and monitoring and advocating for policy.
---
» Discussion Brief 10
Energy Action Consortia: Moving Municipalities Toward Collective Sustainability
The report is a case study of how the national economic crisis in 2008 produced local opportunity for a collaborative group of municipalities in Westchester County, N.Y.
From a founding membership of 12 municipalities in April 2009, the original group of collaborating towns and villages has grown into the Northern Westchester Energy Action Consortium (NWEAC), a not-for profit enrolling 18 municipalities with a combined population of more than 274,000 residents. Thanks to its achievements over the last four years, NWEAC is now recognized in Westchester County and beyond as an innovative leader in energy policy and practice, and more generally in sustainability issues.
---
» Discussion Brief 9
Food Insecurity in Ulster County
As families in the Hudson Valley shop and prepare to gather for the traditional Thanksgiving Dinner, SUNY New Paltz Professor Sue Books reports in a newly released Benjamin Center discussion brief that a significant number of county residents are living in poverty, suffering economic hardship, or experiencing "food insecurity."
Books, a professor in the Department of Secondary Education at SUNY New Paltz concludes, "We are living side-by-side in two worlds. Some of us shop for food regularly and conveniently in a range of venues, from full-service groceries to local farm stands. Others must obtain food wherever and however they can in a shadow system of food pantries, soup kitchens, and food distributions."
---
» Discussion Brief 8
Federal Mandates on Local Education: Costs and Consequences - Yes, it's a Race, but is it in the Right Direction?
NEW PALTZ – The Benjamin Center at SUNY New Paltz has released its eighth discussion brief, "Federal Mandates on Local Education: Costs and Consequences – Yes, it's a Race, But is it in the Right Direction?"
The author, Kenneth Mitchell, district superintendent of South Orangetown School District in Rockland County and executive committee member of the Lower Hudson Council of School Superintendents, reports that "There are serious challenges to (the Race to the Top) federal program's validity, and the research upon which it is based. Without substantive validation, New York State and U.S. taxpayers are funding a grand and costly experiment that has the potential to take public education in the wrong direction at a time when we need to be more competitive than ever before."
Gerald Benjamin, the Benjamin Center director and associate vice president for regional engagement, stated, "Education is our most important locally delivered service. As New York bends every effort to improve the results we achieve with and for our children in the classroom, this locally rooted, interesting and provocative essay promises to add an important dimension to the regional and statewide policy discourse."
---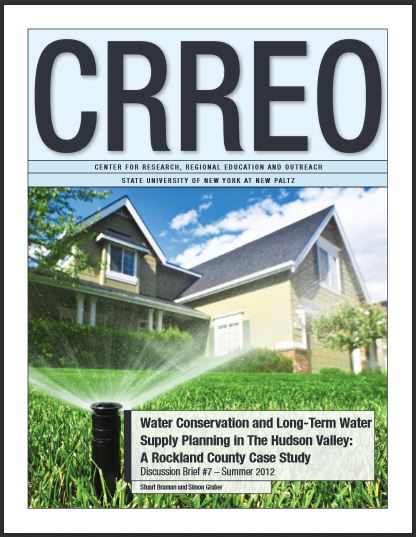 » Discussion Brief #7
Water Conservation and Long-term Water Supply Planning in the Hudson Valley: A Rockland County Case Study
NEW PALTZ -The Benjamin Center at SUNY New Paltz this week released its seventh Discussion Brief, Water Conservation and Long-term Water Supply Planning in the Hudson Valley: A Rockland County Case Study.
Authors Stuart Braman (Lamont-Doherty Earth Observatory) and Simon Gruber (CUNY Institute for Sustainable Cities) begin with the apparent paradox that though the Hudson Valley has an abundance of water Rockland County faces a water shortage. This circumstance is the result of land use decisions taken over many decades in the face of massive growth pressures. Responding to the shortage now, they argue, requires managing the complex interaction of four factors: home rule, fragmented state regulation, no access to a key regional resource (the New York City water supply system), and reliance on a private water supplier, United Water of New York.
The authors conclude, "The inability of a private actor to compel public behavior to conserve water, the powerful commitment in New York to home rule in land use decision making, and the highly diffuse and decentralized nature of local governmental authority make it very difficult to develop systematic, comprehensive approaches to regional water policy. In addition, profit-making private companies, responsible to stock holders, are likely to be less considerate of citizen priorities in policy choices. Just as this case demonstrates the need for an integrated state approach, it shows the importance of finding means to induce collective local action to assure the well-being of local communities and ecosystems."
Gerald Benjamin, the Benjamin Center Director and Associate Vice President for Regional Engagement, stated, "Water issues, and the need for regional water policy planning is becoming a primary focus of interest for the Benjamin Center. This essay provides essential insight into the crucial importance of giving timely systematic attention to water needs as growth occurs in the Hudson Valley, and the need to efficiently find proper balance between conservation efforts and supply management in a far too complex, fragmented decision environment. The broader implications of this work take on additional significance at a time that much of the nation is facing very challenging drought conditions."
The Benjamin Center was established in 2007 to further engage the university and its people with communities, governments, not-for-profits, and businesses across our region. The Benjamin Center conducts and publicizes research on regional topics; creates and directs select institutes focusing on specific topics of regional interest; connects and partners with local governments, not-for-profits, and businesses to initiate reforms and advocate for best practices; contracts to assess the performance of public and not-for-profit agencies and programs; and works to foster intergovernmental collaboration and community engagement.
---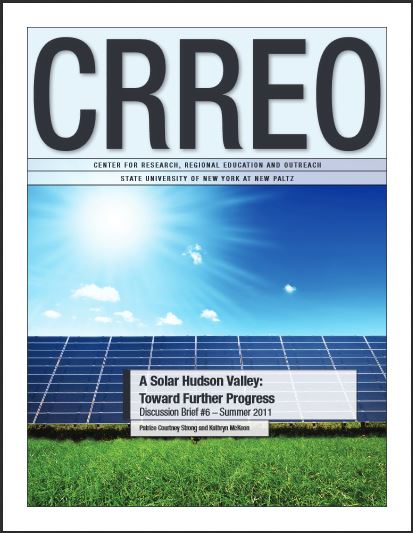 » Discussion Brief #6
A Solar Hudson Valley: Toward Further Progress
A joint project of the Benjamin Center and The Solar Energy Consortium, the report surveyed the state of the solar industry in the nation and New York State. Among its findings: although solar manufacturers in the region have made some gains, they require tax incentives now more than ever to help level the playing field with overseas competitors.
---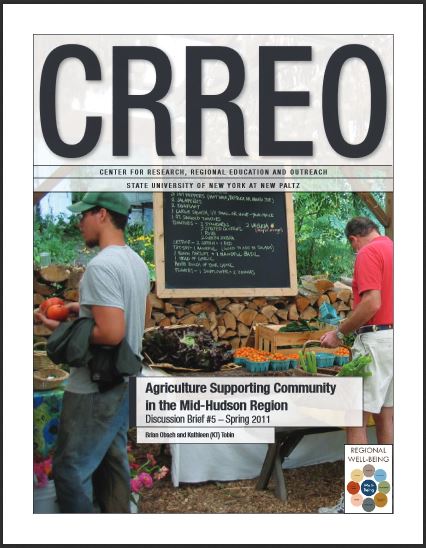 » Discussion Brief #5
Agriculture Supporting Communities in the Mid-Hudson Region
The Benjamin Center has released its fifth Discussion Brief: Agriculture Supporting Communities in the Mid-Hudson Region. The CRREO Discussion Brief series focuses on regional issues, in order to inform citizens and decision makers of key public policy choices and issues in our region.
This latest release, authored by Brian Obach and Kathleen (KT) Tobin, finds that, "There has been some encouraging news lately for those who wish to preserve the rural character of the Hudson Valley. The growing vitality of small farms and Community Supported Agriculture (CSA) is helping farming to reclaim its central place in the economic and social lives of our region's communities."
The study details century-long trends in the number and size of farms. Nationwide, and in our region, while the overall number of farms has decreased dramatically, the proportion of both large and small farms has grown, and mid-sized enterprises have been squeezed out. Over the past twenty years, the number of small farms has increased in our region.
Because many of the small farms in our region are CSAs, our abundance of them led the Benjamin Center's Regional Well-Being Project to test some ideas about the civic effects of this development. The study, which includes surveys of CSAs members and residents from throughout the region about connectedness to community and civic engagement, finds that CSA members have high rates of volunteerism and political participation in their communities.
Gerald Benjamin, the Benjamin Center Director and Associate Vice President for Regional Engagement, observes, "This latest aspect of our Regional Well-Being Project promises to help restore our understanding of the Hudson Valley's agricultural heritage as central to our regional identity and further establish the importance of farming as a current and future driver in our economy. I am delighted with the quality and potential impact of this latest Benjamin Center product."
Obach notes, "We have long known that agriculture in our region is under threat from development pressure and that if it is to be preserved, it needs support from local communities. But what we have learned is that local agriculture helps communities in untold ways. Local sustainable agriculture can not only preserve the rural character of our region, but it can actually strengthen communities, enhance regional identity and increase civic engagement."
Tobin adds, "Political scientists and sociologists have documented a steady decline in civic and political participation. There are few other environments that foster the type of interaction that is common at CSAs. The evidence presented here suggests that CSAs can serve as incubators for civic engagement and community building."
The authors encourage that "The revitalization of agriculture in our region needs to be nurtured," and "efforts should be supported through individual and organizational action and public policy."
The principal authors of this report are Brian Obach (Sociology) and KT Tobin (Benjamin Center). In addition to Regional Well-Being/US Department of Education funds, Obach and Tobin were awarded United University Professional (UUP) grants and Obach utilized a grant from the National Science Foundation (#0550550) to complete this work.There was considerable student contribution to this project:
Survey Development/Field Interviewers: Chris Utzig (Philosophy, '09), Carolyn Burgess (Sociology, '09), & Jenna Dern (Sociology, '09)
Survey Data Entry and Management: Layla Al Qaisi (Political Science, '10) & Maria Davila (Political Science, '10)
Secondary Data Research: Emily Sobel (Political Science, '11)
Cartography: Ryan Reutershan (Geography, '12)
The Benjamin Center at SUNY New Paltz is uniquely situated to advance agreement among environmentalists, advocates of development and key government decision makers on economic, social and environmental issues.
---
» Discussion Brief #4
Hudson Valley Water: Opportunities and Challenges
---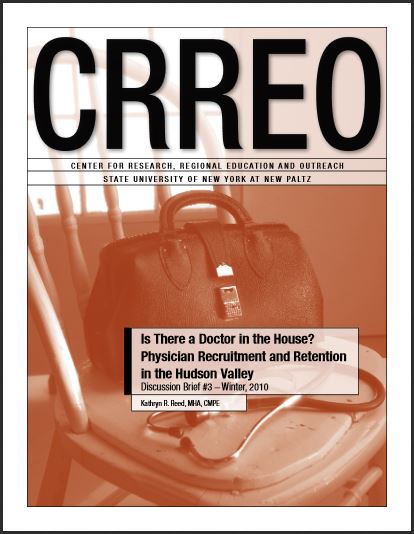 » Discussion Brief #3
Is There a Doctor in the House? Physician Recruitment and Retention the in Hudson Valley
---
» Discussion Brief #2
A Collaborative, Regional Approach to Jailing in the Hudson Valley
---
» Discussion Brief #1
Equity and the Property Tax Burden for Citizens in Ulster County *