Why Philanthropy Matters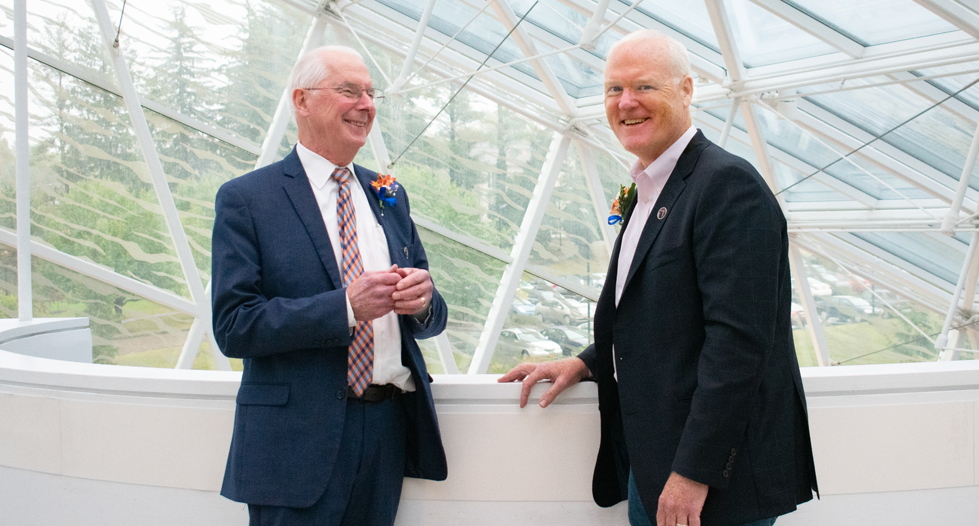 A Conversation with Donald P. Christian, SUNY New Paltz President and Michael T. Keegan, SUNY New Paltz Campaign Chair
Erica Marks, Vice President for Development and Alumni Relations had the opportunity to speak with Donald P. Christian, President of SUNY New Paltz and Michael T. Keegan, Campaign Chair about the upward trajectory of SUNY New Paltz and the importance of philanthropy at a state college.
---

Why is public education more important than ever?
Mike: A public college like SUNY New Paltz provides a world-class education while being accessible to those who have the desire to learn—regardless of institutional legacy or socio-economic privilege. We serve many students who have overcome unbelievable challenges to get here. Our primary consideration is giving them the opportunity to succeed by removing obstacles—personal, social and financial.
Don: Exactly, Mike. And private philanthropy underwrites the transformative experiences that New Paltz already offers and plans to expand. We want to expand teaching and learning outside the classroom, which positions students for the future, strengthens our connections in the Hudson Valley region, and contributes to a prepared workforce. We look for opportunities that benefit businesses, non-profits and the community and provide real-world applications for our students and faculty.
Mike: That's such a good point, because we can't forget that state support has also been flat for the last eight years, putting more of a burden on students and families to fund the operating budget. With nearly 80% of our campus operating budget coming from tuition and fees, being a "state school" doesn't mean what it used to.
Don: When I talk with alumni from the 1960s and 70s, it's hard for them to fathom that many of today's students are not able to afford the cost of attendance. Tuition was low 50 years ago, even relatively speaking, because the level of state support was higher.
How would you like alumni to see themselves in this campaign?
Mike: First, I encourage every alumnus to reflect on how many of today's students have experiences radically different from theirs. Did you have to worry about paying for school or work at part-time jobs (sometimes several), or were you able to focus on classes, homework, internships, being part of a club, without that kind of pressure? Was your tuition in the thousands of dollars, or hundreds? Did you have a safety net? I hope this makes you think about today's students who are striving to make ends meet.
Don: Yes, and as you think about national or global issues that concern you, consider that you can make a difference by supporting students who will bring their knowledge, skills and passion to bear on these very issues.
If I walked onto campus for the first time in a decade, what would I notice?
Mike: Our campus has literally been transformed from a decade ago.
The number of undergraduates is about the same, but the diversity of our student body has grown markedly. Forty-five percent of the most recent incoming class comes from underrepresented groups.
Don: I hear from alumni how impressed they are with the facilities. In 2012, we re-dedicated Old Main, home of the School of Education, which now has high-tech classrooms and "green" features along with restored details from the original 1907 building. The Sojourner Truth Library re-opened in 2016 with extensive renovations. Students love the expanded views of the Shawangunk Ridge, more natural light and the open layout on the main floor. In 2017, we opened the state-of-the-art Science Hall, the first new academic building on the New Paltz campus in nearly 20 years, and we moved into our new Engineering Innovation Hub in fall 2019.
Whenever I ask what students like best about New Paltz, they invariably talk about the sense of community here: classmates and resident assistants who reached out to them in difficult circumstances, professors who helped them feel valued, student-athletes who show up for one another's games, hundreds of clubs where they find a place.
I hear the same thing from alumni as they try to articulate what was so remarkable for them about their time here.
Mike, you're not an alumnus of New Paltz. Why have you served on the Foundation Board for more than 15 years?
Mike: I talk to faculty and alumni whose passion for this place is unparalleled. Time and again, I meet students who have overcome incredible odds and become highly-engaged, successful students. I can't help but want to be a part of that.
The SUNY New Paltz Foundation was built over the last four decades through careful planning and generous philanthropic donations. Through these investments, the Foundation has directly created opportunities for students by providing the resources for that "margin of excellence" that would not otherwise be possible. Now, I want to see us capitalize on this energy and solidify New Paltz's position as a premier public institution.