Planetarium Shows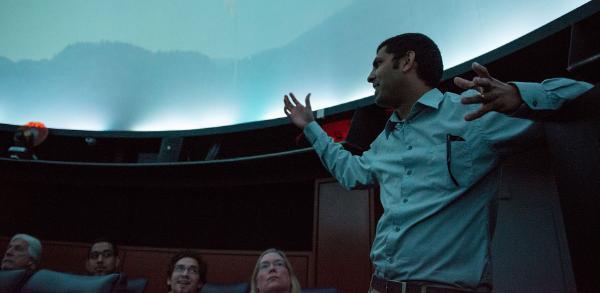 Public Shows
Astronomy Nights are held on the first and third Thursday of each month that the university is in session. Astronomy Night activities are appropriate for ages 7 and up. The free program begins with an indoor planetarium show at the John R. Kirk Planetarium (tickets are REQUIRED for the planetarium show). A second show will be offered if the first show reaches capacity. After the planetarium show Smolen Observatory will be open for telescope viewing only if the sky is clear (tickets are not required at the Observatory). Call the Observatory at 845-257-1110 to hear a message indicating if the public viewing has been canceled due to cloudy weather. Visitors can participate in either the planetarium show, observatory telescope viewing, or both.
TICKETS FOR ASTRONOMY NIGHT PLANETARIUM SHOWS WILL BE AVAILABLE 2 DAYS BEFORE EACH SHOW
Astronomy Night telescope viewing begins shortly after sunset and therefore the start time changes according to the seasons. The current Astronomy Night schedule is as follows:
Season
Dates
2019 - 2020 Dates
Planetarium show times

Observatory open (if sky is clear)

Fall
September – Daylight Savings Time ends (mid-November)
Sept. 5
Sept. 19
Oct. 3
Oct. 17
7:30 p.m. (8:30 p.m. if necessary)
8:30-10:30 p.m.
Winter

Daylight Savings Time ends (mid-November) – Daylight Savings Time begins (mid-March)

A special show has been added on Nov. 14 - "Music + Stars: Resonance"

There will be no shows in January due to the University's winter break. There will be no show on March 19 due to the University's spring break


Nov. 7
Nov. 14
Nov. 21 (6:45pm and 7:45pm shows)
Dec. 5 (6:45pm and 7:45pm shows)
Feb. 6
Feb. 20
March 5

6:30 p.m. (7:30 p.m. if necessary)
7:30-9:30 p.m.
Spring

Daylight Savings Time begins (mid-March) – May




Canceled due to
Coronavirus


Canceled due to
Coronavirus


Canceled due to
Coronavirus


Summer
May - August





May 21
June 4
June 18
July 2
July 16
August 6
August 20

8:30 p.m. (9:30 p.m. if necessary)
9:30-11:30 p.m.
Free tickets for all Astronomy Night Planetarium shows are available 2 days before each show and must be reserved online. There is a limit of 5 tickets per group. Printed tickets must be presented at the door for admission. We will no longer be issuing tickets at the door. Tickets are void if presented after the start time listed on the ticket - latecomers will NOT be seated.

Planetarium Shows
Planetarium shows are appropriate for ages 7 and up.
Printed tickets are required for public planetarium shows.
Planetarium shows take place in a dark indoor domed theater.
Please arrive before the start time. Latecomers will not be admitted.
For large groups (15 or more) we recommend that you schedule a private show at the Planetarium.
The Planetarium is located in Coykendall Science building lobby.
Observatory Viewing
A typical viewing night at Smolen Observatory will include a planet or two, star clusters, binary stars, and nebulae.
Observatory visitors will spend most of their time outdoors. Be sure to dress appropriately; it always feels colder when you are standing still for long periods of time.
Visitors of any age are welcome at the Observatory, but we ask that younger children be under adult supervision at all times.
The Observatory is wheelchair accessible.
You may come and go to the Observatory as you please during the viewing time.
Tickets are not required for the observatory viewing.
Once the viewing has begun the outdoor lighting surrounding the Observatory will be turned off. Be prepared to walk to and from your vehicle in the dark.
There are no restroom facilities at the Observatory.
Scout troops, school groups, etc. are welcome to attend the public viewing nights. We do appreciate you letting us know in advance so that there are not too many groups present in one night.
The Observatory is located in the Alumni Soccer Fields on the south side of the campus.
Private Planetarium Shows
The Planetarium is available for private shows, such as for corporate, civic, hospital, church, scouting organizations, etc. Teachers are welcome to arrange a visit to the Planetarium as a field trip activity. Please contact the Planetarium Director to set up a private show.
Planetarium shows are appropriate for ages 7 and up.
There is a $3.50 per person charge for private showings.
Seating is limited to a maximum of 43 people, and minimum of 15 people.
Shows are typically 45 minutes in duration.
The show's content can be customized for your group.
Shows can be geared to any age group from children age 7 through adults.
To subscribe to our email list to receive information about events at the Planetarium and Observatory, send an email to observatory-events-subscribe@newpaltz.edu.