Directions to the Planetarium
The Planetarium is located in the main lobby of Coykendall Science Building on the campus of SUNY New Paltz.
Google Maps link to the Planetarium
From the New York State Thruway (I-87)
Take New York State Thruway (I-87) to Exit 18. Turn left at the traffic light after toll booth. See "Once you have reached New Paltz" below.
From the Mid-Hudson Bridge
Turn right onto Route 9W north. Proceed 2 3/4 miles to traffic light intersection with Route 299. Turn left onto Route 299 and proceed approximately 6 miles to New Paltz. See "Once you have reached New Paltz" below.
Once you have reached New Paltz
Turn left at the third traffic light onto South Manheim Boulevard (Rt. 32 South). Turn right into the Main Entrance and bear right. From Admin. Parking Lot 15 walk northwest towards Coykendall Science Building. The Planetairum is in the lobby of the Coykendall Science Building. See map below.
All visitors need parking permits during the fall and spring semesters, Monday-Friday from 6:30 a.m. – 6:30 p.m. Please stop by the Welcome Center in the Haggerty Administration Building to purchase one for $3. Permits are also available for purchase at machines in the Route 32 Parking Lot 28 and near the west entrance to the campus on Hawk Dr.
Campus Map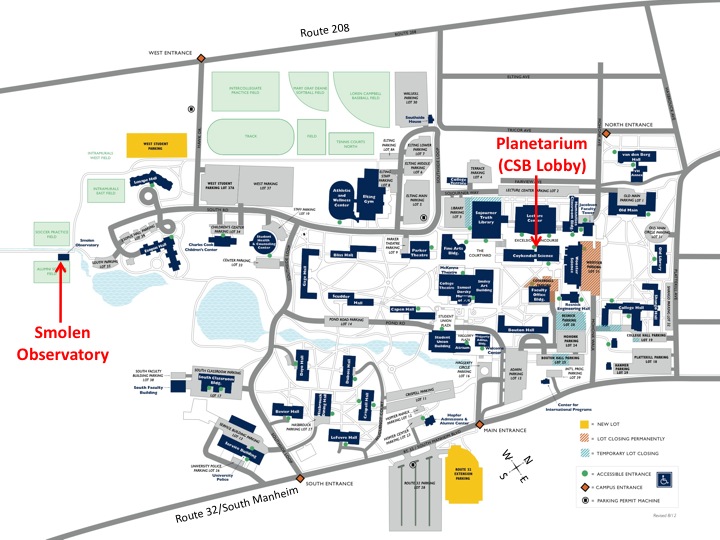 Interactive campus map also available on the main New Paltz website.