Renée C. Byer Opening Night
Renée C. Byer Opening Night
By Beth Curran
Tears rolled down SUNY New Paltz President Steven Poskanzer's face as Renee C. Byer's photographs flashed on a wall at the Samuel Dorsky Museum on April 13. Less than two minutes into a video showcasing Byer's 2007 Pulitzer Prize winning exhibit, "A Mother's Journey," Poskanzer's horn-rimmed glasses were off and a handkerchief was dabbing at his tears. His head stayed down, and his sobs continued until the video ended.
The president's reaction was not unusual among the 100 or so who crowded into the Dorsky Museum to view "A Mother's Journey." . The photographs of 10-year-old Derek Madsen, dying of cancer, and his mother, Cyndi French, were surrounded by a video interview with French. At times, gasps and sniffles could be heard throughout the audience.
The crowd, sitting in neat rows of chairs and many more against the gallery walls, were gathered at the "Capturing Intimate Moments" program to hear Byer, a native of the Mid-Hudson Valley and SUNY New Paltz's 9th James H. Ottaway Sr. Professor of Journalism, discuss her award-winning photographs, past projects, career, and future plans.
After introductions by Poskanzer and Journalism Professor Robert Miraldi , the petite, brunette Byer displayed selected works, including photos of women in the military, conditions in Cambodia, drug addiction, low-income housing, and Hurricane Katrina evacuees.
"I try to show a side of life that people have not seen before," Byer explained to the audience, which consisted of students, faculty, and community residents, James and Mary Ottaway, whose gift nine years ago made the professorship possible, and fellow Pulitzer Prize winner and Ottaway Professor Bernard Stein, listened to Byer say,. "Photojournalism offers a glimpse of life's deeper meanings."
Taking questions from guests, Byer also addressed the emotional toll photojournalism has had on her. She explained an occasion in which a dying, bed-ridden Derek presented her with a Jamba Juice card from his own wallet to give to her husband on his birthday. "It was just so overwhelming," she said.
The award-winning project, she added, "was a 24/7 thing. I did spend a lot of my own time on this assignment." Byer followed Derek and his mother for a year as the youngster went through various treatments in a battle that he could not win.
Byer discussed how she came to become a photographer. She began as a photographer on her on high school yearbook at Rondout Valley High School, which is 10 miles from New Paltz. She then went to Ulster County Community College and took her first formal photography class.
"I have an innate curiosity that drives me beyond the obvious," she said as she described a childhood incident when gunshots were fired at her home in Rosendale where her father was the police chief. Instead of instinctively dropping to the ground like the rest of her family, Byer scurried to the window with binoculars to see if she could see the perpetrator.
"I've always been consumed with being an eye-witness," she said.
Byer answered questions about the changing news industry and specifically the Internet. She said, "It's such an immediate way of letting people understand what people's lives are like." And she said her work now has such a wider audience and that so many more of her photographs can now be seen because the Sacramento Bee, where she is senior photographer, can carry many more photos than it could in print.
Following her visit in New Paltz, Byer will continue to try to speak for "those who don't have a voice." She has plans for a new project where she will document women and children all over the world who survive on $1 a day. A book will follow and, according to Byer, the Dalai Lama, the spiritual leader of Tibet, has agreed to write the foreword.
Photos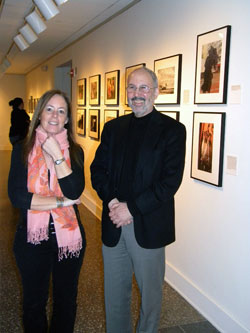 Ottaway professor Renée C. Byer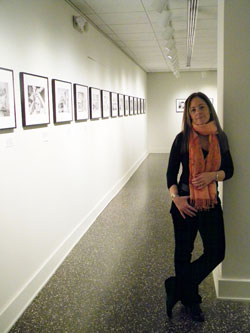 Ottaway professor Renée C. Byer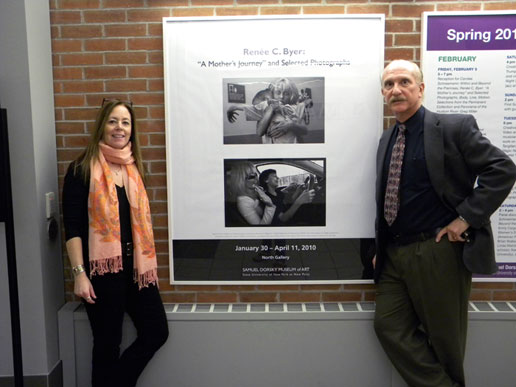 Ottaway professor Renée C. Byer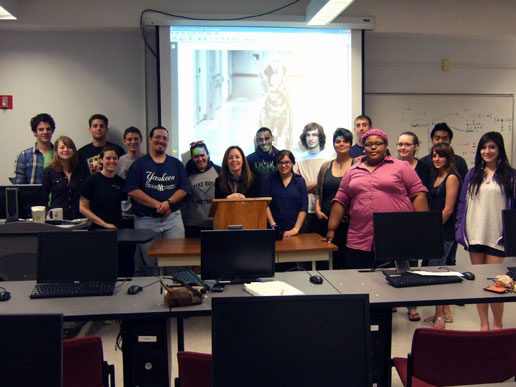 Ottaway professor Renée C. Byer