Engineering Design Expo and an engagement opportunity between students and businesses.
Student volunteers support the local community for Make a Difference Day.
School of Education teacher candidates provide support to elementary school students at the Numeracy Club.
SUNY New Paltz Undergraduate Commencement Ceremony.



Making an Economic Impact




SUNY New Paltz
Economic Impact Study 2023*
*data compiled from 2021-22 academic year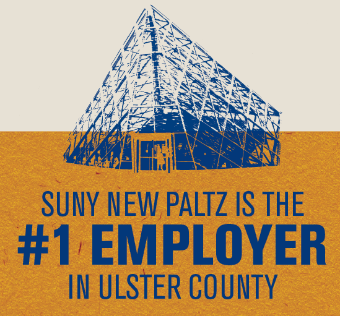 The two primary reasons this public University exists are:
We help students earn the degrees they need to join and strengthen New York's economy and experience personal and professional success.
We are a value-added resource to New York State, serving the citizenry through our community partnerships and innovation.
---
1,686
JOBS
SUNY New Paltz is the No. 1 employer in Ulster County, with

1,686

full and part-time faculty and staff.
That adds up to $85.9 million in salary compensation, 91% of which goes to employees with Hudson Valley addresses.
$388.2
MILLION
The University generated

$388.2 million

in Overall Economic Activity and

3,317 jobs

in the Hudson Valley during the academic year, and

$439.4 million

in Overall Economic Activity and

3,853 jobs

in New York State overall.
$231.8
MILLION
University, employees, students and visitors spent

$231.8 million

in the Hudson Valley and

$252.1 million

in New York State.
That includes $136.3 million in spending from our 7,000+ students, which directly benefits local businesses in the region.
---
Did you know?
New Paltz has more than 75,000 alumni! Of those, more than 56,000 are "working age" (65 or younger), and 74% of those still live in New York. Those working graduates generated nearly $600 million in value-added annual earnings for our state, above and beyond what their average earnings would be with only a high school degree.
How do we calculate generated impact?
New Paltz uses methodologies developed and published by the U.S. Bureau of Economic Analysis, including the common set of 2022 RIMS II multipliers, to estimate how spending and other activity by the University and its employees, students and visitors contribute to the overall regional economy.