Historic year as athletes celebrate national and conference championships
This year's athletics accomplishments included a record number of conference championships in women's tennis, field hockey, basketball and volleyball. Additionally, the men's volleyball team captured the NCAA Division III National Championship.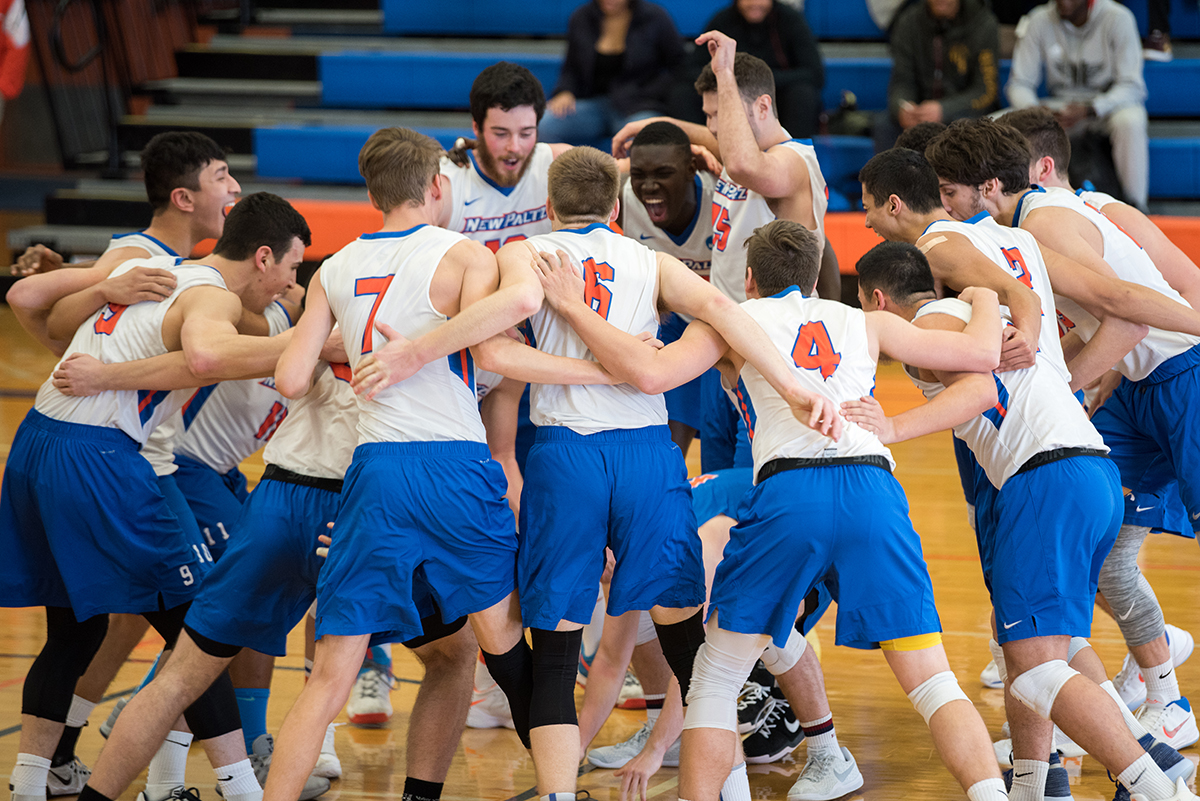 After dropping the first set, the SUNY New Paltz men's volleyball team dominated through sets two-throughfour to earn a 3-1 win over UC Santa Cruz and claim the program's second NCAA Division III National Championship.
"We kind of felt it like three points leading up to it," said Matthew Grace '20 (Business) of his team's championship aspirations slowly coming to fruition. "Every time we brought it in in the huddle after a point we all gave each other a nice little smile, because we knew what was just about to happen. When the ball came over I knew I had to set one of the seniors, so I set Nick Smith '19 (Organizational Communication) and never do this, but I said, 'come on Nicky' and he put it down and it was just euphoria after that. It's something that none of us will ever forget."
For the first time in program history, the women's tennis team ended an undefeated season in SUNYAC play, going 9-0 to ultimately take the conference title.
Lindsay Haley '19 (Sociology) was named tournament MVP following her spectacular weekend, while fellow Hawks Courtney Koran '21 (fifth singles), Jenna Grandville '21 (Business) (fourth singles), Victoria Zezula '20 (Psychology) (third singles) and Laura Koob '22 (Biochemistry) (second singles) all made the All-Tournament team.
"Lindsay got MVP deservedly so. She has had a fantastic four years and to cap it off like that was well deserved. It couldn't have gone to a better student athlete," said Coach Rob Bruley said.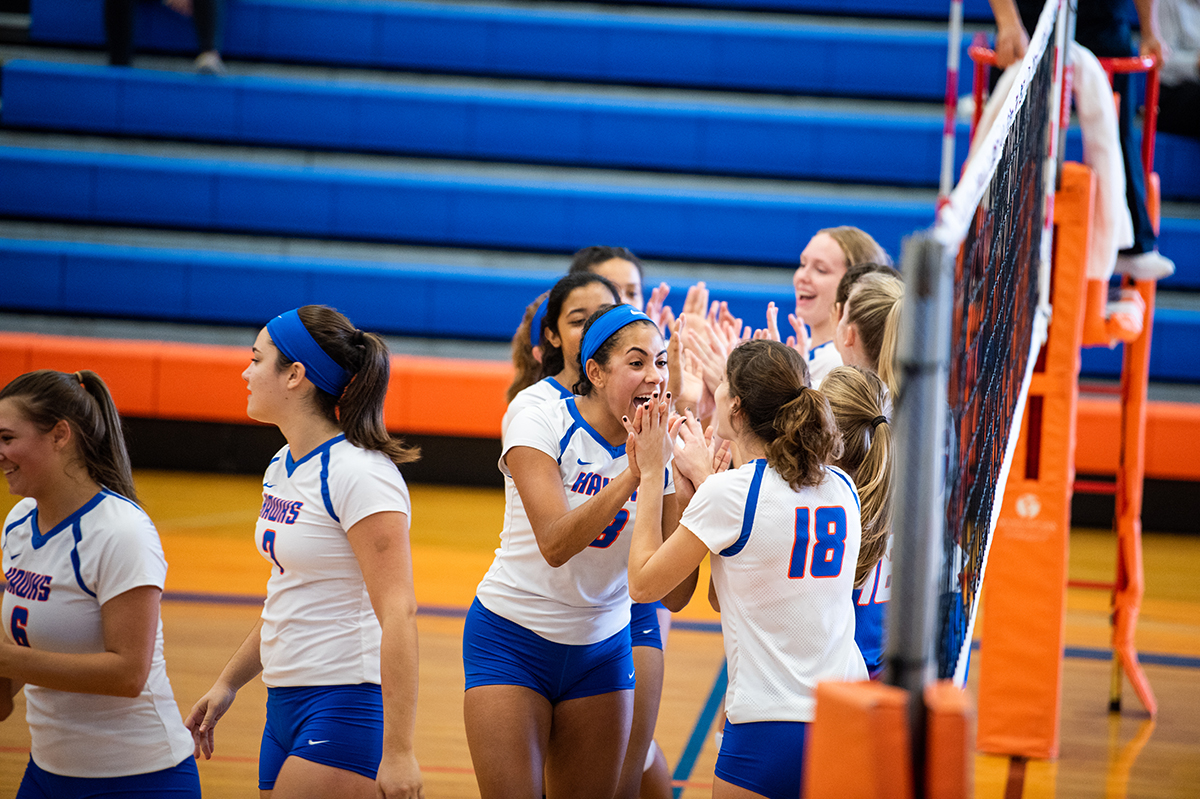 Coming off a disappointing loss in the SUNYAC semifinals last season to eventual champion The College at Brockport, the SUNY New Paltz women's volleyball team knew what it was capable of achieving in 2018. Right when the final whistle sounded on the 2017 season, the Hawks headed to the weight room and onto the court, visualizing and preparing for the big moment where they found themselves this year.
With the final point on the line, sophomore middle hitter Demi Herasme '21 (Communication Studies) sealed the win for the Hawks, slamming the ball onto the Knights' side and falling to the ground in excruciating joy. SUNY New Paltz completed its 17th sweep of the year and won their third-ever SUNYAC championship.
"At the end of last season there was a real bitter taste in our mouths and we felt like we didn't emphasize or repeat the good things consistently enough," Coach Matt Giufre said. "Every team is good, but it comes down to who going to play well enough to win and have the determination to finish out games, and we were able to do that."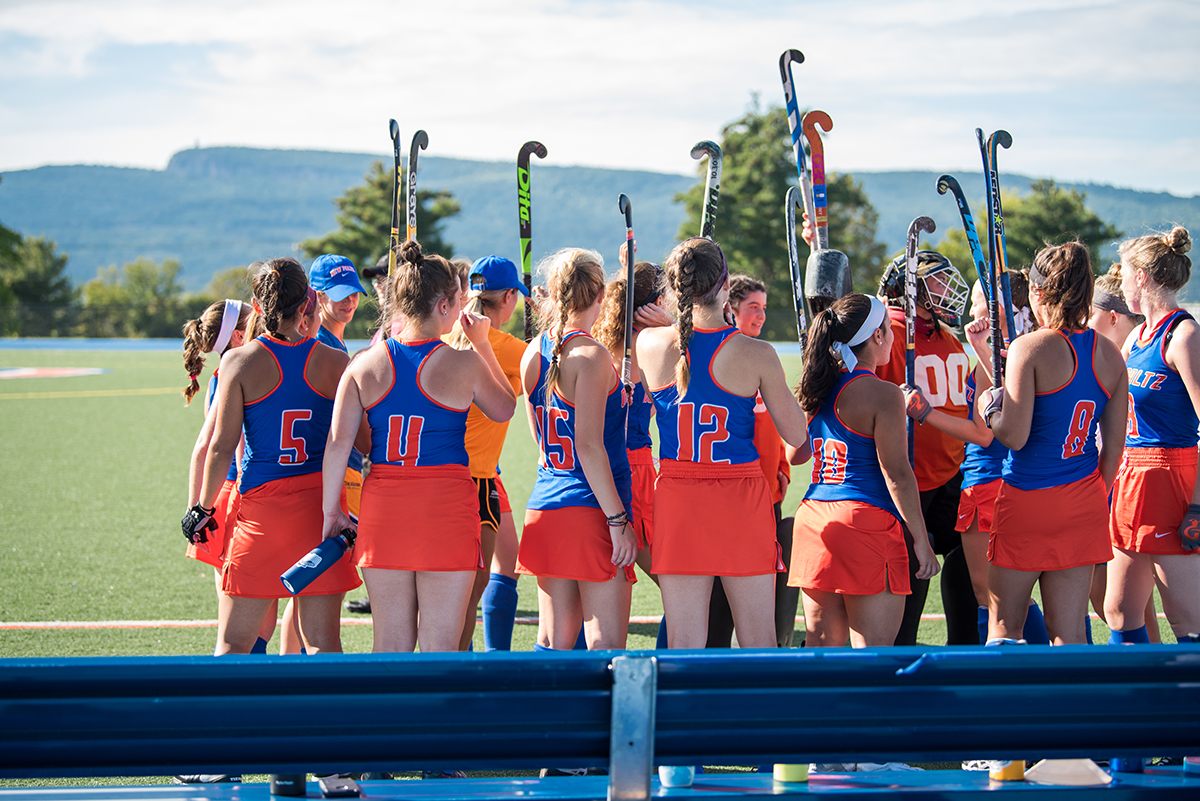 In the SUNYAC finals against SUNY Cortland, freshman midfielder Jackie Knapes '22 (Communication Disorders) scored her first collegiate goal, which in turn became the game-winner for SUNY New Paltz in a 2-1 SUNYAC championship victory.
Coach Shanna Szablinski credited a lot of the success of her program to her alumni. Before the season they shared their stories of success and experience on their way to a championship season. All 25 current players bought in, especially the young freshmen who strived to mirror their success.
"A lot of our alumni still come to the games, and since I knew I was going to have a young team this year, I asked some of them to write a story about what it means to be a champion," Szablinski said. "We would tell each story at a point in the season where it was most impactful, and I think that really inspired our players and built off on the culture that was already created."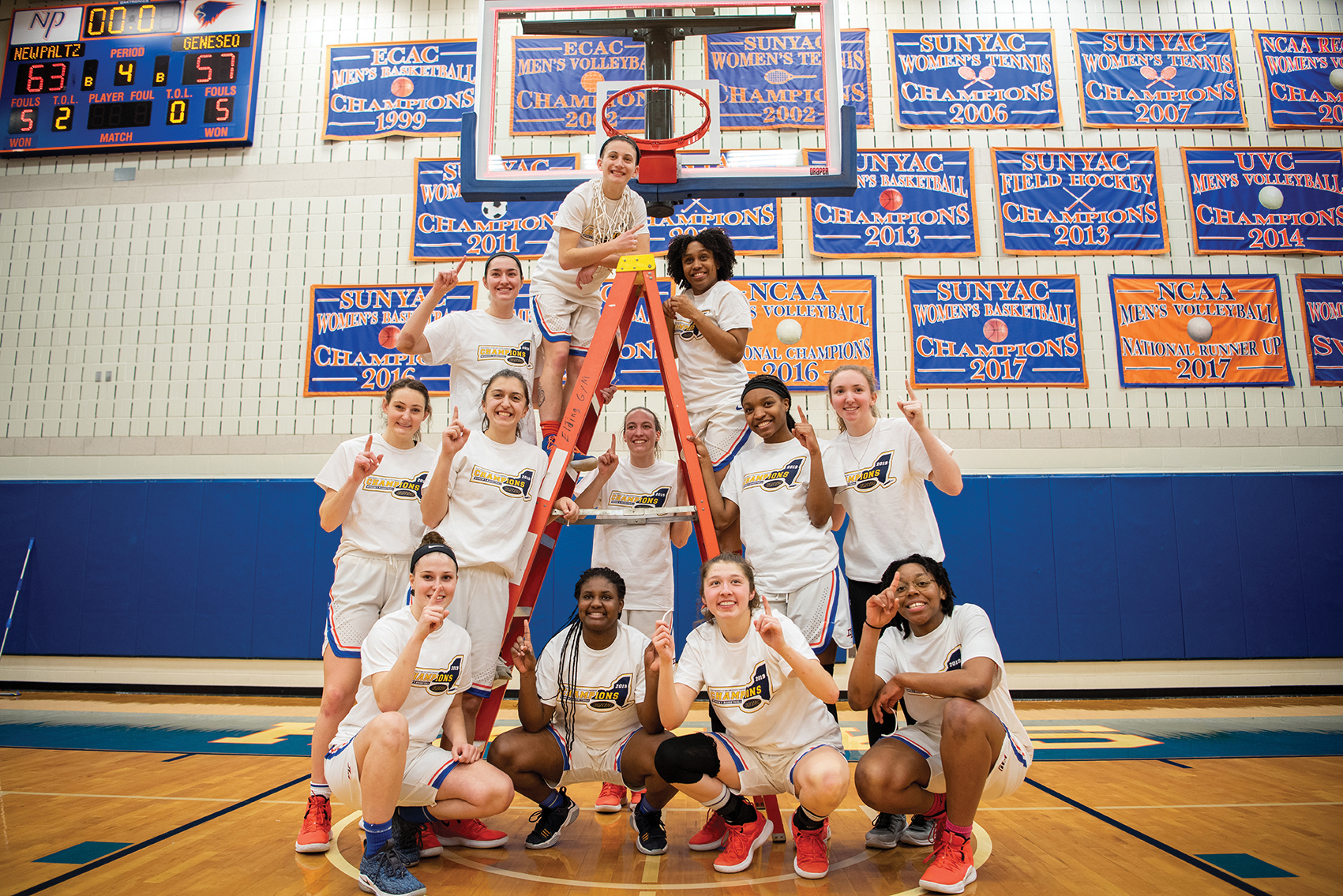 The SUNY New Paltz Women's Basketball team overcame a 13-point fourth quarter deficit in a come-from-behind, overtime win over defending champion SUNY Geneseo in the 2019 State University of New York Athletic Conference (SUNYAC) Tournament Final.
Team captain Lindsay Bettke '19 (Geology) was an emotional leader on the court, scoring 8 of the Hawks' 11 points in the decisive overtime period.
"We looked each other in the eyes and locked in: We're going to make a play," she said.