Speech-Language and Hearing Center
The Speech, Language and Hearing Center and the Department of Communication Disorders is now located in our newly-renovated facility in the Humanities Building.
Center Reception and Waiting Area: Room 9B
Communication Disorders Dept. Office: Room 9A
(845) 257-3600
---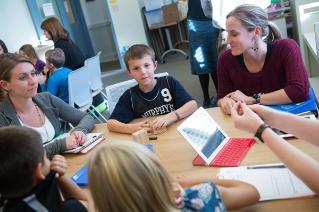 The SUNY New Paltz Speech-Language and Hearing Center offers both diagnostic and therapeutic services for children and adults who demonstrate speech, language, or hearing difficulties.
Speech and Language Pathologists along with graduate students provide a range of services related to speech and language difficulties and hearing problems.
Audiologists and graduate students provide assessments of hearing and the rehabilitation of hearing loss at the Center including the provision of hearing aids.
All supervisors of the students hold the American Speech-Language-Hearing Association (ASHA) Certificate of Clinical Competence in either Audiology or Speech-Language Pathology and are licensed by New York State.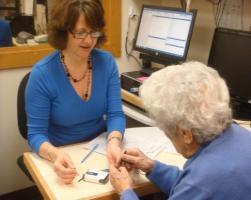 The Center is a part of the Department of Communication Disorders and operates on a not-for-profit basis.
If you would like to learn how to make the Speech-Language & Hearing Center part of your charitable giving plans, click on the link below.
---
---
Speech-Language and Hearing Center
State University of New York at New Paltz
Humanities Building (HUM), Room 9B
1 Hawk Drive
New Paltz, New York 12561-2440
Telephone: 845-257-3600, Fax: 845-257-3605
email:
commdis@newpaltz.edu
---