Graduate Program
2022-23 Admission Requirements Update:

Instead of a 400-500 word admissions essay, applicants to the graduate program (090I and 090S concentrations) are asked to submit a 400-500 word response to a writing prompt. The details of the writing prompt are in the application.

GRE scores are no longer required; please do not submit them.
The graduate program in Communication Disorders prepares students for rewarding careers at schools, hospitals, clinics and private practices, in fields where the demand for skilled, caring pathologists is on the rise.
Outstanding Clinical Experience
The Department of Communication Disorders is home to a newly-renovated Speech-Language and Hearing Center, which provides diagnostic and therapeutic services to Hudson Valley residents, young and old. Students gain valuable, comprehensive experience working with clients in the Center and at varied regional affiliate organizations such as schools, hospitals, rehabilitations centers, agencies, and private practices.
Personal Attention and Relationships
As part of a small, tight-knit cohort of enrolled students, you'll develop skills and build relationships alongside peers who share your interests. Our knowledgeable and experienced faculty work closely with each individual student to provide an exceptional synthesis of research-based academic foundations and applied clinical experience.
Professional Credentials
Graduate programs in Communication Disorders include two concentrations: Speech-Language Pathology, and Speech and Language Disabilities. Completion of either program qualifies students for ASHA certification and New York State licensure. The Disabilities concentration qualifies students for the Initial Certification as a Teacher of Students with Speech and Language Disabilities (TSSLD).
Abundant Career Opportunities
Graduates of MS in Communication Disorders programs find employment in the field at a rate of nearly 100%, and the professional outlook nationwide is forecast to remain strong for years to come. The program has a long and well-established track record of preparing students to succeed, whether they choose careers in clinical or educational settings, or choose to pursue a doctoral degree.
---
Concentrations
The program prepares students who have strong undergraduate backgrounds in Communication Disorders for a wide range of career opportunities and for doctoral study. There are two concentrations:
---
Application Timeline
Applications for Communication Disorders Graduate Programs are considered for Summer admission. Once accepted, students may defer matriculation until the Fall if desired, or if necessary to complete prerequisite coursework.
---
Program Contact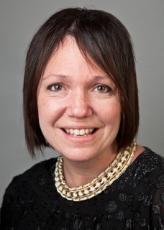 Andrea Abramovich, Graduate Coordinator
Communication Disorders Dept.
Humanities Building (HUM) Room 8C
State University of New York
1 Hawk Drive
New Paltz, New York 12561-2440
Tel: 845-257-2377
E-mail: commdisgrad@newpaltz.edu