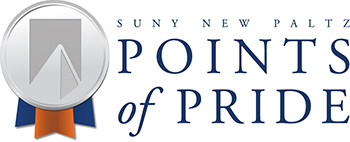 Admission:
High School average: 90-94
Average SAT score: 1090-1220
Average ACT score range: 23-27
Enrollment*
Undergraduates: 6,570
Graduate students: 1,088
Diversity*
28% students of color
16% Latino
5% African-American
5% Asian–Pacific
2% multi-racial
(note: Based on degree-seeking undergraduate students. International students, and students of unknown race/ethnicity are excluded from the above calculation)
Our undergraduate student population includes students from 45 foreign countries.*
Female/Male Ratio*
62% female, 38% male
Faculty: 347 full-time and 302 part-time**
354 hold Ph.D or terminal degree
Student/Faculty Ratio**
15:1
Class size**
75% of classes are less than 30 students
93% of classes are less than 40 students
Academics
The College has six academic schools:
College of Liberal Arts & Sciences
School of Business (AACSB accredited)
School of Education (NCATE accredited)
School of Fine and Performing Arts
School of Science & Engineering
The Graduate School of New Paltz
There are 105 undergraduate and 50 graduate degree programs offered at New Paltz.
Top 10 Undergraduate Programs*
1. Psychology
2. Early Childhood and Childhood Education
3. Visual Arts
4. Sociology
5. English
6. Biology
7. Accounting
8. Theatre Arts
9. Journalism
10. Communication Disorders
Top 10 Graduate Programs*
1. Literacy Education: B-6 (MSED)
2. Communication Disorders
3. English (MA)
4. School Leadership (CAS)
5. Second Language Education (MSED)
6. Electrical Engineering (MS)
7. Music Therapy (MS)
8. Humanistic-Multicultural Education (MPS)
9. Business Administration (MBA)
10. Mental Health Counseling (MS)
Study Abroad:
From Rio de Janeiro, Brazil, to Nanjing, China, New Paltz students study abroad on six of the seven continents.
College activities:
Include over 800 leadership opportunities for students, more than 200 recognized clubs and organizations, fraternity and sorority life, NCAA Division III athletics, and nationally renowned fine and performing arts programs.
* Fall 2013 Student Profile
**Common Data Set 2013-2014 Instructional Faculty and Class Size