Using Your Degree
242 Women's, Gender, and Sexuality Studies graduates know the answer.
Women's, Gender, and Sexuality Studies graduates enter a number of different fields ranging from human services to law, health, education, and others.
Here is a sampling of what recent graduates from our program are currently doing with their lives.
Teresa Mandrin (Class of 2017) '19g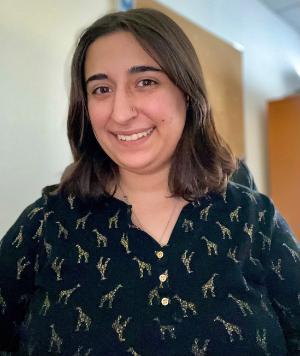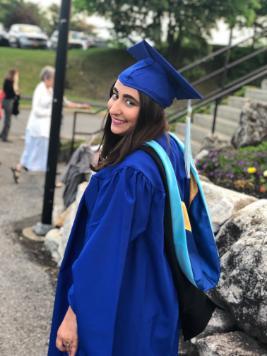 Many friends, family members, and even strangers asked, "what can you do with a degree like that?" I would tell them that the best part about a WGSS degree is how interdisciplinary the program is: you get to decide the types of classes you take, which means you get to decide the path you take post-grad. Outside of my core WGSS classes and electives, I mainly took classes in English (my minor), political science, and history, which combined made me into the type of activist I continue to be today. While I initially wanted to go to law school after undergrad, I ultimately decided that law was not the right path for me, and I am very happy with my choice to stick with higher education.
My WGSS practicum perfectly tied into my then work-study job and my current career: I worked closely with faculty across campus and in the WGSS department to organize the NYS Women's Suffrage Centennial, where I got to meet Senator Kirsten Gillibrand and feminist legend Barbara Smith (I even still have the commemorative coin designed by the SUNY New Paltz metal arts graduate program).
Almost immediately after graduating in 2017, I started to work for SUNY New Paltz as an emergency hire in the Office of Development and Alumni Relations. I had spent sophomore through senior year working with them to plan major campus events like the Women's Leadership Summit, Distinguished Speaker Series, and Commencement, so it was a relatively smooth transition. I started graduate school in the (now renamed) Humanistic Multicultural Education program in spring 2018 and graduated by spring 2019.
I decided to try a new career path when I was in grad school, and ended up becoming a teacher for three years in the SUNY Orange BRIDGES Program: a post-secondary education program for young adults with an intellectual and/or developmental disability diagnosis. If not for my time in WGSS and early days in HME, I probably wouldn't have felt comfortable jumping into a teaching role. I never thought it was for me, but once I got my feet wet, I realized there were so many conversations that no one had ever had with these students, specifically because of their disability status. In my classes, I taught them about gender, sexuality, red flags vs. green flags in relationships, consent, race, class, and general politics (the 2020 election was certainly a hot topic).
In December 2021, I transitioned back to working in Development and Alumni/ae Affairs, and became the Alumni/ae Engagement Associate at Bard College. I have been able to join the Council for Inclusive Excellence, and am working with other faculty and staff to promote equity and inclusion initiatives across campus. Right now, I'm in the process of putting together our first LGBTQ+ alumnx career panel, inspired by speaking with students and hearing their concerns about graduating, joining the workforce, and not knowing how to be "out" outside of a place that is very much an LGBTQ+ haven.
The department is truly filled with some of the best and most supportive teachers I have ever had. When I found WGSS, I found a home and people who believed in me, who valued what I had to say. I will forever be grateful for everything I learned in my time there.


Claire Papell (class of '11) is a paralegal at Sussman and Watkins Law, a civil rights firm in Goshen, N.Y. She assists attorneys with cases involving sexual harassment and assault, race and gender discrimination in employment, police brutality, and children's rights.
Victoria Passarella (class of '05) currently works in career development at Barnard College of Columbia University. She received her Master's degree in fundraising and nonprofit management from Columbia University and is now working on her second Master's degree in adult and organizational leadership.

Honor Adams (class of '10) is a community educator at My Sisters' Place, a domestic violence services center in Westchester County. She travels to high schools and middle schools across the county to educate teens about teen dating violence, safe sex, and bullying.

Krystle Montalvo (class of '06) is supervisor of data management for Sanctuary for Families, a domestic violence shelter in New York City. She is now in school part-time taking preliminary science courses to start nursing school.
Amy Hojnowski (class of '97) has worked as a political consultant and organizer since 1998. She is currently the political director of Planned Parenthood Advocagtes of Oregon .


Sarah Hoop (class of '09) is a high school literature teacher in Poughkeepsie public schools who includes women's voices in all her classes.


Peri Rainbow (class of '84), pictured at right with daughter Cecilia and wife Tamela, paved the way for marriage equality in New York State and queer studies here at SUNY New Paltz. She has taught in the SUNY New Paltz Women's Studies program for 20 years. She is a founder of a new center for learning and healing in Stone Ridge, N.Y.
Amy Kapes (class of '98) has worked in positive youth development and prevention since graduating in 1998 and has been employed as a high school social worker and group fitness instructor at Kingston High School for the last eight years.

Kathleen O'Keefe (class of '90)
served as election law

counsel to the New York State Assembly until February 2011. During the five months leading up to Tunisia's first free election,
she worked as an election law specialist in Tunisia for the American Bar Association. She currently has a solo practice specializing in election
and matrimonial law.


Julie Carlson (class of '96) is a certified nurse practitioner in New Mexico. She lives in southern Colorado with her partner and is working to develop a multicultural community that is both socially and environmentally sustainble.
Martha Cedarholm (

class of '86) became a nurse practitioner in 1997 and has worked in several settings. She is now the nurse practitioner and director of student health and counseling services at Pratt Institute.