Pastor Tobias Anderson's Remarks
Pastor Tobias Anderson, Redeemer Lutheran Church, New Paltz, NY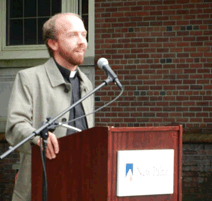 I am humbly honored to join this time of remembrance today, and though I stand here grounded in my own Christian Lutheran tradition, I know I stand among people who walk in many different Christian and interfaith traditions as well. In just a moment I will share a prayer, and as I do I invite you to please pray along in your own way and with your own understanding. It is when we join together as fellow people, despite our perceived differences that hope grows stronger, hope that lasts and grows even amidst tragedies such as 9-11.
Strange how it is often at the times of worst crisis that humanity shines at our very best- countless first responders, some here with us today, who without thought dove in to help those they could that fateful day.
We've seen this again with Hurricane Irene in our Catskill Mountains, and probably some of you here have already been part of shining the best of what humanity can be by diving in to help with rescue efforts, first responder efforts, efforts to gather food and clothes and sending positive thoughts and prayers to the people of Vermont, CT, MA, and our neighbors here in New Paltz and the Catskills. Or maybe you'll be part of volunteer efforts to help them with clean up, or getting your friends and organizations and clubs involved.
Together we are stronger, together we are more than what we can ever be alone, together the light of God can shine through us into this world, healing and reconciling, reshaping and grounding us as we move forward, people of hope.
Closing prayer: Gracious God, in this week when so many of our hearts are full of remembrance for those lost and affected by 9-11, full also for those struggling in the Catskills, Vermont, Ct, MA, and the world over because of natural disaster, grant us your solid guidance and your courage to plant seeds for peace in our families, faith communities, universities, and the whole world. God, in your most holy name we pray, amen.