President Donald P. Christian's Remarks
On Friday, September 9 the College, first responders and the New Paltz community gathered in remembrance of the 10th anniversary 0f 9-11.
President Donald P. Christian's Remarks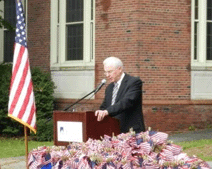 Welcome to New Paltz and to our commemorative ceremony marking 10 years since the terrorist attacks on Sept. 11, 2001. Joining our campus community today including our own university police department are partners from the community – representatives from the town police department, the rescue squad, the fire department and clergy.
The events of 9/11 touched our entire country deeply. They inevitably touched the lives of New Yorkers and of friends and relatives of our students, staff and local first-responders, past and present. They clearly have influenced the course of history and the way many Americans view the world. For those who attended last night's forum in the Honors Center, you heard from New Paltz professors about their observations of how we view and practice security, law, education and historical memory.
We all started our day on Sept. 11, 2001, like any other day, heading to school or work, or sitting down with a cup of coffee. Unbeknownst to us, 19 hijackers were commandeering jetliners and converting them to weapons. The destruction and tragedy they caused has led us all to struggle to make sense of a new reality.
Today, we remember those who died – almost 3,000 individuals who lost their lives because of the attacks. We recognize the special role of first-responders in this and other crises we face. Of those who died on 9/11, 411 were first-responders – firefighters, police officers, EMT's and paramedics – who tried to fight the fires and helped rescue and assist those in need.
In New York, more than 2,600 people perished in the Twin Towers. Almost 250 died on the four airplanes that were hijacked. Another 125 people died at the Pentagon, including 55 military personnel.
More than 70 countries lost citizens during the attacks.
Many of our students were young children at the time of the attacks. For those who watched the NBC documentary on Monday night, you learned how one of our own students, senior Caitlin Langone…lost her father on 9/11. She is one of 3,000 children and countless loved ones who continue to be affected by what happened that day.
In the documentary, we learn that Caitlin has been very private about her loss, but took part in this documentary because she felt her story might help others. Caitlin has expressed that during her time as a college student she drew a sense of comfort and community at New Paltz.
Like Caitlin, who has worked hard to keep the memory of her father alive, we as a campus community, wish to keep alive the memory of those who died on September 11. We will do so today by planting a flag for each one today, and asking our first-responders in the community to join us in this solemn but heartfelt remembrance of the sacrifice made by emergency personnel who responded that September day.
On the actual anniversary of the attacks this Sunday, our chimes in the van den Berg clock tower will strike at 8:46, 9:03, 9:37 and 10:03, the times of the attacks on the World Trade Center, the Pentagon and the downing of Flight 93 in Shanksville, Pa. After the last chime on Sunday, College and community members are welcome to take a flag as a remembrance.
Two of our speakers today are first-responders. First, we will hear from New Paltz Fire Chief Kevin McGuire. Chief McGuire and his volunteer firefighters respond on this campus and protect the lives of our staff and students and our buildings in the event of fire and other emergencies.

Chief McGuire will be followed by Dr. James Halpern, professor of psychology and director of the Institute for Disaster Mental Health on campus. Dr. Halpern responded on 9/11 with the American Red Cross, offering psychological first aid to survivors and first-responders. He will take part on Sunday in the ceremonies at Ground Zero and has special insight into the trauma caused by these attacks.