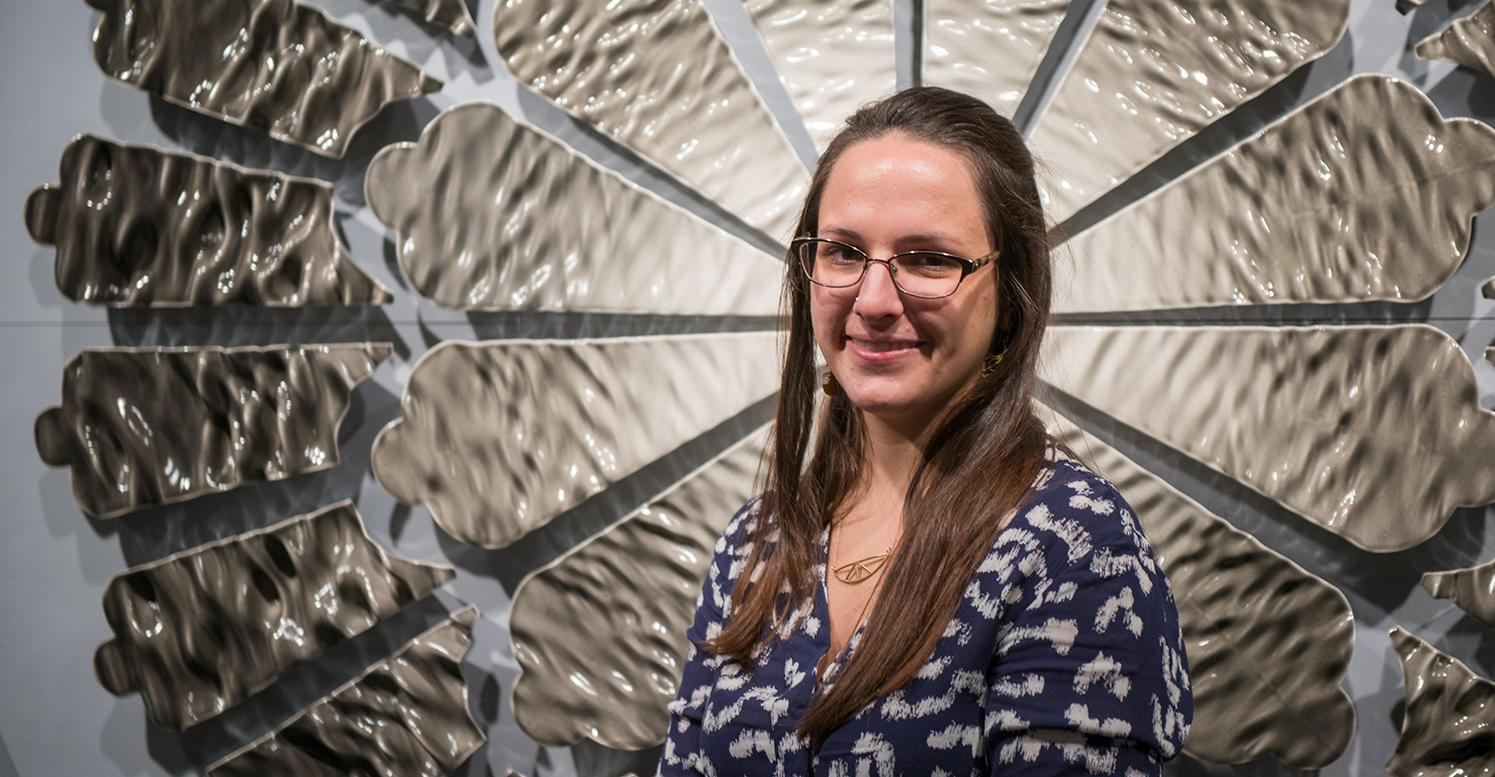 Sarah grew up in New Jersey and completed her undergraduate studies at Alfred University in Western New York.
Sarah Heitmeyer: I did a residency in Rochester, and someone there told me about how great the New Paltz ceramics program is. I knew I wanted the lifestyle of living in the country, but still having access to the resources coming out of New York City, especially the arts scene. New Paltz was a great fit for that.
I started getting opportunities as soon as I got here. I'd heard about an internship at KleinReid, a high-end ceramic design and production studio in the city, and I told my new advisors that I was interested. Anat [Shiftan, associate professor of Art] reached out to them and kind of hooked me up.
Sarah was also hired at the Art Department's Digital Fabrication Lab on campus, and later moved on to a position with the Hudson Valley Advanced Manufacturing Center (HVAMC), the College's primary 3D printing hub.
I knew I wanted the lifestyle of living in the country, but still having access to the resources coming out of New York City, especially the arts scene. New Paltz was a great fit for that."
Sarah: I never considered myself a computer person, and came in with pretty much zero experience in digital design. I had the good fortune of being around people who were willing to help me learn, and right away I started seeing how the 3D printers worked and how the technicians were processing builds.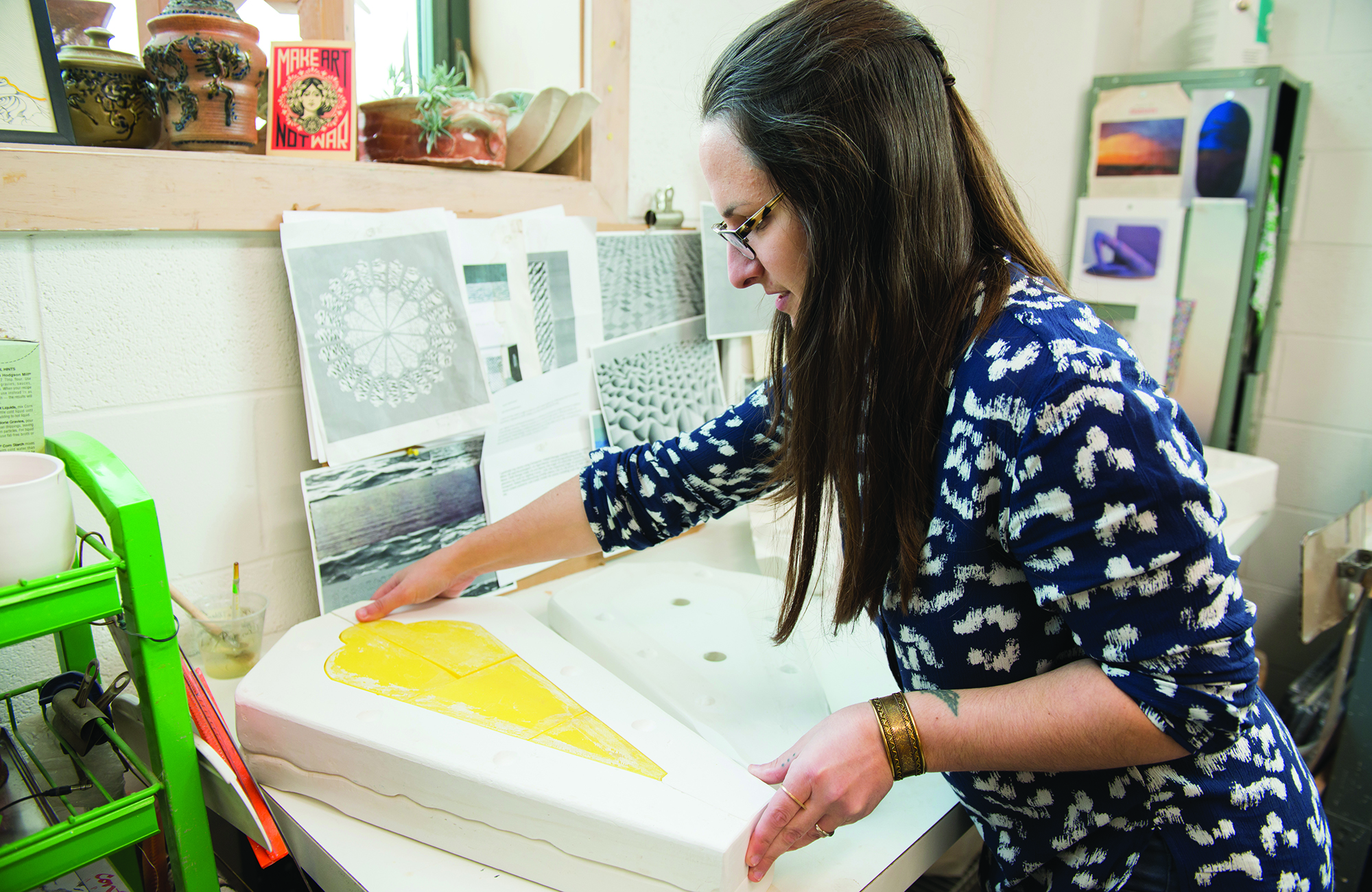 Sarah's work with 3D design and her work in ceramics quickly began to merge.
Sarah: Through my research and my time in the labs, I was learning things that were perfect for what I was trying to do in my studio.
Aaron Nelson, assistant professor of art: There's an algorithmic modeling plug-in for Rhino, called Grasshopper, that can scan a black-and-white image and generate an abstraction you can use to drive other geometry: the height of a point, the radius of a circle, the size of a sphere or the proximity of shapes to other shapes.
It's a transformative process of taking a phenomenon from the natural world, translating it into the digital world, and recreating it in any way you can imagine.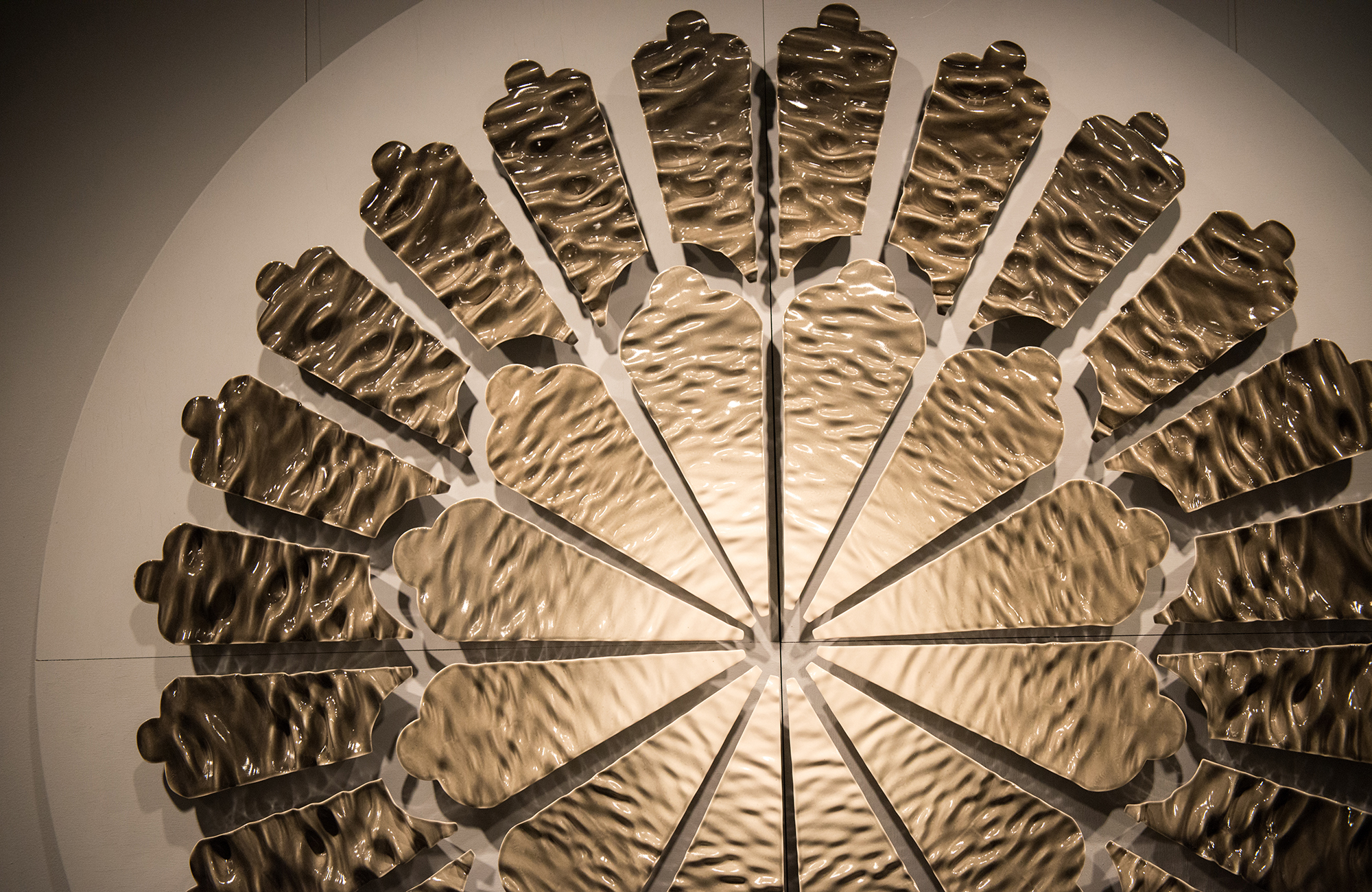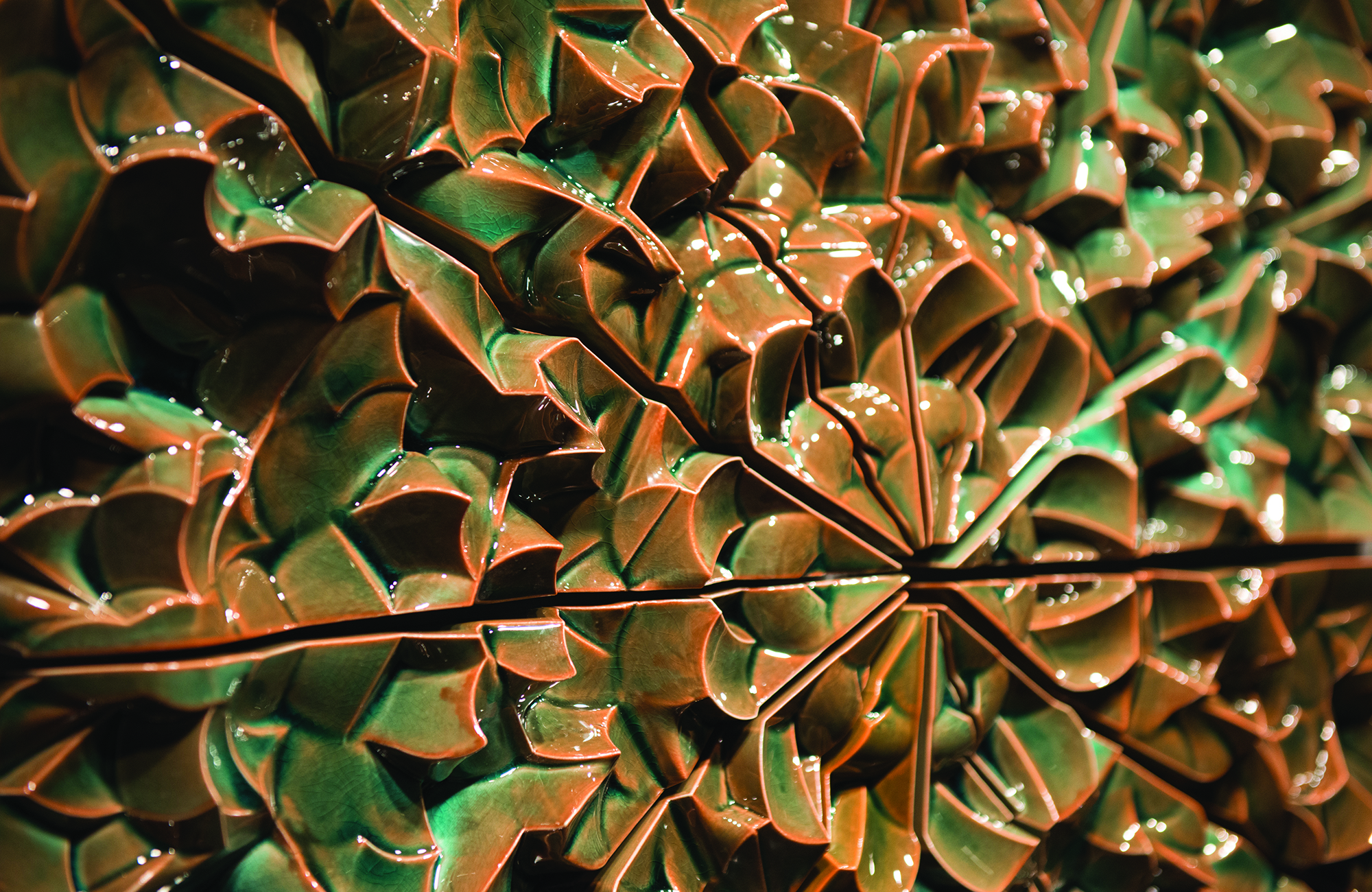 Sarah: I was focused on working with photographs of water. Using Rhino to process those images and print 3D molds and prototypes just opened up everything for me.
It's about capturing a moment that happened: the surface of the water, the perspective of the photographer and the reflection of light in that instant.
Aaron: It's a really novel process, and Sarah kind of had to invent it herself. It was exciting for me to watch, a pretty amazing journey from where she started, with basically no experience, to showcasing her work in the gallery, in just about a year and a half.
Sarah's work culminated at the fall 2016 MFA exhibition, where students show their visual art theses before an audience of hundreds of students, faculty and staff at the Samuel Dorsky Museum of Art.
Sarah: For the exhibition, I wanted to create the experience of being in your own space or your own room, surrounded by the work, where you feel like you're overlooking into a vast landscape, where you can just lose yourself into that water, that horizon line, that space.
Bryan Czibesz, assistant professor of ceramics: Sarah's work engages digital design and manipulation through a series of structures and algorithms, but her end result is bringing the work back to the very real, very human form of clay. This provides a beautiful bridge of making processes across time.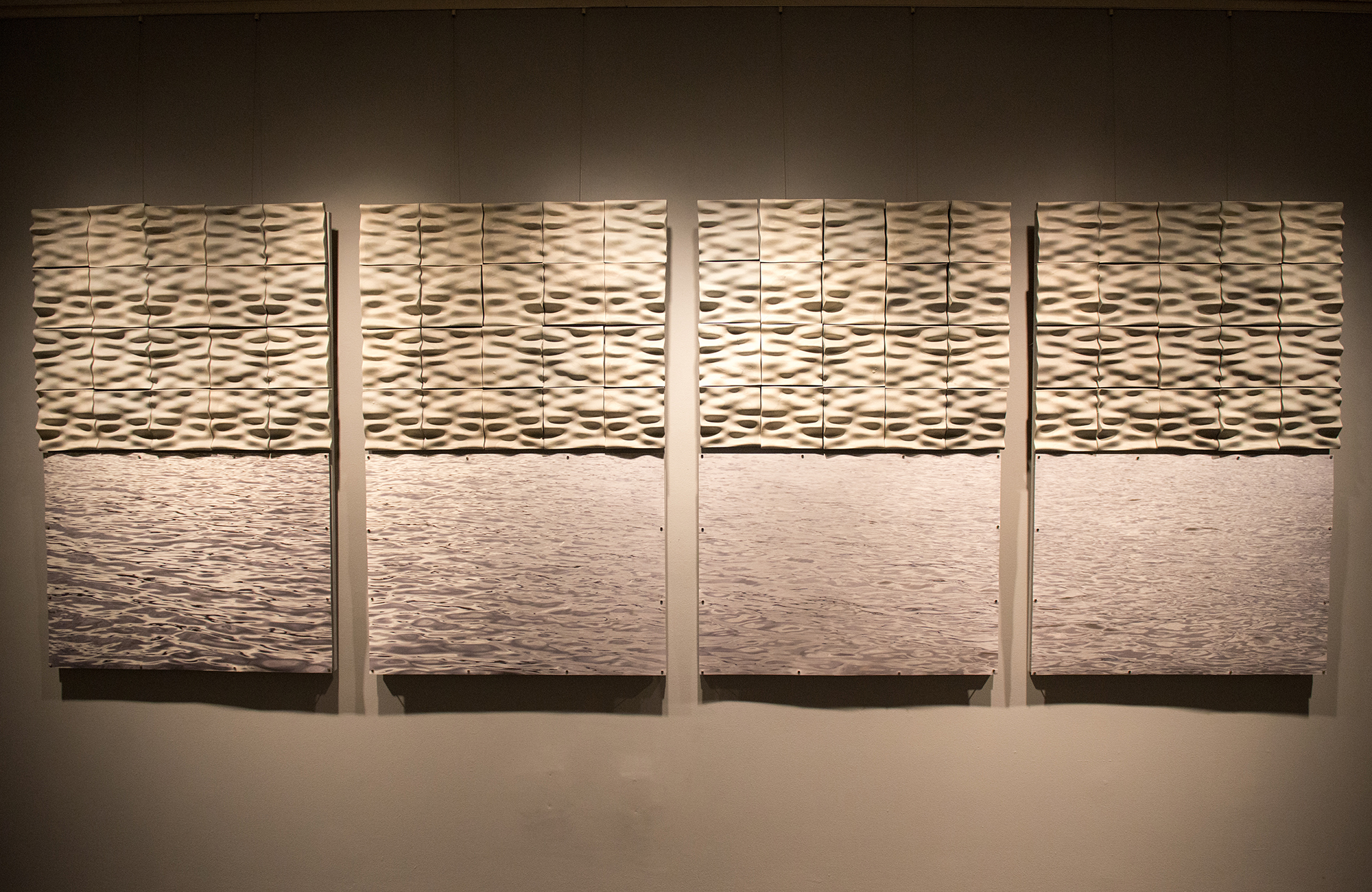 Sarah: I know a lot about traditional ceramic processes, and so I'm confident I can bring those skills to other studios. But my new knowledge of computer-aided design processes is very marketable right now. I know if I get opportunities to do 3D rendering or designs, I'll be able to provide that service.
My ultimate goal is to have my own design and production business, so while I'm seeing how I can reach out to other people, I'm also thinking further into the future about what I'd like to do independently. My time at the HVAMC had a major impact on what that future might look like.