Safety Programs > Portable Ladder Safety
Portable Ladder Safety

The purpose of these procedures is to provide guidance and to promote the safe use of portable ladders for the SUNY New Paltz employees. The goal of this policy is to provide adequate knowledge and training to minimize or eliminate ladder accidents.
INTRODUCTION:
Excluding motor vehicle accidents, falls are the number one cause of occupational related deaths. The Occupational Safety and Health Administration (OSHA) estimates that 18,757 injuries and 24 fatalities per year are caused by falls from ladders annually.
Ladder mishaps result from several unsafe acts and conditions:
-Ladders placed on unstable surfaces.
-Workers on ladders reaching too far beyond the sides of the ladder. (Beyond the center of the body)
-Personnel standing too high on the ladder in order to maintain balance.
-Defective or broken ladders (e.g., broken rails, rungs, missing hardware).
-Ladders that were not secured or braced. (Particularly extrusion ladders.)
-Personnel hand carrying loads while ascending or descending.
-Selecting the wrong ladder for the job.
-Improper positioning of the ladder.
-Eighty percent of ladder fall victims fell or slipped and nearly half of these fell at least 8 feet.
-Fifty-seven percent of fall victims were holding object(s) with one or both hands.
-Sixty-six percent of fall victims were not trained in how to inspect ladders.
-Seventy-three percent of fall victims were not provided written instructions on the safe use of ladders.
-Thirty percent of fall victims had wet, greasy or oily shoes.
RESPONSIBILITIES
Role of EH&S office:
The role of Environmental Health and Safety (EH&S) is to assist the various departments and other administrative units in complying with the applicable regulations and this ladder policy. In order to ensure compliance with this policy the EH&S office shall conduct routine inspections/audits.
EH&S will assist in providing any additional ladder safety training.
Role of Supervisors of employees who use ladders:
Ensure employees read and understand the material in this program document. Ensure employees are complying with program elements by periodic reviews of job activities when ladders are in use or storage.
Role of the employee:
Follow the ladder safety program elements from use to storage. Inspect the ladder prior to use as outlined in this document. Do Not Use broken or defective ladders; remove from service for repair or disposal. Read this program at least annually.
WORK PRACTICE:
Portable ladders can be carried or pushed from place to place. Portable ladders can be made from metal (mostly steel or aluminum), wood, fiberglass, or reinforced plastic.
If a safer means of access (e.g., scaffolds, work platforms, or fixed ladders with safety devices) is possible, portable ladders should not be used. In many cases, the task determines the correct ladder required for the job. (For example: Indoor painting usually requires a conventional stepladder, while outdoor painting requires extension ladders. A heavier job may require an "upgraded" ladder, such as a platform ladder.) Portable ladder types can be subdivided for different jobs. These ladders include:
- single or straight in line sequence ladders, stepladders
- extension ladders. (Not all ladders are suitable for all jobs.) The ladder that just happens to be available may not only be wrong, but also dangerously unsafe for the specific job.
Ladder Safety Training -Proper ladder safety training consists of a number of common sense factors which include selection of the proper portable ladder for each job, considering:
- Height of the Ladder
Ladders must be long enough to insure that the user does not stand on the top two steps of a stepladder or the top four rungs of a straight ladder. When an extension ladder is used to access a roof, the ladder should extend at least 3 feet above the support point at the eave, gutter, or roof line. Short ladders should never be spliced together to form a longer ladder. Ladders should not be placed on boxes, barrels, or any other unstable bases to gain additional height.
- The Weight Capacity (or working load) Needed.
Ladders are constructed to safely hold a specific amount of weight. These weight limits consist of users, their clothing, tools, and materials. Extra allowance should be made for stress exerted by the worker while performing the job. The heavy-duty ladder is best suited for industrial use because it holds up against frequent and rigorous demands. The weight-capacity classifications for ladders are as follows:
GRADE

Duty

Rating
(1lb)(kg)

USE

Household

III

200 (91)

Household

Commercial

II

225 (102)

Tradesman

Industrial

I

250 (114)

Industrial

Heavy-duty
Industrial

IA

300(136)

Heavy Industrial
Training requirement- employees who use ladders on the SUNY New Paltz must read and understand the requirements of the program. The refresher training is annually.
*EVERY LADDER'S DUTY RATING IS DISPLAYED BY A LABEL AFFIXED TO THE LADDER.
Inspection
SUNY New Paltz employees who utilize ladders are required to inspect ladders before using. They should look for loose, broken, or missing rungs, steps, cleats or side rails; missing safety feet, frayed ropes, and other defective parts. All rungs should be free from oil, grease, or other slippery substances. Rungs or steps on metal ladders should be skid resistant (through corrugating, knurling, dimpling or coating). Movable parts must function freely. Metal bearings should be well oiled. (See the self-assessment section for a list of ladder requirements.) Damaged ladders should not be used and, after labeling, should be either repaired or destroyed. The labels should read "Condemned--Do Not Use."
PRECAUTIONS: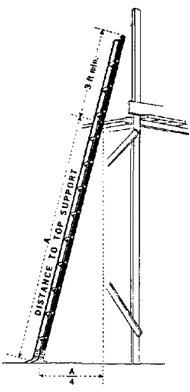 The following general safety precautions shall be done:
- Avoid using a ladder if you are excessively tired, on medication, or have been temporarily impaired.
- Place the ladder angle so that the base is at least 1 foot (0.305 meter) out for each 4 feet (1.2 meter) of ladder working length (support point to the base). Example: 12'=3', 20'=5'.
- Place the top of the ladder so that both rails are fully supported. Allow extra room in case of ladder shifting.
- Place the ladder on a substantial and level base, staking or securing the lower end of the ladder, whenever possible. The top support point for portable ladders must be rigid and have adequate strength to support the applied load.
-Place the ladder away from unlocked or unguarded doors that may open toward the ladder.
- Extend the ladder side rails at least 3 feet (0.91 meters) above the support point.
- Always raise extension ladders so that the upper section overlaps and rests on the bottom section. The upper section must always overlap on the climbing side of the extension ladder. Make sure that there is at least a 3 foot (0.91 meters) overlap for extension ladders of 36 feet (11 meters) or more.
- Do not place a metal or metal-reinforced ladder where it may come in contact with electric wiring.
- Use a non conductive ladder when working near live energized electric.
- Never use ladders in a horizontal position.
-Take care when ladders are used on oily, metal, concrete, or slippery surfaces.
- Extend the ladder only while standing on the ground at the ladder base.
- Do not place ladders on boxes, barrels, or other unstable bases to obtain additional height.
- Do not use ladders to gain access to a roof unless the top of the ladder extends at least 3 feet (0.91 meters) above the support point (at roof line).
CLIMBING: (GENERAL PRECAUTIONS)
- Face the ladder and use both hands to grip the side rails while ascending or descending.
- Only one person at a time should stand on portable ladders.
- Carry tools on a tool belt. Haul materials up on a line, rather than carrying them.
- Do not exceed the maximum safe height limit (fourth rung from the top on extension ladders; second step from the top on stepladders).
- Wipe off greasy or muddy shoes, as much as possible, before using the ladder.
- Do not overload a ladder.
OTHER REQUIREMENTS:
- Be sure that a stepladder is fully open and locked before you use it.
- Do not leave placed ladders unattended. They may be a hazard for others.
- Keep ladders clean and free of grease.
- Use extra caution while climbing during windy weather conditions.
- Never use a defective ladder.
- Do not drop or throw ladders.
- Do not use make-shift ladders.
- Do not splice short ladders together to make long ladders.
- Make sure portable ladders have non-slip feet.
- Handle ladders with care. Do not drop or misuse them.
REPAIRS:
Field or makeshift repairs on existing ladders or the fabrication of ladders is not allowed. the ladder must be taken out of service immediately. Do not attempt to straighten or use a bent ladder made of metal or reinforced plastic. Ladder repairs must be made only by ladder mfg or qualified personnel.
STORAGE OF LADDERS:
Store ladders in a manner that provides easy access for inspection and permits safe withdrawal for use. Ladders must not be stored where they present a tripping hazard, or where they can fall on personnel. When stored horizontally, ladders should be supported at several points to avoid sagging. The ladders should be kept away from sources of heat and moisture and in a well-ventilated area. Aluminum ladders should not be stored in certain atmospheres (e.g., acidic) due to severe corrosion problems. Ultraviolet rays of the sun can cause deterioration in fiber-glass ladders. Wax fiber-glass ladders with paste wax for extended storage and increased life span of use.
TRANSPORTATION:
Assistance may be needed in transporting heavy or long ladders. When transported on vehicles, ladders should be adequately supported (preferably on hardwood or rubber-covered pipe) to avoid sagging and should be fastened securely.
HAZARDS:
Most ladder mishaps result in falls which are sometimes fatal. Electrical shock can occur if the user is working with electrical equipment while standing on a conductive metal ladder. Portable metal ladders must always have warning labels affixed to the ladder.
Some of the various hazards are summarized below.
| | |
| --- | --- |
| HAZARD | HELPFUL HINT |
| Personnel slipping | Remove grease, oil, and mud from shoes. Avoid overreaching. Do not climb past SAFE height. Watch your step. |
| Ladder movement | Secure base and top of ladder. Use nonskid feet. Set the ladder at the proper 4:1 angle. Avoid slippery surfaces. |
| Ladder breakup | Inspect all ladders before using. |
| Electrical shock | Use nonmetal ladders around electricity. |
| Environmental conditions | Use extra caution in climbing on windy days. Avoid climbing during storms. |
| Pinching (Body parts caught between moving parts in closing ladder.) | Use gloves where required. Use caution in closing ladder. |
This web policy is provided to ladder users on the SUNY New Paltz as a guide and a reminder of safe ladder use and procedures. Safe use of ladders, however, is always the responsibility of the individual users. Employees must read and understand the requirements of ladder usage at the SUNY New Paltz.
Contact:
Kyle Mungavin, Assistant Director
Service Building room 217
845-257-3310