Campus Messages
Daily Digest: SUNY New Paltz News
Posted on: Thursday, August 5, 2021 at 10:00 AM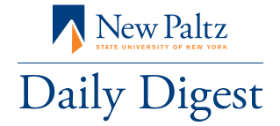 IN THIS ISSUE
Get to know Renee Bostic, our new director of athletics, wellness & recreation
Parking permits for 2021-22 are now available
Town of New Paltz announces mask requirement in town facilities
College mourns passing of Brian McShane '74, who served on the Foundation Board of Directors for 10+ years
New SUNY initiative aims to expand high-quality childcare on campuses
Classical music on the Quad: Bachfest is back, Saturday at 5:30 p.m.
The August WellNYS challenge: New York's bounty of fruits and vegetables
The results are in, and our JFT redesign is a UCDA award-winner
New HRDI trainings announced
Events and resources
The latest from media
From our community: The Ridge looks good from any angle
Design win for SUNY New Paltz! The JFT lobby redesign, which was completed early last year, was named a UCDA Award of Excellence winner for 2021.
The University & College Designers Association (UCDA) is the leading association for professionals in visual communications for educational institutions, and their awards are the industry gold standard for projects ranging from illustration and photography to major environmental projects like this renovation.
Congratulations to teams in Facilities Management, Communication & Marketing and the College of Liberal Arts & Sciences on this well-deserved recognition!
Resources, events and reminders

The Ridge looks good from every angle. Reposting @newpaltzing.
Daily Digest readers: We want to hear from you!


We're always working to make sure this newsletter is providing students, faculty and staff with important and useful information. If you have news you'd like to get out to members of our community, we welcome
submissions* and ideas of all kinds:
Have important news to share with the SUNY New Paltz community?

Developed an innovative solution to improve remote teaching and learning?

Figured out a lifehack to help yourself stay positive?

Want to share a photograph with friends and colleagues?
Please just reply to this email or write to communication@newpaltz.edu and let us know what you would like to see in this space. Thank you!
*Note: Opinions expressed by our contributors
belong solely to their authors and
do not necessarily reflect the positions of SUNY New Paltz.
Message originally distributed via: SUNY New Paltz News