Campus Messages
Daily Digest: SUNY New Paltz News
Posted on: Friday, September 10, 2021 at 10:00 AM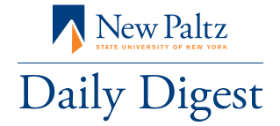 IN THIS ISSUE
SUNY shares final COVID guidance for summer and fall 2021
Join the Summer Professional Development Book Club
WellNY Daily To-Do invites you to connect with nature this July
Professor's new book selected as Outstanding Academic Title by 'Choice'
On-campus COVID-19 testing day is tomorrow, July 9
Faculty piece featured in The New York Times 'Tiny Love Stories'
What it's like to teach during a pandemic from New Paltz Magazine
Events and resources
The latest from media
From our community: Orientation welcomes students, families to campus
Glenn Geher, Professor of Psychology and Founding Director of Evolutionary Studies at SUNY New Paltz, talks about "What it's like to teach during a pandemic," in the latest issue of New Paltz Magazine.
Resources, events and reminders

Upcoming Human Resources, Diversity & Inclusion trainings
#nporientation
The College is excited to have students and their families on campus for the
Orientation Welcome
!
Daily Digest readers: We want to hear from you!


We're always working to make sure this newsletter is providing students, faculty and staff with important and useful information. If you have news you'd like to get out to members of our community, we welcome
submissions* and ideas of all kinds:
Have important news to share with the SUNY New Paltz community?

Developed an innovative solution to improve remote teaching and learning?

Figured out a lifehack to help yourself stay positive?

Want to share a photograph with friends and colleagues?
Please just reply to this email or write to communication@newpaltz.edu and let us know what you would like to see in this space. Thank you!
*Note: Opinions expressed by our contributors
belong solely to their authors and
do not necessarily reflect the positions of SUNY New Paltz.
Message originally distributed via: SUNY New Paltz News