Campus Messages
Daily Digest: SUNY New Paltz News
Posted on: Tuesday, July 13, 2021 at 10:00 AM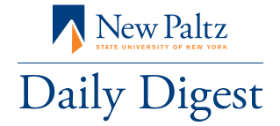 IN THIS ISSUE
College mourns passing of A.J. Williams-Myers, longtime Black Studies faculty member
SUNY launches #30DayVaxChallenge for a return to normal this fall
Op-ed from Chancellor Malatras: "Don't pass up a shot at normalcy"
SUNY agrees with CSEA to extend mandatory weekly COVID-19 testing for unvaccinated employees
President Christian attends LEGOLAND ribbon cutting in his role as Mid-Hudson Regional Economic Development Council co-chair
"Not all species will be able to shift": Biology professor collaborates on international climate study
ITS makes organizational changes to better serve campus community
Social media tributes to the late Professor Williams-Myers
Events and resources
The latest from media
From our community: A skate garden in New Paltz?
President Christian attends LEGOLAND ribbon cutting
As Mid-Hudson Regional Economic Development Council co-chair, President Christian works with other Council members and with public and private partners to expand job opportunities and infrastructure improvements across the region

On a sad day for our community, it's good to be reminded of a beloved faculty member's impact. Students, colleagues and alumni are sharing tributes to the late Professor A.J. Williams-Myers @blackstudiesnewpaltz and @newpaltzalumni.
Resources, events and reminders

A Skate Garden in New Paltz? Village government and local residents are working to make this dream a reality in Hasbrouck Park, just down the road from campus. Read more in this Times Union feature story by reporter and alumna Cloey Callahan '20 (Journalism).
Daily Digest readers: We want to hear from you!


We're always working to make sure this newsletter is providing students, faculty and staff with important and useful information. If you have news you'd like to get out to members of our community, we welcome
submissions* and ideas of all kinds:
Have important news to share with the SUNY New Paltz community?

Developed an innovative solution to improve remote teaching and learning?

Figured out a lifehack to help yourself stay positive?

Want to share a photograph with friends and colleagues?
Please just reply to this email or write to communication@newpaltz.edu and let us know what you would like to see in this space. Thank you!
*Note: Opinions expressed by our contributors
belong solely to their authors and
do not necessarily reflect the positions of SUNY New Paltz.
Message originally distributed via: SUNY New Paltz News