Transportation
The Center for Student Engagement offers information on a variety of transportation options for students.
If you have questions about any of these services, please call 845-257-3025 during normal business hours or contact the vendor directly (see below).
---

Trailways tickets are on sale in the Center for Student Engagement (SU 211), 8:30 a.m. - 4:30 p.m., Monday-Friday. We offer tickets for a wide variety of locations including New York City, Nanuet, White Plains, Long Island, Albany and more!

Trailways Information:
www.trailwaysny.com
Phone: 1-800-858-8555
On-Campus Pick-up/Drop-Off Location:
Campus Transportation Hub located in Lot 28 on Route 32 (across from the Office of Undergraduate Admissions)
Commonly-Requested Schedules:
Between New Paltz and New York City
Look up other schedules here!


Information about New Paltz to Long Island Service Changes (effective January 31, 2022)

THE CHANGES
Trailways service between Albany, NY and Babylon, NY (which includes stops in New Paltz) will now terminate in Queens Village, NY, rather than Babylon, NY.
Trailways will begin operating two daily round trips between New York, NY and Ronkonkoma, NY (which includes a stop in Queens Village, NY).
WHAT DOES THIS MEAN FOR YOU?
This means that Trailways will no longer offer direct service from New Paltz (campus or town) to Long Island. Unfortunately, the timing with the new service does not allow for a transfer at Queens Village. To get to Long Island by Trailways, you will now need to take a bus from New Paltz (campus or town) to the Port Authority Bus Terminal in New York, NY, then transfer to the new Long Island bus. Alternatively, you can take Long Island Rail Road from Penn Station, which offers access to many more places on Long Island.
LONG ISLAND STOP CHANGES
The new route will no longer stop in Hempstead, Massapequa, or Babylon. After Mineola, it will stop in Jericho, then it will follow the Long Island Expressway (I-495) as it goes further east. This route runs closer to the center of Long Island and should allow Trailways to serve the north & south shore communities more equally.

NEW ROUTE STOPS
New York, NY
Port Authority Bus Terminal – 625 8th Ave, New York, NY 10018
Queens Village
JD Foods – 219-17 Hillside Avenue, Queens, NY 11427
Mineola
Mineola Cigars & Vapor – 124 E Jericho Turnpike, 11501
Jericho
Jericho Plaza Park & Ride – 2 Jericho Turnpike, Jericho, NY 11753
Melville
LIE Exit 49 Park & Ride – 395 N Service Rd, Melville, NY 11747
Brentwood
LIE Exit 52 Park & Ride – Commack Rd, Brentwood, NY 11717
Ronkonkoma
LIRR Station Park & Ride – 1104 Smithtown Ave, Ronkonkoma, NY 11779
We're waiting for more info from Trailways, but we will answer any questions.
You can view the new Long Island schedule from Trailways below: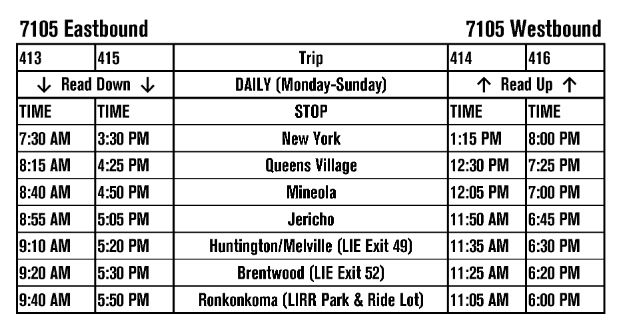 ---

UCAT (Ulster County Area Transit) provides safe, affordable, reliable public transportation service throughout Ulster County with limited service to Orange County and connecting service to Dutchess County. Some fares are discounted for SUNY New Paltz students -- be sure to show your ID!
UCAT Information:
UCAT Website
Phone: 1-888-827-8228
Download the UCAT smartphone app -- search for "UCAT" in the App Store or Google Play.
Interactive Route Map
SCHEDULES | Ulster County (ulstercountyny.gov)
Information Kiosk on 1st Floor of the Student Union (near 100N)
New Paltz Loop Bus:
Ulster-Poughkeepsie Link:
---

511NY Rideshare is New York State's home for ridematching, commuter and traveler services that can help you find a smarter and greener way to get where you're going. We provide information and resources to help commuters, travelers and employers find easy, affordable, and appealing alternatives to driving alone. Whether you are looking for information on ridesharing, vanpooling, workplace commuter benefits, public transportation, bicycling, walking, or telework, 511NY Rideshare can help.
511NYRideshare Information:
511NYRideshare Website
---
Guaranteed Ride Program: The Guaranteed Ride Program, a commuter service of the New York State Department of Transportation, provides FREE transportation to full time Easy Street vanpool commuters when emergencies arise during work hours.
A Guaranteed Ride is easy to arrange.
To arrange a ride, simply call the Guaranteed Ride HOTLINE at (800) FIND-RIDE, Monday through Friday between the hours of 8:30 a.m. and 5 p.m. on the day of your emergency. A customer service representative with gather the necessary information and arrange the ride. Please note that rides must be arranged through the Guaranteed Ride HOTLINE. You will not be reimbursed if you contact the taxi company directly.
---
Additional Local Transportation Resources: