Dylan McCarthy '17 (Music) '19g (Business Administration) knows the music, he knows the history and he knows the business. Now, he's using that knowledge to help the jazz industry overcome unprecedented challenges.
The COVID-19 pandemic has been devastating for performers and entertainers who depend on live events for income, and few have been hit harder than jazz musicians.
Jazz may no longer be at the peak of its mainstream popularity, but it remains a quintessential American art form: Defined by free, in-the-moment improvisation, democratic cooperation among performers, and a deep history that places it among our nation's richest cultural traditions.
Today's jazz musicians carry a torch that was lit more than 100 years ago, but they face increasing obstacles to earning a sustainable living while protecting that flame.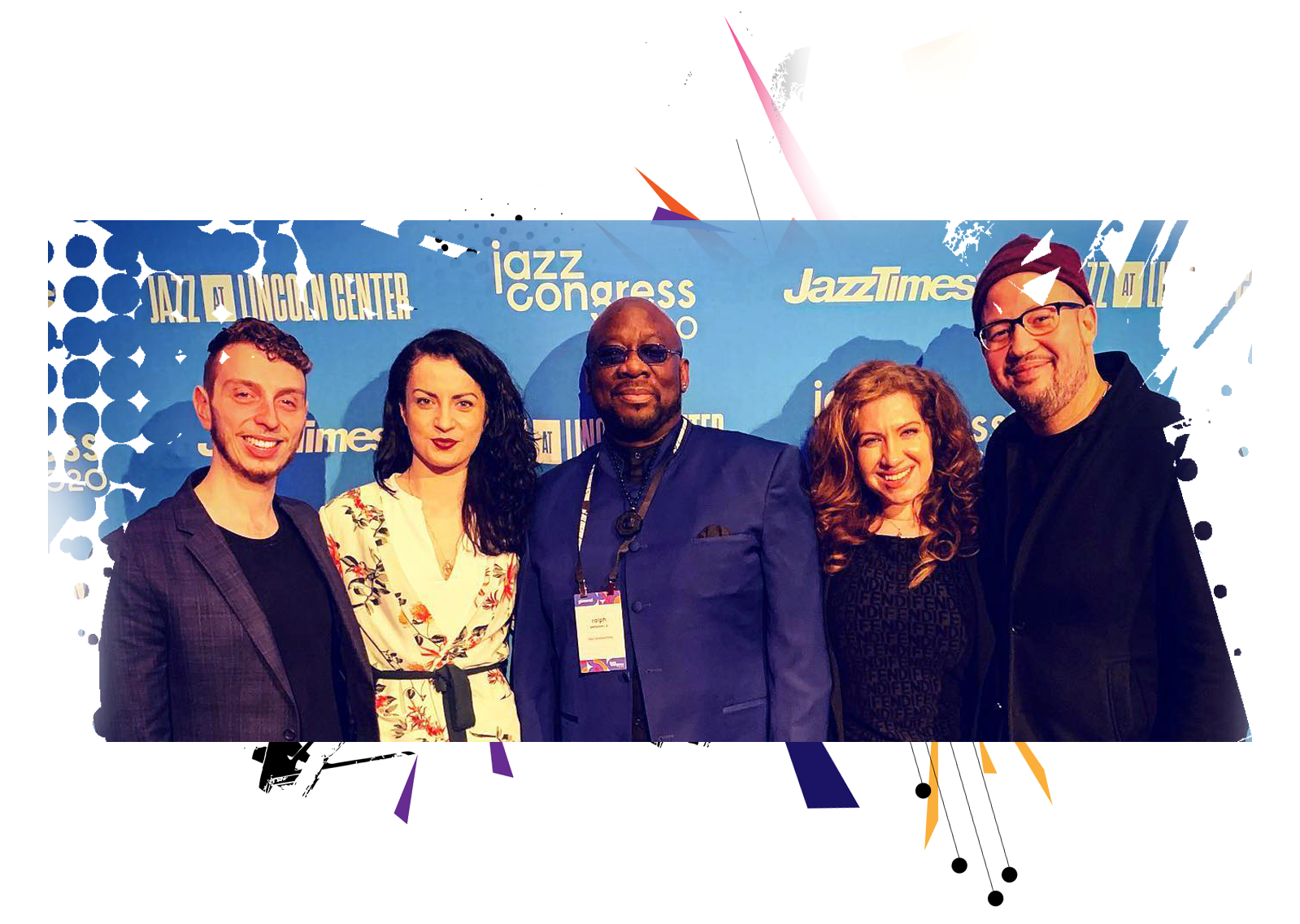 The growth of streaming platforms has made recording less profitable for smaller, independent musicians, pushing many to embrace grueling performance schedules as the most viable approach to financial stability. Sadly, this year has been brutal for business models built on in-person events.
"To be a musician in 2020 is to realize there's a large problem in the industry where musicians, and jazz musicians in particular, are not receiving funding for their art," says Dylan McCarthy '17 (Music) '19g (Business Administration).
Every musician is an entrepreneur
As an undergraduate, McCarthy learned the techniques, theories and traditions he needed to succeed as a jazz guitarist. He first developed an understanding of the history and industry as an intern at a Poughkeepsie jazz festival, Jazz in the Valley. There, he would grow from being an intern to the assistant producer of the festival.
"Being afforded the opportunity to learn about the history and the business of music in both a hands-on and a classroom setting was invaluable and is a big part of what sets a liberal arts education apart from a conservatory education," he said. "As a jazz musician, there is an inherent responsibility to understand and celebrate the history of the music and the people who created it. At New Paltz, the professors kept that dialogue open."
As he progressed, McCarthy realized that to accomplish his goals within the industry, higher education was a necessity.
Throughout the history of this art form, you see great examples of how community creates the music. Community is what facilitates the greatness in this music. There wouldn't be a Louis Armstrong if there was no thriving New Orleans jazz scene, you know? In times like these, it's humbling to be part of that history, that community"
"Not every musician needs to have an MBA, but I believe that every musician should have a clear sense of the industry and actively work to envision themselves working prominently within that ecosystem. I knew that in addition to performing, I wanted to be a festival manager and a grant writer, and I knew that to do that, I needed a business degree."
McCarthy enrolled in New Paltz's AACSB-Accredited Master of Business Administration program and designed a curriculum with elective courses focusing his needs. The School of Business recently launched a suite of new Arts Management courses, including Entrepreneurship in Arts & Music, Artist Management and Arts & Entertainment Law.
During his time in grad school, McCarthy interned with Grammy-winning jazz publicist Lydia Liebman and even completed a research thesis comparing several performing arts presenting organizations. All the while, he maintained a robust performance schedule at clubs and bars up and down the Hudson Valley.
By the time he'd earned his MBA, McCarthy had become something of a rarity in the jazz world: A performer who understands the business side, and a skilled administrator who knows the music and its history.
Dylan McCarthy '17 (Music) '19g (Business Administration) is the director of programming at JazzReach, which prior to the pandemic regularly held live, multimedia events for thousands of students. In this video, JazzReach performed for NYC Public School students who wrote some incredibly heartwarming testimonials in response.
"For many of these artists, it's life or death"
McCarthy understands intuitively how hard it is for a musician to build a sustainable career while relying on just one source of income.
Since graduating, he's focused on diversifying his resume, juggling roles as a publicist (now working as the lead writer for Lydia Liebman Promotions) and as the director of programming at JazzReach, an organization which, prior to the pandemic regularly held live, multimedia events for thousands of students. With JazzReach, McCarthy is now actively working to produce a jazz history-based docuseries that will become available to the public in 2022.
"Even some of my idols are struggling to find work, so I know I'm lucky to still be employed during this time" he said.
In 2020, McCarthy has done his most impactful work as a grant writer, which has become something like a "front-line" position within the industry: procuring direct aid for musicians to support their artistry and their livelihoods at a time when other sources of revenue have been closed off.
"I'm seeing wonderful innovation and resources created for this moment, and a lot of empathy from granting organizations," he said. "A lot of the funding that's being provided now is just artist relief: It's less about supporting tours or recordings, and more for operational costs, paying employees, or even just rent. The need is so much greater, and it's so much more personal – for many of these artists it's life or death."
A thriving scene: Past, present and future
While McCarthy has been missing the creative engagement and extra income that live performance allows, he's taking solace in being able to work on behalf of jazz itself, supporting the people and institutions who are keeping its legacy alive.
"In a collaborative industry, working toward the future means finding a sustainable business model to elevate the musicians around you," he said. "The hope is to, with every new initiative, create a more sustainable, profitable and creative future for an increasingly diverse community of musicians."
Despite the challenges, McCarthy remains driven to succeed in all aspects of the jazz industry. He's motivated to help make sure the music, and the people who make it, survive this challenging time and carry this tradition forward.
"Throughout the history of this art form, you see themes of lineage and community being the driving force for invention. There wouldn't be a Louis Armstrong if he hadn't been surrounded by a thriving New Orleans music scene, you know? In times like these, it's humbling to be a part of furthering that history, that community."
STOP AUDIO