Ceremony Press Release
Crane will place new clock tower atop van den Berg Learning Center Jan. 15
Note to editors: College and construction officials will be available for comment on Friday, Jan. 14, when the clock tower will be assembled. Friday is a good day for photos of the clock tower on the ground. For safety reasons, the area in front of the van den Berg Learning Center will be closed off on Saturday. Depending on weather conditions, the day and time of the ceremony are subject to change. For more information and an up-to-date schedule on the time of the van den Berg Learning Center clock tower ceremony, call the Public Affairs Office at (845) 257-3245 and stay tuned to this Web page.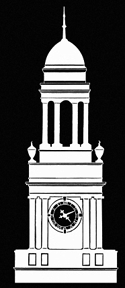 The State University of New York at New Paltz will celebrate the replacement of the clock tower by crane on top of the van den Berg Learning Center tentatively scheduled for noon on Saturday, Jan. 15, in the Old Main Building, Room 305. The public is invited to attend a ceremony, which will include comments from President Steven Poskanzer followed by a hot cocoa toast once the tower is in place.
The clock tower will replace the original tower, which was built in 1932 and destroyed by fire in 1990. It will have a five-foot diameter clock face on four sides, with Roman numerals. It will also include a spire and many of the decorative elements found on the original tower, such as pilasters, columns, cornices and urns.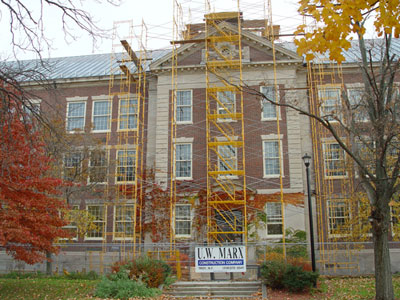 The tower raising is the final step in its construction process, which began in Campbellsville, KY, where the new tower was engineered and fabricated by Campbellsville Industries Inc. The manufacturer will deliver and assemble the tower on-site. Golmar Construction Corporation of New Windsor is the general contractor for the tower project. The total cost of the clock tower restoration is approximately $495,000.
Originally built in 1930 as the Campus Practice School, the building is named after Lawrence H. van den Berg, the last principal of the New Paltz Normal School and the first president of the State Teacher's College at New Paltz (1923-1943).
The replacement of the tower culminates Phase I of a two-phase $11 million rehabilitation of the entire 67,770-square-foot building to accommodate the School of Business and the Nursing program. The contractor for the project is U.W. Marx Inc. of Troy. Phase II is scheduled to be completed in December 2005. The renovation will double the amount of classroom and lab space for the School of Business and incorporate several state-of-the-art classrooms wired with the latest educational technology.
"We are excited by the long-awaited return of this campus and community landmark," said Poskanzer.
For background information on the van den Berg Learning Center, photos of the original tower and an up-to-date schedule on the time of the clock tower raising ceremony, stay tuned to this Web page.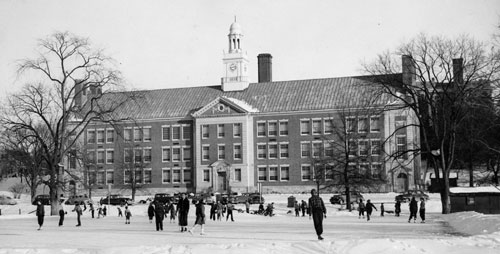 The van den Berg Learning Center in 1951