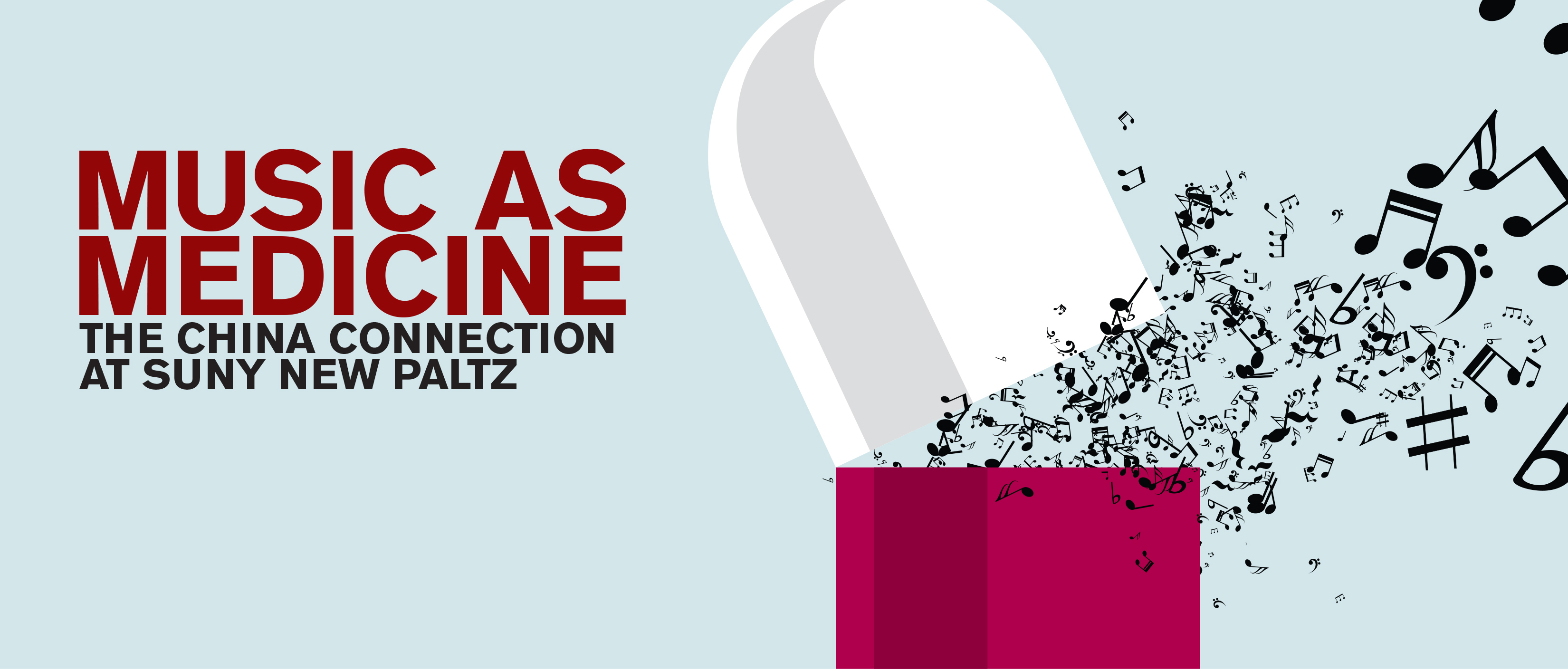 A Unique Partnership with the Central Conservatory of Music in China
---
As Elena Cao '17 steadies her guitar, the children quiet with anticipation.They know what's coming next.
In a language that's not her native tongue, she serenades them with a familiar American tune, "Row, Row, Row Your Boat."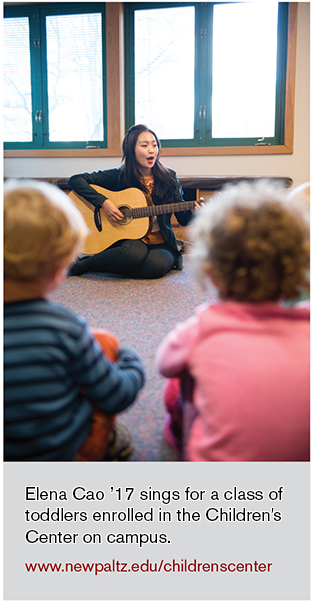 The children smile, clap along, and seem wholly focused on her strumming hands and quiet voice as it echoes through the Children's Center on campus.
This is exactly the reaction she was hoping for.
As an exchange student studying music therapy, Cao knows the power of music and its impact on mood, attention and overall happiness. For the children in her audience, she understands that music allows the pleasure of play to occur naturally for those singing along with her.
And as an international student from China seeking a career in music therapy, she knows how far the connections between SUNY New Paltz and the Central Conservatory of Music in China might take her.
"The Central Conservatory is often considered the Julliard of China," said Bruce Sillner, dean of the Center for International Programs. "But what's really impressive is that there are currently three faculty in that program, and two are New Paltz alumni. It's an innovative, novel program for China and it's really being delivered by New Paltz alums."

Every year, the Conservatory, located in the center of Beijing, sends music therapy undergraduate students to SUNY New Paltz for a one-year exchange. At the College, the students are enrolled in the Haggerty English Language Program and take courses while also pursuing internships. After the program's completion, and their graduation from the Conservatory, many choose to return to New Paltz for a graduate degree in music therapy.
Sisi Lin '12g (Music Therapy) is one such alumna. Now, back in China, she is also one of the three full-time lecturers in music therapy at the Conservatory. She works alongside Lo-Ting Chen '00g (Music Therapy), another New Paltz exchange student. Lin and Chen use their international experience to teach the Conservatory's students and supervise the music therapy interns there.
Because of her combined experiences at New Paltz and the Conservatory, Lin had the opportunity to work professionally in a range of different settings. She has experience at a neurological rehabilitation hospital, various communities in Beijing and at the China Association for Alzheimer's disease where she worked as a music therapist before landing her current role.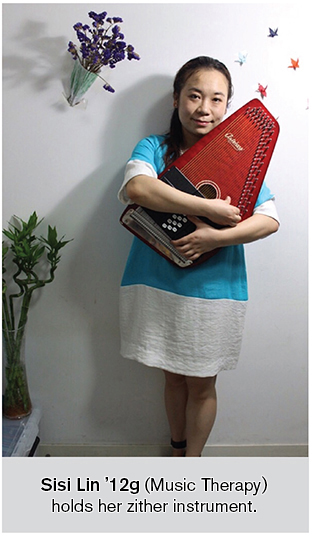 "My varied experience has allowed me to see many lives changed by music therapy," she said. "In order to reach even more clients, I recently started a music therapy studio with two music therapists, friends who also studied at New Paltz. We practice private sessions in our studio and are trying to create a working community. In China people are somewhat resistant to this form of therapy, which is very unlike our experience overseas."
The music therapy graduate program at New Paltz was designed and developed by the late Dr. Mary Boyle, who retired in 2010 after a vibrant 30-year career at the College as professor, and later director of the music therapy program. The program offers students the opportunity to study at an advanced level and acquire musical, clinical and research skills essential to professional practice. Students complete two fieldwork courses and two separate internship placements in addition to a thesis. The program is accredited by the American Music Therapy Association and by the National Association of Schools of Music, the national accrediting body for schools of music. Upon completion of the 48-credit curriculum and the required minimum 1,200 hours of supervised clinical training, students are eligible to sit for the Certification Board Examination in Music Therapy.

Music therapy has been found to develop cognitive and emotional responses to improve the health and moods of not only healthy children, like those in Cao's experience at the Children's Center, but also people of all ages. From premature infants to adults who may suffer from depression, anxiety, dementia, and even cancer, music therapy has a prominent role in recovery for many individuals.
There is scientific research to reinforce the certainty that music has healing properties. Because the brain's reward center responds to music, it releases the chemical dopamine, which is associated with pleasure. Various studies have illustrated evidence of its anti-anxiety properties and even its association with higher levels of an antibody linked to immunity.
During sessions, therapists are conscious of tempo and melody that help clients express themselves. In a hospital setting, these components of music can also distract a patient who is in physical pain. For Lin and Cao, music therapy is about a shared experience with their patients who are often suff ering in ways that greatly impact their daily life.
"I enjoy every moment that my clients find even minor progress through music," said Lin. "They work very hard, but I get to witness those sparkling moments. I think that's more valuable than performing on stage because I am helping them make a difference in their lives." When asked what advice she might have for Cao as she considers a return to New Paltz for a master's degree, Lin quotes her professor, the late Dr. Boyle.
"Be humble. Be dynamic. Be thankful," she said. "But don't forget to be curious and authentic. You are making progress just by opening your mouth; that is what I learned in the international program at New Paltz."
And as Cao strums each chord and whispers lyrics to the tots in her audience at the Children's Center, it is as if she has heard this advice from 7,000 miles away. The toddlers seem just as moved by the familiar songs as they are by Cao's memorable personality and genuineness.
"Thank you," she says to the crew of toddlers in near-perfect English. "I can't wait to come back and sing for you all again."
Sisi Lin '12g (Music Therapy) shares a moving experience from her time working at a Beijing hospital
"I had a client with expressive aphasia after a stroke. She was very depressed and frustrated with her speech and language exercises because the speech therapist asked her to practice saying the same simple words every day, such as cabbage, car, door and apple.
After I got her referral, I learned she could play piano, very well, before her stroke. At our first session, I didn't use verbal communication with her at all and instead we shared a lot of music experiences.
We tried to improvise on piano. She was very excited, and smiled a lot because finally there was someone in the hospital who wasn't "treating" her, but allowing her to explore one of her favorite things, which is music.
After communicating on piano, I chose songs that I found from her hometown and played the melody for her. What impressed me most was the fact that she couldn't help but hum the melody with me.
When I tried to sing the lyrics, and prompt her to sing the last word of every phrase, she could do it!
This is actually a technique of Neurologic Music Therapy, which is Music Speech Stimulation (MUSTIM). She and her family members were surprised by what happened during that session and consequently music therapy became one of her favorite treatments during her hospitalization.
About the China Program
The Institute of Music Therapy was established in 1996 and focuses on teaching, academic research and clinical therapy. It is the only professional music therapy institute in China.
The institute began enrolling graduate students in 1999, and undergraduate students in 2003. Currently, the institute enrolls 10 to 15 undergraduate students and two to three graduate students every year. The institute is dedicated to creating a professional educational program of music therapy on an international level. The curriculum is strictly offered according to advanced courses in the United States and it uses English textbooks. The institute also invites experts from abroad to give lectures and seminar courses.
Students are required to reach the standard of professional music therapists in the United States when they graduate.