Leading the way in deep web artificial intelligence
A conversation with former SUNY New Paltz student-athlete Chris Ganje '05 (History) as he revolutionizes the business intelligence market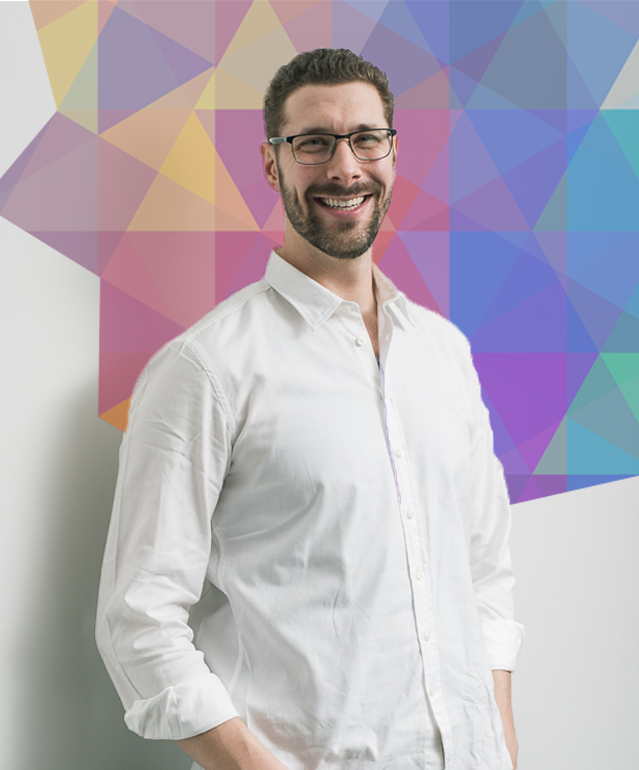 "Deep web" is a term used to describe the area of the internet that is not recognized by a standard search engine like Google or Yahoo. It is an enormous knowledge store, full of rich datasets, such as academic journals, government databases and financial records.
A new company, AMPLYFI, has set out to unlock the rich vein of information held in the deep web using cutting-edge artificial intelligence tools. Here, New Paltz Magazine speaks with Chris Ganje '05 (History), the firm's CEO.
What is AMPLYFI, and what does it do?
AMPLYFI is a start-up that has developed a revolutionary software platform called DataVoyant, which combines artificial intelligence, surface web and deep web harvesting and intuitive data visualizations within a single, integrated and user-friendly platform. In sourcing data from the surface and deep web, from across all modern languages, it ensures that its analysis is underpinned by the most comprehensive datasets available.


What problem is it solving?
The rapid pace of technological and market change in today's world means that no industry is safe from disruption. Organizations that fail to monitor disruptive forces are at risk of losing market share or even face obsolescence. Notable examples include the hotel industry and Airbnb, oil majors and the shale revolution, and personal mobility and Uber.
The challenge of maintaining a competitive advantage in fast-moving, dynamic and increasingly global markets has typically forced companies to turn to external consultants. The internet is a vast and largely untapped source of intelligence, and the deep web is arguably the world's most valuable untapped resource.


What makes your business unique?
I really think we are revolutionizing the speed, accuracy, quality and cost of business intelligence. We empower our clients with the ability to uncover emerging opportunities and threats as well as market drivers and trends ahead of the competition. Everything we do has been designed to be both flexible and usable by anyone – ranging from subject matter experts to novices.


What technology excites you?
What excites me most is the innovative process that helps individuals to identify opportunities to bring technologies together, spot real-world problems to apply solutions to and compels them to instigate new, creative ways for users to access and leverage the benefits. Looking forward, a prime example is Smart Cities, where the global market is currently fragmented with a myriad of players and technologies that have yet to be brought together in an integrated and coherent fashion. AMPLYFI has participated in many Smart City initiatives across the globe and demonstrated the ability of its technologies to help bring clarity to what the future could look like in this space.


How did your time at New Paltz prepare you for where you are professionally?
New Paltz instilled in me the confidence to be different, to challenge and be challenged, a relentless work ethic and a willingness to take necessary risks to thrive. These are principles that I have instilled in AMPLYFI with my teams constantly encouraged to question everything and to accept nothing as given – how can we do that better? Why is that process done like that? The world is there to be changed and improved, so let's go out and proactively do so.

What would you be doing in another life?
Easy question, volleyball! I'd be leading the U.S. national team to Olympic glory! It's a sport that I'm incredibly passionate about. Earning the All-American Award during my time at New Paltz remains one of my proudest personal achievements. My love for the sport has spilled over into the AMPLYFI team where we even sponsor Welsh beach and indoor volleyball teams.
Chris Ganje '05 (History) is CEO and co-founder of the award-winning, high-growth start-up AMPLYFI, a company pioneering the use of artificial intelligence technologies to revolutionize the business intelligence market. He has held leadership positions at BP PLC, and he founded and led a start-up focused on developing wind power projects in Bangalore, India. He was a SUNY New Paltz 40 Under Forty Honoree in 2019 and was named to the SUNY New Paltz Alumni Wall of Distinction.