HERVEY WHITE AND THE MAVERICK ART COLONY
THE JEAN GAEDE AND FRITZI STRIEBEL ARCHIVE
CENTER FOR
PHOTOGRAPHY AT WOODSTOCK



The Festival
The Maverick Festival was founded in 1915 by Hervey White at the suggestion of musicians in residence at the Maverick Art Colony as a means of raising money to pay for the digging of a well. Its success was such that it became an annual summer event open to the general public, and it became White's main vehicle for fund-raising for building projects, taxes, and other operating expenses for the Colony.

White conceived of the Festival as a Bohemian carnival filled with communal spirit to be held on the grounds of the Colony during the afternoon and evening of the August full moon. The culmination of the evening was a theatrical spectacle that began after dark with riotous performances by locals, followed by a costume ball that lasted to the morning. Originally, the spectacle was held in a stone quarry on the property, but as the audience and the spectacles outgrew both the quarry and a later open-air theater, a permanent structure, the Maverick Theater, was built in 1924.

An annual theme for the Festival was announced, which the festival-goers enthusiastically embraced with outrageous costumes and eccentric behavior. But eventually this began to attract visitors from far afield more interested in catching a glimpse of a scantily-dressed woman, or of a well-known painter in ridiculous dress. More unfortunate however was the growing presence of outside bootleggers in this age of Prohibition, gamblers, and other unsavory characters. Audiences grew larger and more difficult to control every year, and in 1929 the New York Herald Tribune reported that there had been over 6000 people in attendance. That year the Festival was marred by ugly scenes of drunken brawls, robberies, and even rapes, which necessitated intervention by the State Patrol. By 1930 local censure and protest had grown to such a degree over what was perceived by many to be a sinful and immoral event that White was compelled to dampen the spirit of the Festival for that year. Under the weight of outside pressure and financial difficulties White suspended the Maverick Festival definitively in 1931.
The Theatrical Spectacles
The first Festival in 1915 had as its culminating event a simple recital by the Russian singer Madame Narodny and the American dancer Lada, both of whom were accompanied by the Metropolitan Orchestra directed by Leon Barzin, Sr. But in successive years, skits, plays, pageants, and other more complex presentations became typical. The productions, mostly conceived and written by Maverick residents, included Catskills' Rip van Winkle, with nude nymphs (1917), a farce ridiculing the Kaiser (1918), Aria da Capo (1920), prepared by Maverick resident Edna St. Vincent Millay, Russel Wright's Cubist Circus (1923), Salammbo (1925), and The Arabian Nights (1928). For one particularly memorable production entitled The Ark Royale (1924), conceived by Walter Steinhilber, an 80-foot pirate ship was built as the set and in a spectacular climax was burnt to the ground.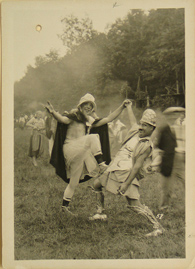 Revellers, ca. 1922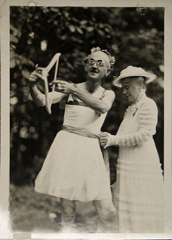 Charles Rosen as Cupid and
his wife, 1930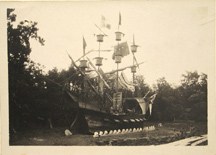 The Pirate Ship the Ark Royale, 1924