HERVEY WHITE AND THE MAVERICK ART COLONY
THE JEAN GAEDE AND FRITZI STRIEBEL ARCHIVE
CENTER FOR
PHOTOGRAPHY AT
WOODSTOCK
The Jean Gaede and Fritzi Striebel Archive
Jean Gaede and Fritzi Striebel
Jean Lasher Gaede and Elizabeth "Fritzi" Striebel came from very different backgrounds and parts of the United States. Gaede was born in 1924 in Bearsville, New York, a "suburb" of Woodstock, and although she left Woodstock several times in her life, she always returned and has always considered herself a Woodstock native. Striebel, on the other hand, was born in Indiana in 1911 and moved to Woodstock only as a young woman when she married Woodstock resident John Striebel, noted cartoonist and painter, in 1933. Yet she became intertwined with the fabric of Woodstock life for the next 40 years.
Since childhood Gaede had been fascinated by Woodstock, its residents, and especially their stories, which spoke of a closely-knit community of artists, writers, and musicians, intermingled with beloved eccentrics, and ordinary people. She loved to hear the locals reminisce and as an adult realized that Woodstock had a special place in American history that had not yet been fully appreciated. The Woodstock stories she had heard as a child and as an adult were the inspiration for a cookbook Gaede had conceived as a fundraiser for the local chapter of the March of Dimes in 1967. Called Woodstock Recollection through Recipe, it was a collaborative project by a number of Woodstock women that presented a history of Woodstock life interleaved with pages of recipes. One of these women was Fritzi Striebel, who Gaede discovered shared her passion for the history of Woodstock.
In 1968 it was Striebel who suggested that she and Gaede put together a book on the history of Woodstock, but Gaede believed that a more concentrated focus was necessary. They were inspired to limit their research to the Maverick Festival of Woodstock by the publicity that was being generated for the forthcoming Woodstock Music and Art Festival scheduled for August of the following year. Gaede believed that it was necessary to show that Woodstock already had an established festival tradition. Ironically, both Gaede and Striebel had attended the last Maverick Festival in 1931, Gaede as a young child with her sister and aunt, and Striebel as a newly-wed young woman with her husband.
Gaede and Striebel began to document the Maverick Festival in 1968 by recording the conversations and recollections of artists once associated with the Maverick. But the project quickly grew to encompass all aspects of the Maverick Art Colony and of its founder Hervey White. Aside from the research conducted at the Woodstock Library, the Woodstock Guild of Craftsmen, the Woodstock Artists Association, and the Woodstock Historical Society, advertisments were placed in the Woodstock Times asking for any information on the Maverick Art Colony and many letters were written. The painter John Pike responded with a box of some 100 vintage photographs documenting the Festival that he had purchased at a Woodstock Library Fair, and the son of Walter Steinhilber presented Gaede and Striebel with 45 more. Over the course of 10 years, other photographs and many documents surfaced or were unearthed that illustrate moments in the life of the Maverick Art Colony from 1905 to its demise in 1944. Gaede and Striebel prepared this material for a book still unpublished, whose working title is Woodstock: Festivals, Mavericks, and Hervey White. In 1997 all of this material was given to the Center for Photography at Woodstock, and an exhibition Woodstock: Festivals, Mavericks, and Hervey White was held in July of that year.
In 1979 Striebel returned to the mid-West, although through Gaede she kept up her interest in the Maverick Art Colony and Woodstock history. She passed away in Michigan in 2002 at the age of 91. Gaede still lives in Woodstock and in 2002 published Woodstock Gatherings: Apple Bites and Ashes. Currently she is engaged in documenting the houses of the Maverick Art Colony.


Jean Lasher Gaede, 1982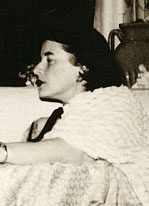 Fritzi Striebel, ca. 1960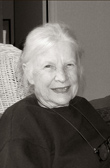 Jean Lasher Gaede, 2005