Celebrating the Wilderness Act of 1964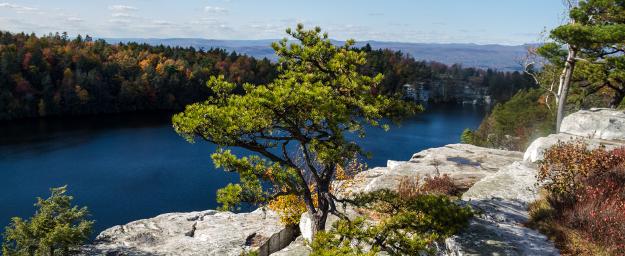 Fall 2014 Events

"SUNY New Paltz is proud to celebrate such a noteworthy occasion. This fall's educational programming will provide our campus and regional community with a better understanding of the profound impact and relevance the Wilderness Act has in today's world"
- President Donald P. Christian
This year marks the 50th anniversary of the signing of the Wilderness Act, one of the most important federal environmental policy acts of the 20th century. SUNY New Paltz has joined a statewide effort to commemorate this act and its legacy of land protection and conservation.

The College, in partnership with the Mohonk Preserve, the Wallkill Valley Land Trust, Adirondack Wild, the Nelson A. Rockefeller Institute of Government and other colleges and universities across New York, will host a series of events with the goal of invigorating/ reinvigorating conservation values and understanding of the natural world.

In addition to faculty incorporating the Wilderness Act into their class discussions, assignments, and activities, please consider attending events this fall, which tie to the spirit of this groundbreaking act.
Upcoming Events
»

Saturday, Oct. 4 (rain date: 10/5), at 10 a.m. – Mohonk Preserve – Hike and Discussion

Professor Eric Keeling (biology) will lead a hike and discussion about contemporary issues in wilderness, and readings will be available for participants in advance of the event. The preserve has generously agreed to make this event free to students/faculty/ staff of SUNY New Paltz, with a $12 charge to community members. There is a limit of 22 participants and sign-up to follow online.
»

Tuesday, Oct. 7, at 7 p.m. – Lecture Center 102 - Panel Discussion

Professors' Glenn Geher (psychology), Brian Obach (sociology), Kate McCoy (educational studies), and Alisha Mai McNamara from Wild Earth, will host a panel discussion on the work of Richard Louv, who will address the College at this fall's Distinguished Speaker Series. Wild Earth runs nature-connection programming throughout the year for children, teens, adults, and families. The panel is titled: "Perspectives on Richard Louv's Nature Deficit Disorder."
»

Tuesday, Oct. 21, at 7:30 p.m. – Lecture Center 100 – Richard Louv, Distinguished Speaker

Come to the Distinguished Speaker Series to hear from Richard Louv, a journalist and author of eight books about the connections between family, nature and community. His book "Last Child in the Woods: Saving Our Children From Nature-Deficit Disorder" has stimulated an international conversation about the relationship between children and nature. For more information and to purchase tickets, please visit: http://www.newpaltz.edu/speakerseries/
»

Thursday, Dec. 4,from 6:00 p.m. to 8:00 p.m. – Lecture Center 104 – Discussion of "Encounters with Archdruid"

Students, faculty and staff are encouraged to independently read and then participate in the discussion of John McPhee's book, "Encounters with the Archdruid".

"Encounters with the Archdruid,"presents unbiased dialogue encapsulating the interactions among individuals with differing viewpoints about the environment, nature, human need and natural resources during the 1960's and 1970's.

The provost's office has purchased a limited number of copies of the book available to interested parties. Please visit the Secondary Education office in Old Main 323 to pick up a copy. The book can also be obtained for purchase through bookstores and other sources.
Previous Events
»

Wednesday, Sept. 10, at 10:30 a.m. – Honors Center – Faculty Forum with Mohonk Preserve

Learn about the partnership between SUNY New Paltz and Mohonk Preserve, a non-profit anchor institution in New Paltz that focuses on conservation science, environmental education, land protection, and land stewardship. Faculty from across disciplines can utilize Mohonk Preserve for field experiences with their classes and can work with the preserve on independent research projects. This forum will feature leaders from both institutions, as well as biology professors Dave Richardson, Carol Rietsma, and Eric Keeling, who will discuss their ongoing research. Biology major and conservation intern James Byam, will also share his summer experiences at the preserve.
»

Friday, Sept. 12 (rain dates: 9/13, 9/19, 9/26), from 8:30 to 10:30 p.m. – Mohonk Preserve – Stargazing at Spring Farm

Join Raj Pandya, lecturer (physics & astronomy), for an evening of stargazing at beautiful Mohonk Preserve. Please see the following webpage for further information: www.mohonkpreserve.org/events.
»

Tuesday, Sept. 16, from 4:00 to 6:30 p.m. – Hike up the Millbrook Ridge Trail in the Gunks

This hike will be free for members of the SUNY New Paltz community. Carloads will meet at the West Trapps Trailhead in the Gunks at 4pm. This is a moderate rock scramble with amazing views! Remember to wear good shoes and bring water.

Directions to the trailhead can be found here:http://www.mohonkpreserve.org/west-trapps-trailhead

To sign up, please contact EvoS Assistant Nicole Wedberg at wedbergn1@hawkmail.newpaltz.edu(spaces are limited). Please indicate in your reservation whether you will be driving your car.
»

Monday, Sept. 22, at 7 p.m. – Lecture Center 104 – Faculty Lecture

Professor Kerry Dean Carso (art history) will give a lecture titled: "Landscapes of Nationalism and the Root of Conservation in Nineteenth-Century America." Learn about American landscape paintings of the period and how they relate to both the formation of national identity and the roots of the conservation movement.
»

Saturday, Sept. 28, at 2 p.m. – The Ashokan Center – Tramp Talk: On and Off the Trails with John Burroughs in the Catskills

Famed Catskill forest historian Michael Kudish shares his research mapping the five place-specific tramps, and a boat voyage, John Burroughs wrote about in his essays. For a list of essays to be covered, and more, see JohnBurroughsAssociation.org.

Presented by The John Burroughs Association and co-sponsored with Woodchuck Lodge, Inc. and The Ashokan Center.

Ashokan Center - 477 Beaverkill Rd. - Olivebridge, NY 12461