Unit 7: Site Organization
This last unit with further explain how your site is structured.
Within T4 each section is a webpage, and each section (webpage) can have several pieces of content.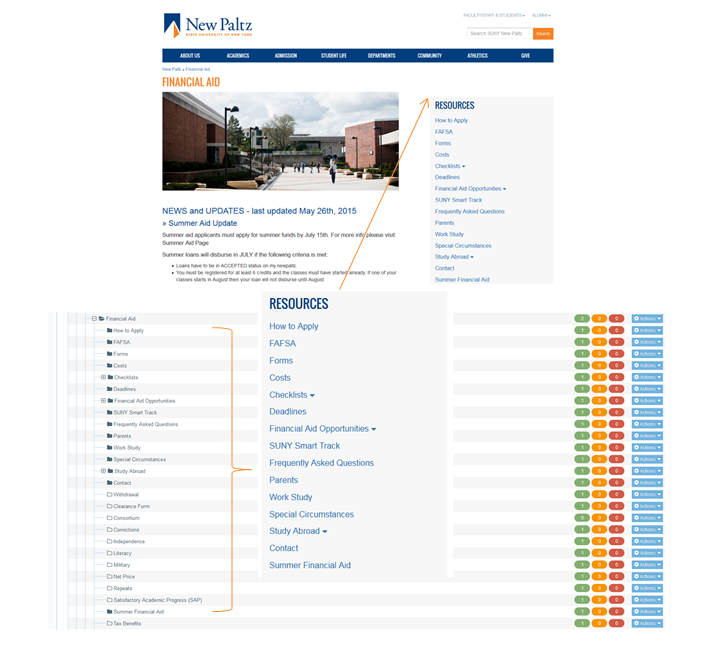 Resources Tab / Subsections
In T4 the resources menu tab will list all of the first level pages with the dark folder icon located in your site structure.
You may move sections of your pages through "Site Structure". Next to the section you would like to move, select "Move section" from "Actions" drop down button. A "Move section" screen will pop up, simply click where you would like to move the section to, and select "Move selected section".
To reorder the links on the resources menu go to, "Edit section" from the "Actions" drop down button. From the tabs on top of the screen, select "Subsections" from the drop down button "More". Here you will be able to drag and drop pages into the order you wish, select "Save changes" when finished.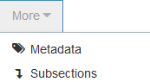 Adding External or Section Links to Resources Menu
You may add an external or section within to you resources tab. From the "Actions" drop down button select "Create section". Check the "Make this link a section?" box, located at the bottom of the screen. Create a name you would like the link to show up as (ex. "Local Newspaper", "Event Sign-up Form"), before selecting "Details" tab. Within "Details" tab, select "External URl" and paste the link into "Link URL", then select "Save changes". If this is a link that is directing someone to another section within New Paltz, select "Section" as the link type. Then select the section you wish to create a link for. If this is an external link (SUNY, Wikipedia, etc.), select "External URL" as the link type and enter the full URL for the page (e.g. "https://www.suny.edu/"). Once you save your changes your link should appear in your site structure and in your resources menu.