Unit 2: Creating Sections and Content
In this unit we are going to walk you through the process of creating a "Section" on Terminal Four (T4) and adding content inside of the "Section". Sections are usually used to add new pages on your website. A section can be thought of as an empty container (a blank webpage) in which you add "Content" which is then displayed on the page.
Once logged into T4 find the root section of your website in which you would like to create a new section. If you are unsure of the name of your root section, It is usually the name that you see after New paltz >> xxxx on your website.





Click on the drop-down "Action" button and select the "Create Section" option.




Type in the name of the "Section" and if you would like for the section to appear under the "Resources" panel on the left side of your website then make sure the "Show in navigation" checkbox is checked. If you want the section to be a "Link Section" then check the "Mark as link section" checkbox and enter the "External Link URL" in the details tab or select the "Section" you want the "Link Section" you created to point to.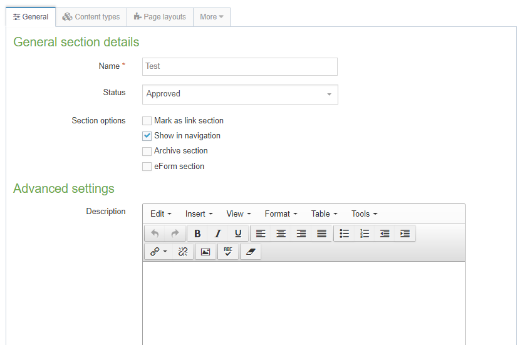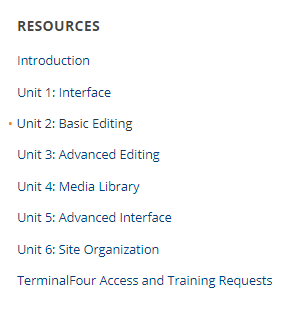 Sroll down and click on the "Save changes" button.



Creating Content inside the Section
Once the 'Section' is created it should automatically redirect you to the site structure page. Scroll down to find the newly created section and open it to add 'Content' into the section.


After opening the 'Section' click on the 'Content' tab and then click on the 'Create content' button.




The 'Create content' button should now bring you to the content type selection page, where you can choose what type of content you would like to create. e.g. One column, two column, etc.,



Click 'Next' after picking the content type.


You should now be able to edit the newly created content. Once the content is edited you can click on 'Save changes' and this should then enque your content to be thoroughly reviewed by the Office of Communication & Marketing at SUNY New Paltz before being published on your website.




Creating a Subsection

To create a Subsection inside the newly created section instead of navigating to the main root section of your website you can navigate to the new section and click on the 'Action' tab next to it and follow the same steps stated above for 'Creating a Section'