Unit 1: Interface
Unit 1: Interface
In this unit we are going to familiarize you with navigating the Terminal Four (T4) interface, showing you where items are located and when it is appropriate to use the tabs and buttons provided to you.
You will access your department or program site by logging into my.newpaltz.edu and clicking "Communication and Marketing" under the Faculty/Staff tab. From here, select "Terminal Four Login" from the list on the right. This should bring you directly to your Site Structure.
Site Structure & Bookmarks
The first page you will see is your site structure, which displays all of your pages and will easily h­­­­­­­­­elp you navigate through them. You can access your site structure any time by clicking:


Additionally, bookmarks will easily help you navigate through the pages you edit the most, by clicking:


You may bookmark pages by selecting:


Which will turn blue: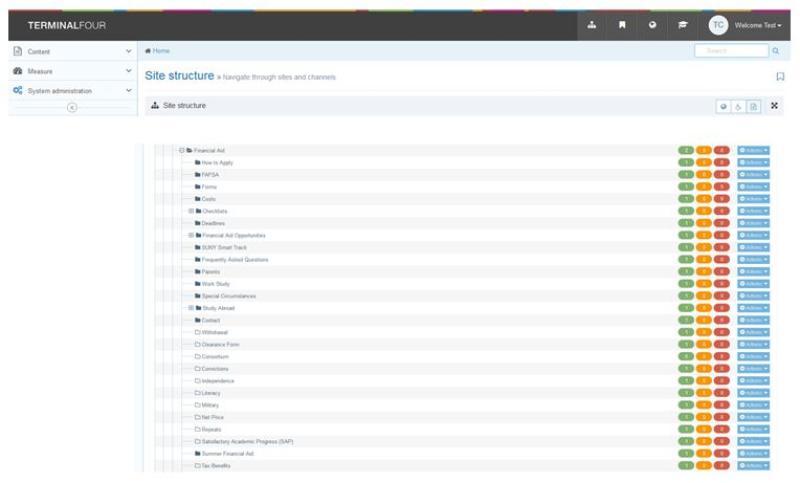 Content Tab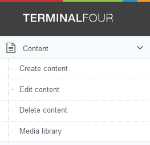 You will see three tabs on the top left of your screen. Content tab is where you will manage your pages and monitor projects. This tab is broken down into four sub tabs:
"Create Content"- displays the list of web pages you can edit and add content to
"Edit Content" - displays the list of editable web pages
"Delete Content" - displays the list of web pages you can remove
"Media Library"- add and edit images, and PDF files to your website
Measure Tab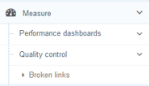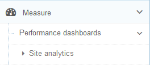 "Performance dashboards"

"Site analytics"- view google analytics information for your website

"Quality control"

"Broken links"-currently not in use
Locked Out


T4 utilizes a locked out system, to ensure that multiple users are not making edits to the same page. When you are editing a page, T4 informs other users that you have this page locked out, indicated by a small padlock next to the page name. After a period of 20 inactive minutes, you will be asked to renew your lock on the webpage. If you do not renew your lock you may lose any unsaved work.

Pop-Ups
Depending on your browser settings, you may be asked to allow pop-ups from the Terminal Four site.