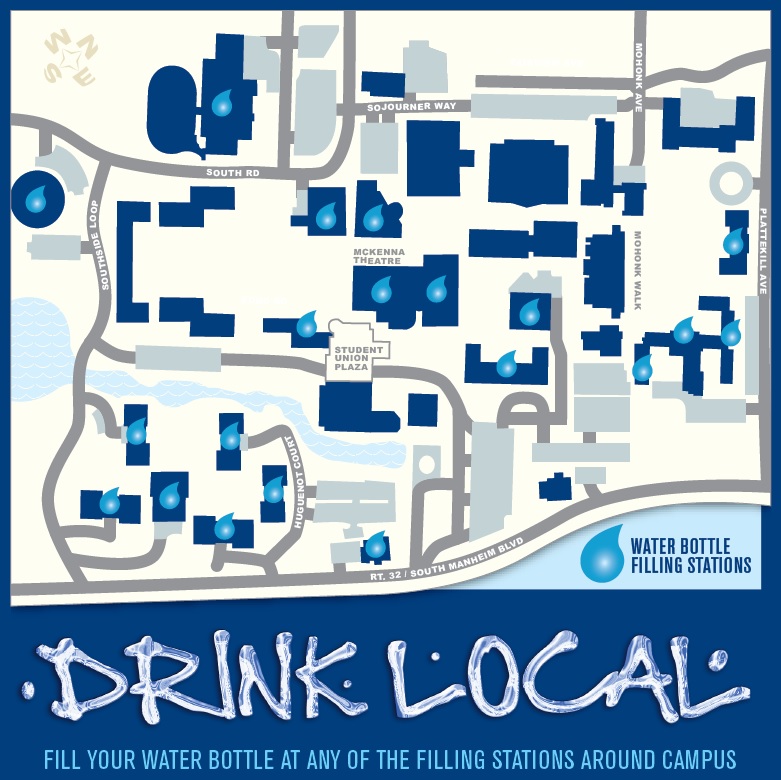 SUNY New Paltz now has over 50 water bottle refill stations across campus. It's now easier than ever to drink local water at SUNY New Paltz. The majority of the water flowing through taps at the college comes from the Catskill Watershed. The water is stored in the Ashokan Reservoir and flows south through Catskills Aquaduct. New York City is world-renown for its water quality – and they, too, source their water from the Ashokan Reservoir.
Water bottle enthusiasts: Click here to vote for your favorite sticker. Then, show your water bottle at the Office of Campus Sustainability tent at the on campus farm market every Thursday and choose up to two stickers to adorn your water bottle or laptop.
Many thanks to all the individuals and groups across campus who contributed to this project including:
Students of the Hydration Committee who studied best practices of water bottle refill stations at college campuses and recommended cost-effective goose-neck fountains
Campus Auxiliary Services for providing funding for the refill stations
Facilities Operations plumbing staff for installing the fountains
Annie Courtens and the team of students who conducted a campus-wide water fountain survey in the fall of 2013
The Design Society and the Office of Communications and Marketing for designing and disseminating posters and stickers to promote the refill stations
A main reason for the installation of the water bottle refill stations is to provide an accessible source of drinking water should the campus adopt a bottled water ban. Campus Auxiliary Services Board will be considering the cost, health, and waste impacts of a bottled water ban throughout the 2014-15 academic year.