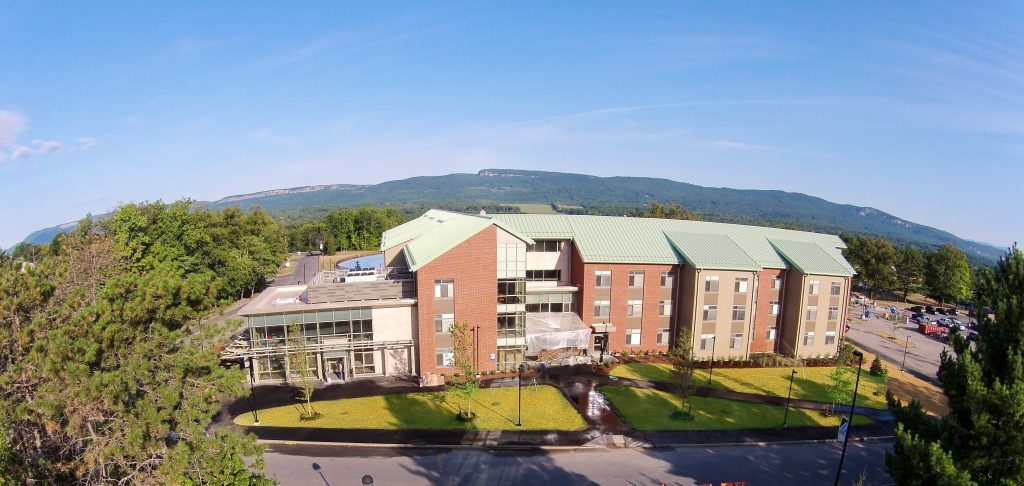 Ridgeview Hall is anticipated to be the third building on campus to earn LEED Gold certification. The LEED (Leadership in Energy and Environmental Design) Green Building Rating System, developed by the U.S. Green Building Council (USGBC), is the accepted benchmark for design, construction and operation of high-performance green buildings on SUNY campuses.
Many different factors contributed to Ridgeview's LEED rating, including:
Water Conservation: Low flow faucets and shower heads, and dual-flush toilets. No permanent irrigation for landscaping.
High Performance Building Envelope: Double-paned high performance windows with low-e coating, reflective roof, high performance thermal envelope, and air-lock entry vestibule
Energy Conservation: Three heat wheels conserve thermal energy during the heating and cooling seasons while maintaining air quality. Windows are outfitted with a sensor that will shut off air conditioning when a window is opened. Room-level temperature controls allow occupants to fine-tune heating and cooling provided to the space, resulting in a more efficient use of energy.
Refrigerants: No ozone-depleting chlorofluorocarbons, hydrochlorofluorocarbons, and halons used in the building systems
Lighting: Approximately 95% of light fixtures are high-efficiency LEDs
Green Building Materials:

Construction Waste Management: 96% of construction waste was recycled
28% of all building materials were sourced from within 500 miles of the project site
20% of all building materials were made from recycled content
83% of wood building materials were made with Forest Stewardship Council certified wood products

Low-Emitting Materials:

Low-emitting paints and coatings
Low-emitting flooring system
Low-emitting materials including adhesives and sealants
Low-emitting composite wood and agrifiber products

Alternative Transportation:

Ridgeview Hall has easy access to public transportation, including two bus lines within one quarter mile walking distance of the project site
Bike storage both indoors and outdoors
Designated parking spots for low emission and fuel efficient vehicles in the Lenape parking lot

Community Connectivity: the building is located within one half mile of a minimum of ten basic community services such as the Student Health Center, dining locations, the campus bookstore, a bank, the mailroom, etc.
Click here to download the Final LEED Credit Checklist for Ridgeview Hall.
Designer: Architecture+
Construction Contractor: UW Marx Construction Company