Jenna Flanagan *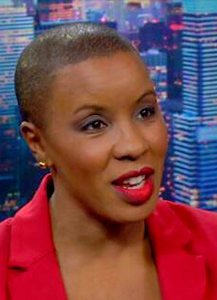 Journalist/Host
MetroFocus & MetroFocus Podcast
WNET/Thirteen
---
Jenna first knew she was destined for a career in journalism after following the weekly reports of the Muppet News Flash as a child. In high school she wrote for her student newspaper and attended a journalism camp at SUNY New Paltz, her Hudson Valley hometown. Jenna then went on to study communications and journalism at Seton Hall University in South Orange, N.J. where she earned her Bachelor of Arts degree.
In 1999, Jenna took her first job in the business as a production assistant for 1010WINS eventually working her way up to assistant editor. Working in a busy New York newsroom, she quickly learned what it takes to churn out a factual, engaging and newsworthy story on deadline.
From there she took her first on-air position at WBGO, Newark Public Radio and began a lifelong love of public broadcasting. After WBGO, Jenna spent 6 ½ years writing, reporting and producing All Things Considered for WNYC in New York City. Her work has also aired nationally on NPR.
Producing was great and an excellent learning experience, but Jenna's first love was reporting and so in 2013, she took a chance on herself and left New York City to do statewide public radio and television reporting for the Innovation Trail. She also covered state politics for New York NOW, the award-winning public affairs show, which airs on Albany's PBS stations WMHT.
It didn't take long for New York City to come calling again and in 2015, Jenna began contributing her statewide reports to WNET Thirteen's news magazine MetroFocus. In 2016, Jenna joined the MetroFocus team as a fulltime journalist and host.
*non SUNY New Paltz alumna