Gorgette Y. Green-Hodnett '91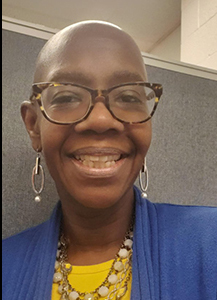 Middle School Instructional Resource Teacher
Charles County Public Schools
MAJOR: Black Studies
---
Gorgette Green-Hodnett arrived as a freshman at SUNY New Paltz in the Fall 1986 to study elementary education with a minor in mathematics. While a student, Gorgette was advised to change her major. Her adviser felt that as an education and math major, "you aren't earning enough As & Bs". Having already earned 21 credits in mathematics, she reluctantly took her advisor's advice and redirected her energy to complete a Bachelor of Arts degree in Black Studies. With a desire to embark on a career in Student Affairs after graduation, Gorgette moved to New England to work at Framingham State College in Framingham, Mass. That move began a thriving career in Student Affairs. After three years as a residence director, Gorgette accepted a position as assistant director of residence life at Simmons College in Boston. Within the next three years, Gorgette bsecame the assistant director of campus life and student activities. In 1998, Gorgette relocated with her growing family to Maryland. Her spouse accepted a new opportunity in Washington, DC. Gorgette decided the move would allow her a new opportunity to pursue her childhood desire to become a math teacher.
For the past 20+ years, Gorgette has worked for the Charles County Public Schools (CCPS). After completing a non-traditional program towards teacher certification, Gorgette has spent her entire career working in middle school education. She has served in various capacities including classroom teacher and math department chairperson. For three years, Gorgette served as a full release mentor teacher. In this capacity, she supported new teachers to the profession and those who were new to CCPS. Currently, Gorgette is one of eight Instructional resource teachers. In this role, she is the school based instructional leader promoting best practices in math instruction and the integration of instructional technologies.
Gorgette is passionate about teachers; creating opportunities to offer online coaching on teacher development and empowerment. Gorgette has taken her passion to co-create weekly webinar series for educators called, "Real Talk, Real Time with Chandra and Gorgette". "We firmly believe that just as every student deserves high-quality teachers, every teacher deserves high-quality coaching and support for continued growth and development". The webinars have supported teachers from coast to coast.
Gorgette earned a Master of Science degree in Human Service Management at Worcester State College (MA) and a Post-Bachelor Certificate in Administration I from McDaniel College (MD). Gorgette was recently recognized by the SUNY New Paltz Alumni Association with the 2020 Service Award. Gorgette is a Life Member of the Eta Omicron Sigma Chapter of Sigma Gamma Rho Sorority, Inc.; an organization that she joined as an undergraduate at New Paltz in 1988.
Gorgette is married to Reverend Calvin Hodnett '90 and proud parent to Malcolm and Miles G.