Kassandra
Kassandra Diaz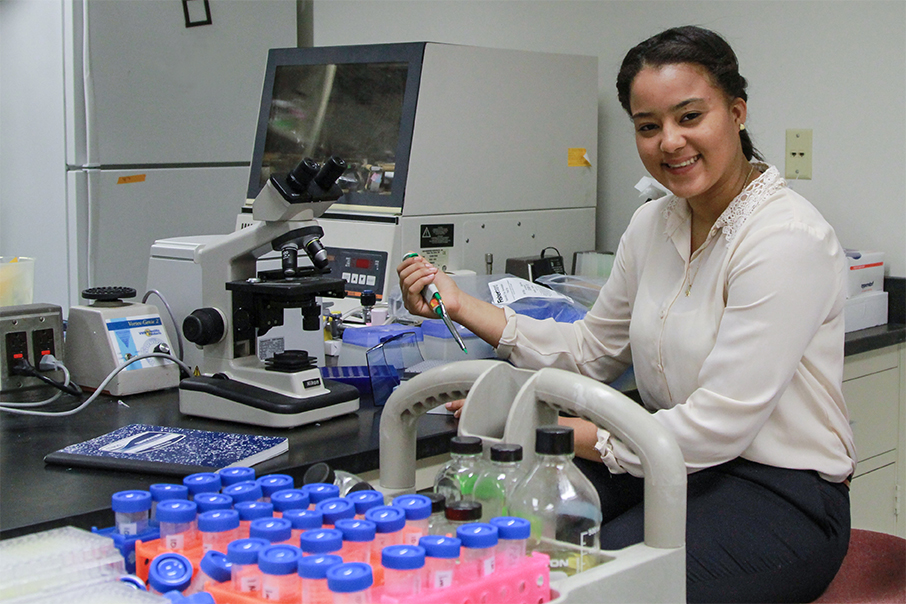 With small class sizes and a slew of research opportunities, meaningful student-faculty relationships abound at SUNY New Paltz. The AMP and CSTEP Community (AC²) is a true embodiment of the College's commitment to making these relationships possible for all students, particularly those who are underrepresented in certain disciplines.
Directed by Physics and Astronomy Department Chair Stacie Nunes with assistant director Reena DePaolo, AC² is a program of academic support and enrichment for students intending to major in the STEM (science, technology, engineering, mathematics) fields, as well as certain majors leading to licensed professions. The goal of the program is to increase the number of economically disadvantaged and traditionally underrepresented students who earn degrees in biology, geology, physics, chemistry, engineering, psychology, computer science, mathematics, and science/math education.
"One of the keys for success for our students is to surround oneself with others who share that same STEM and psychology mindset," said DePaolo. "Our hope is that our students will look to others within the AMP and CSTEP Community for support and encouragement, and help us build a network of student, faculty, and alumni scholars committed to the same goals."
Support for AC² is provided by the SUNY Louis Stokes Alliance for Minority Participation (AMP), a coalition of institutions funded by the National Science Foundation; and the Collegiate Science and Technology Entry Program (CSTEP), funded by the New York State Department of Education.
The AC² program enables students to work directly with science faculty on focused research projects which culminate in a final presentation. Additionally, each AC² student is assigned an advisor and can access a special network of peer and professional tutors, as well as refresher workshops in specific science and math courses. Students are not only paired with science professors for their research, but also coached by communication professors in "talking about science to non-science people." Being able to effectively communicate scientific ideas to a lay audience is a vital skill necessary for students to advance their careers and make industry contacts, Nunes and DePaolo said. Travel funding is also available for students to present their work at academic conferences.
AC² students can save money by borrowing books and calculators through the Lending Library, and have the chance to win bookstore gift cards by maintaining high GPAs and participating in events. Students can also apply for one of eight annual AMP and CSTEP Outstanding Scholar Achievement Awards, the winners of which receive honorary plaques and cash prizes between $250 and $750 at the annual AC² Recognition Dinner.
"My first semester here, I spent over $300 on textbooks – but ever since I joined the (AC²) program, I haven't had to buy a science book," said SUNY New Paltz senior Maria Ortiz, a biochemistry major.
AC² prides itself in working with students to tailor their majors to their interests. All activities and services are planned with the goal of catering to student needs. For example, DePaolo said STEM and underrepresented students tend to study abroad less than average, which prompted her to organize an AC² overseas trip to Madrid. Students in the STEM field also commonly end up attending graduate school, so DePaolo took a group of AC² students on a tour of graduate schools in the Boston area, and arranged for them to meet with faculty and fellow students in their fields. Other career guidance and professional development opportunities with AC² include meet-ups with faculty and professionals for informal discussions, science seminars, and guidance with cover letters and narratives.
"It's one of the best decisions I've made," said SUNY New Paltz senior Kasandra Diaz, a psychobiology major. "Through AMP-CSTEP, I'm able to participate in research teams and go to conferences where I meet other students who are interested in biology and psychology. It's a program a lot of students are not aware of, that they should be aware of."