van den Berg Hall
The School of Business is located in the van den Berg Hall (VH). The American School and University Magazine recognized VH for its outstanding design in the August 2006 edition of the magazine. The building houses all faculty offices, administrative offices, classrooms and discipline oriented labs designed and equipped exclusively for the School of Business.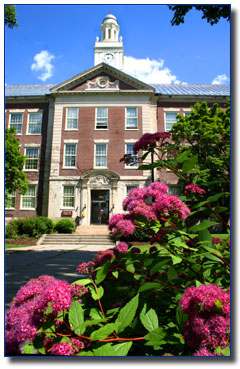 The VH is a wireless environment that contains smart classrooms with all state of the art technological equipment. The building has two computer labs with top of the line hardware and software, one of which is a trading room. In addition, the School of Business has an IBM e-Business Virtual lab to support educational and research activities in all Information Technology related fields at the School using the IT infrastructure provided by a leading technology innovator, IBM.
There is a friendly and well-equipped student lounge, with a dedicated space for our career, writing, math and library assistants, graduate assistants and tutors. Study nooks with seating and writing surfaces are located throughout the building. There are LCDs on every floor displaying top business news, stock information and School of Business events and announcements.
The School of Business Leadership Lab (VH 219) takes our educational environment beyond the traditional classroom. Equipped with professional video equipment, the lab functions as a simulated business setting, where students give presentations, facilitate meetings and work on team projects – all in front of the camera. Students can review their performance with their professors and quickly sharpen their leadership and team building skills. This lab also houses an extensive library of current literature in the field. The lab is dedicated to student association meetings, leadership activities, presentations and team building, other time will be dedicated to studying and reading. Business students will need to reserve the room ahead of time with the School's Main Office (VH 312 or 845-257-2930).
The Kenneth D. Pasternak Trading Room (VH 221) is a place for accounting and finance majors to get a real world experience using specific software, or having workshops. We have Stock Trak software that is used in Investment classes. Stock Trak is a web-based software package that simulates markets and allows students to invest in a virtual brokerage account and manage a portfolio.