Hall of Fame: Vincent Cozzolino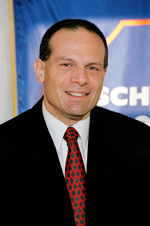 Alumnus of the Year
Vincent Cozzolino
Vice President of eServer Development Operations IBM
Vincent Cozzolino is the Vice President of eServer Product and Quality Engineering Operations.
Mr. Cozzolino holds a Bachelor of arts in Physics and Bachelor of Science in Electrical Engineering which he obtained at SUNY New Paltz. He has completed advanced coursework towards a Masters' in Physics. He holds two US patents; one on a unique testing process for advanced printed circuit boards and the other on a packaging design.
Mr. Cozzolino is a member of the State University of New York (SUNY) at New Paltz Business Advisory Council and serves on the Technology Committee of this council. He also is the Chair of the SUNY New Paltz Engineering Advisory Council and co-chairs the Engineering Week events on campus. Mr. Cozzolino has also participated in several community related activities. He assisted the New Paltz School District in bringing computers into its schools. He has also worked for nearly 10 years as an avid coach and administrative help for the New Paltz Baseball Association, managing teams from 8 to 15 year old.
Mr. Cozzolino's level of achievement at IBM speaks volumes to his qualities of leadership and abilities to execute, particularly in this ever-changing business environment. He has, and continues to, strive for business excellence in the local community, influencing a broad range of professional and personal achievements.