Hall of Fame: Thomas D. Weddell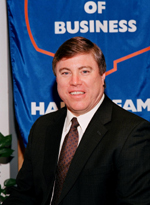 Business Person of the Year
Thomas D. Weddell
Managing Partner
Vanacore, DeBenedictus, DiGovanni & Weddell
Thomas D. Weddell is a Business Development Consultant and industry recognized Certified Public Accountant with more than 26 years of experience. Mr. Weddell is a 1974 graduate of Cornwall High School, a 1976 graduate of Orange County Community College earning an Associates Degree in Accounting, and a 1978 graduate of SUNY Albany earning a BS in Accounting.
In addition to being dedicated to helping his clients succeed, Mr. Weddell has been serving as the Managing Partner of Vanacore, DeBenedictus, DiGovanni & Weddell, LLP, CPAs, since July 1996. Mr. Weddell started with the firm in September 1978 and became a Partner in January 1984. His dedication to his clients and his outstanding mentoring ability to his Team led Mr. Weddell to become a Partner in the firm just 6 short years after he was hired.
Mr. Weddell is a graduate of Results Accountant Systems School for Business Development and he was recently inducted into the Results Accountants' Systems Hall of Fame. Mr. Weddell is also a graduate of the Business Advisor Program from the prestigious University of Chicago Graduate School of Business Executive Program. He is also a 1980 Dale Carnegie Training graduate, and a 1996 Leadership Orange graduate.
Mr. Weddell's current memberships include: Orange County Citizens Foundation, Mid Hudson Pattern for Progress, The Powelton Club, Newburgh, Orange County Community Foundation, SUNY School of Business Advisory Board, NYS Society of CPAs, NYS Society of CPAs (Mid Hudson Chapter), American Institute of CPAs, Hudson Valley Estate Planning Council, Business Marketing Association of the Hudson Valley, and New Paltz, Orange County, Ulster County, Poughkeepsie Area, and Greater Southern Dutchess Chamber of Commerce.
To quote Mr. Weddell, "My role in helping clients is to serve as a financial coach". Mr. Weddell's passion for winning was developed as an athlete as a youth. Today, that passion is applied to his work, coaching sports and raising his three athletic children. From sports, Mr. Weddell learned that winning takes hard work and dedication. You need to continue to improve your abilities. Mr. Weddell applies that same lesson to his client's businesses. It takes time and hard work to build a winning business, but victory is sweet. His personal attention to his client's game plans and his extensive knowledge base have helped his client's win the game of business.
Tom was born and currently resides in Newburgh, New York with his wife Michelle and has three children, TJ, Erin, and Michael. Tom became a grandfather for the first time in 2003 to Brody.