Hall of Fame: Taylor N. Thompson, Sr.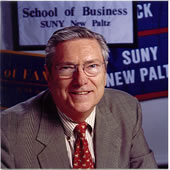 Business Person of the Year
Taylor N. Thompson, Sr.

Taylor N. Thompson is a business executive committed to strengthening the synergy between business and education for their mutual benefit. A long time friend and supporter of the School of Business, Mr. Thompson is the Chairperson of the Business Advisory Council and actively leads the membership in advising and assisting the School of Business in the areas of Technology, Business Outreach, Curriculum, and Internship & Job Opportunities.
Educated at Columbia University, Mr. Thompson eventually established FTS Systems, an international scientific equipment manufacturing company. After selling the company in 1996 and retiring in 1998, Mr. Thompson moved on to become an associate of Sperry Mitchell & Company where he represents owners of privately held companies seeking to sell or merge.
He shares his business expertise with the regional business community through his active participation in organizations such as the Council of Industry of Southern New York, Mid-Hudson Pattern for Progress, and SUNY New Paltz Foundation. Mr. Thompson has developed initiatives in supervisor training, safety training, and business development. He is considered an expert in the area of freeze-drying and holds six US patents, mainly on the automations of the process.
With his wife, Elizabeth, he has underwritten several scholarships for Chinese students to study at the School of Business. One of Mr. Thompson's Scholarship recipients, Yang Li, said it best, "The integrity and wisdom demonstrated by Mr. Thompson inspire us in our future career developments."