Hall of Fame: Shaun Hoff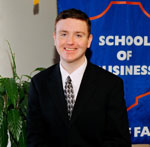 Student of the Year
Shaun Hoff
Shaun Hoff graduated with a B.S. in Management from SUNY New Paltz in 2002. He chose to continue his education at SUNY New Paltz and is presently a student in the MBA program with a concentration in Management.
Shaun has become involved in a number of different activities that have been in direct support of the educational mission of the School. Shaun has also served as a member of the Dean's Student Advisory Board, and has participated in a number of School events, including Open House, Alumni Weekend, and Accepted Students' Day.
An active member of the campus community, Shaun is a founding member of the Management Association (MA), the SUNY New Paltz Chapter of the Society for Human Resource Management (SHRM). He worked in the organization since its inception in Spring 2001, taking on roles of increasing responsibility along the way. In 2001, Shaun served as Secretary of MA and was recognized with an Outstanding Student Service Award. Shaun has been MA President since May 2002 and, in that role, has guided MA to being honored as a Superior Merit Award Student Chapter by the Society for Human Resource Management, which is an honor that only 25% of all SHRM student chapters receive.
As President of MA, Shaun developed and implemented the Student Development Day Conference, a full day professional development conference. Student Development Day allows student attendees to develop new skills typically not learned in the classroom and better prepares college students as potential employees. In addition, Shaun has attended numerous events sponsored by the Mid Hudson Human Resource Association. Shaun received high praise from the professional members for being an enthusiastic ambassador of the School of Business, and a good representative of the student body.
Shaun has also organized community events in the School of Business, including food drives, clothing drives and most recently Operation Christmas Child, a holiday gift drive for children from impoverished countries.
Shaun combines this outstanding array of contributions with excellent academic student performance.