Hall of Fame: Robert Miniger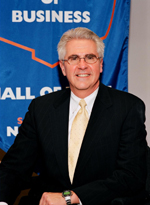 Dean's Award of Excellence
Robert Miniger
Vice President of Human Resources
Balchem Corporation
Robert Miniger is the Vice President of Human Resources of the Balchem Corporation based in New Hampton, New York. In this position, he also serves as Vice President of BCP Ingredients Inc., a wholly owned subsidiary of Balchem. Prior to Balchem, he was the Global Director of Human Resources for PPG Industries Inc. Industrial Coatings Strategic Business Unit. He possesses over twenty four years of Human Resource experience at operational and corporate levels, both domestically and internationally. In his current role of Vice President, Mr. Miniger is fulfilling his goal of optimizing human capital assets to accomplish Balchem's strategic business objectives.
Originally from Erie, PA, Mr. Miniger holds Bachelor of Science from The Pennsylvania State University of University Park, PA.
Mr. Miniger serves as the Chair of the State University of New York at New Paltz Business Advisory Council's Internship Subcommittee. In his role as chair, he has provided strong leadership, initiative, dedication and creative problem-solving regarding efforts to enhance and expand internship opportunities for business students. He has been successful in developing and implementing several new initiatives for the School of Business. He was instrumental in creating the Internship Practicum course that is now required for business students seeking credit for internships. He has also been crucial in bringing a new, internship tracking software, E-recruiting, to the University.
Mr. Miniger has the unique ability to cause people to exceed their own capabilities and sees this as his primary accountability. He strives for excellence and believes in the endless potential of human beings. He is generous with his time, donating countless volunteer hours to the School of Business simply because it gives him joy to contribute to the School and our business students.