Hall of Fame: Paul Daniels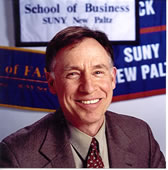 Alumnus of the Year
Paul Daniels '00

Mr. Paul Daniels graduated in the first class of MBA graduates in May 2000 with an MBA in International Business. He has worked for CH Energy Group (formerly known as Central Hudson Gas and Electric) since 1979, and today is a Customer Services Manager.
As a result of Mr. Daniels experience with the Hudson Valley Chapter of the American Field Service organization, he created for the School of Business international students a program named, Friendship Families. This program connects international students to American families so the students have a broader learning experience while in this country.
Mr. Daniels then assisted the School of Business coordinating social activities for scholars visiting our campus as part of a USIA grant from Tashkent State Economic University of Uzbekistan. He has escorted Uzbekistan visitors to New York City, Albany, and numerous cultural sites of the Hudson Valley, which provided them with a better understanding of American culture. He also organized several meeting and tours as well as opened his home to the visitors. His contributions have helped to foster a valuable relationship between Uzbekistan and America.
Paul Daniels is a member of the New Paltz Chamber of Commerce, Orange County Chamber of Commerce, and has served on the Board of Directors for the Hudson River Housing, Builders Association of the Hudson Valley, and McQuade Children's Services.