Hall of Fame: Lisa Greco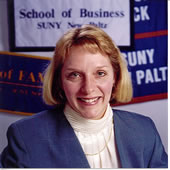 Student of the Year
Ms. Lisa Greco

Ms. Lisa Greco is one of the top students in the MBA program at SUNY New Paltz. Ms. Greco stands apart from her peers because of her strong analytical skills, as well as her knack for thinking "out-of-the-box" while developing creative and sound marketing recommendations in a problem-solving context. She is an inquisitive, enthusiastic, and highly motivated student who adds value to our classes, and is an asset to our MBA program.
She presently works for the Saugerties Central School District in the computer lab. Previously, Ms. Greco was the District Office Liaison for the New York State Assembly who provided invaluable assistance to the School of Business in obtaining approval for the MBA program.
As District Office Liaison, Ms. Greco was given the responsibility of handling the matter of the MBA approval for the Assemblyman. She spent a considerable amount of time and effort contacting people at the Education Department, Governor's Office, and the SUNY Board of Regents on his behalf to reiterate the importance of the MBA program designation for SUNY New Paltz and the Mid-Hudson Valley.
It is only fitting that Ms. Greco be recognized for her outstanding academic performance and for her devotion to SUNY New Paltz School of Business.