Hall of Fame: Jumpei Onozuka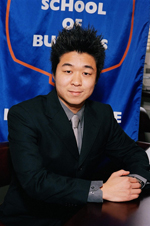 Student of the Year
Jumpei Onozuka
Accounting and Finance Major
Mr. Jumpei Onozuka is an undergraduate student majoring in Finance and Accounting, and minoring in Economics. He has maintained a GPA of 4.0 and plans to graduate in May 2007.
Mr. Onozuka has been the President or Co-President of the newly formed International Student Union (ISU) for the past three semesters. Under his leadership, the ISU has organized some very successful events for the international student community on campus, including soccer matches between the ISU team and the SUNY New Paltz Men's Soccer Team, ISU Relay for Life team, and a number of international student sporting, cultural and social events.
Currently, Mr. Onozuka is the President of the Dean's Student Advisory Board (DSAB), on which he has been a member for a year and a half. He successfully recruited new members, promoted the Business Plan Contest, and initiated and coordinated the Business Student Association BBQ. He also created last year's School of Business CD Yearbook, which was presented to the audience of over 200 students, friends and families at the Annual Award Ceremony.
In addition to ISU and DSAB, Mr. Onozuka is a member of the Accounting and Finance Association, and the Asian Student Association. He was a Student Senator for the Student Association and was a member of the Circle K International in the Fall 2004 and Spring 2005 semesters. He is a Resident Assistant in his residence hall, student assistant for the School of Business and member of the SUNY New Paltz Soccer Team.
This summer, Mr. Onozuka will participate in an internship program with the Financial Services Offices of Ernst & Young in Stamford, CT.
Mr. Onozuka was the recipient of the Roger Bowen Scholarship, Wachovia School of Business Scholarship and Urban Financial Services Coalition Scholarship.