Hall of Fame: Joan Lawrence-Bauer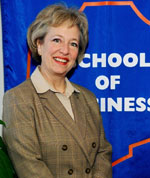 Alumna of the Year
Joan Lawrence-Bauer
Joan Lawrence-Bauer is the President of Business Development Group, a small- business consulting firm and handles Business Development and Communication activities for the Kingston Housing Authority. An active business professional, she has more than 30 years of field experience in public communication, business ownership and management, and teaching positions. Having started her career in retail services, she spent 18 years in the travel, tourism and hospitality industry and has also worked in and with health care facilities, insurance firms, retail and direct mail sales concerns, real estate sales development, and manufacturing, distribution, and fulfillment operations.
Joan Lawrence-Bauer holds a Bachelor of Arts degree (summa cum laude) in Public Communication from SUNY New Paltz (1993) and has completed course work for a Master of Arts degree at the University at Albany. She has lectured extensively in Communication and Media studies at the State University of New York at New Paltz and Ulster County Community College. She serves as Vice Chair of the Board of Directors for the Ulster County Chamber of Commerce and as a board member for the Ulster County Development Corporation.
Joan Lawrence-Bauer has been a constant source of creative ideas and energy to many organizations during her career, including the SUNY New Paltz Business Advisory Council, the Ulster County Chamber of Commerce, the Ulster County Development Corporation, the M*ARK Project, the Margaretville Memorial Hospital, the Catskill Women's Network, the Lodging & Business Association and the Belleayre Conservatory.
The foundation of her success has been strong grounding in academic theory coupled with practical application of those theories to a wide range of real world business situations. But she may best be remembered for her unparalleled devotion to helping individuals reach their goals, particularly SUNY New Paltz students and young business professionals, through mentoring, internship and independent study programs.