Hall of Fame: Jayashree Kasi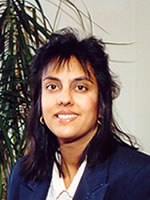 Alumna of the Year
Jayashree Kasi CFA, CPA

Jayashree Kasi is the First Vice President at Citigroup. She is one of the Divisional controller at CitiCapital (Citigroup's Leasing and Financial Solutions Division) in Harrison, New York. She has been with Citigroup for six years. Prior to joining Citigroup, Jay was an Assistant Treasurer at General Re Corporation within their Investment Accounting and Financial Reporting area. She began her career with KPMG Peat Marwick in Stamford, Ct. in the Audit Division.
Jay earned her B.S. in Accounting (Magna Cum Laude) from SUNY New Paltz in 1990 where she had served as President of the Financial Management Association and also received the Wall Street Journal Achievement Award. She is a Chartered Financial Analyst (CFA) and an Certified Public Accountant (CPA) in New York State. For the last several years, Jay has been involved with the Alumni Mentor Program by providing support, encouragement, and guidance to undergraduate students.
Jayashree is a member of the Business Advisory Council Internship & Job Opportunities Committee.