Hall of Fame: Ira Fusfeld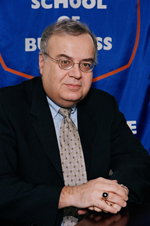 Alumnus of the Year
Ira Fusfeld '70
Publisher
Daily and Sunday Freeman
Mr. Ira Fusfeld has been the publisher of the Daily Freeman and Sunday Freeman of Kingston, N.Y. since 1987, rising through the ranks from sports writer, to sports editor, to editor, to general manager and finally to publisher in a 35-year career with the newspaper. He is also publisher of the Taconic Press weekly newspaper group in Millbrook, N.Y. and senior publisher of Journal Register Company's Mid-Hudson cluster of newspapers and other publications. In 2002, Mr. Fusfeld was named Publisher of the Year by the Journal Register Company.
A New York City native, Mr. Fusfeld is a 1970 graduate of SUNY New Paltz. He has been a member of numerous civic and professional organizations, among them the statewide New York Newspaper Publishers Association, of which he served as Chairman of the Board of Directors and Chairman of its legislative committee. He has been a member of the board of the Ulster County Economic Development Corporation, the Management Council of the Hudson Valley Economic Development Corporation, and the board of Mid-Hudson Pattern for Progress, as well as Vice Chairman of the Chamber of Commerce of Ulster County. Mr. Fusfeld also served on the board of the United Way of Ulster County and on the College Council at SUNY New Paltz. Mr. Fusfeld is a past trustee of the SUNY New Paltz Foundation, of which he was Chairman. He is a currently member of the American Society of Newspaper Editors and the WAMC Northeast Public Radio Board of Trustees, in addition to the Communications Advisory Council of Ulster County Community College.
Mr. Fusfeld has been a master of ceremonies and/or guest speaker at a number of area functions, and he is a frequent guest on local radio and TV talk shows, including WAMC Northeast Public Radio's "The Roundtable" and "The Media Project."
Mr. Fusfeld and his wife, Eileen (SUNY New Paltz Class of '72), have two grown sons and a granddaughter.