Hall of Fame: Clifford M. Miller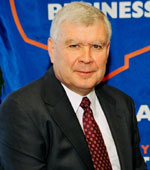 Business Person of the Year
Clifford M. Miller
Clifford M. Miller is the President and CEO of Ulster Savings Bank. Today, Ulster Savings Bank offers an extensive array of financial products and services to the Hudson Valley community. As chairman, CEO and President of Ulster Savings Bank, Mr. Miller manages a growing community bank. As a demonstration of the bank's commitment to improving the quality of life in the communities where it conducts its business, Mr. Miller initiated the formation of a foundation funded by the bank, which will provide financial support to not-for-profit organizations.
Mr. Miller is a graduate of Kingston High School and holds a Bachelor of Arts degree with a major in Economics from Rutgers University in 1964. In 1972, he received a Teaching Degree from SUNY New Paltz. In 1980, he graduated from the National School of Banking at Fairfield University.
Mr. Miller is very active and, in several cases, holds leadership positions in many organizations, which benefit not only the regional business community, but also seek to improve the lives of the people who live and work in the Hudson Valley. The following are organizations that Mr. Miller gives his time to: New York State Banking Board, New York State Business Development Corporation Board, Community Bankers Association of New York State, America's Community Bankers Professional Development Committee, SBLI USA Mutual Life Insurance Company, Mid-Hudson Pattern for Progress, Ulster County Development Corporation, SUNY New Paltz Foundation Board, Ulster County Community College Foundation Board, and the Business Advisory Council of the School of Business at SUNY New Paltz.
Mr. Miller personally believes that successful business leaders have an obligation to give back to the community, specifically to apply their business skills to educate the next generation of business leaders and to help improve the lives of those less fortunate.