Hall of Fame: Carl E. Meyer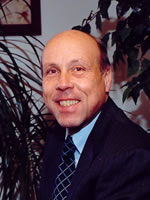 Business Person of the Year
Carl E. Meyer

Carl E. Meyer is the President & Chief Operating Officer for Central Hudson Gas & Electric Corp, which is a regulated electric and natural gas utility serving approximately 625,000 people in eight counties of New York State's Mid-Hudson Valley. He has worked for Central Hudson since 1970, and has held various engineering positions relating to power plant construction, system protection, electric planning, production performance, as well as customer services.
He holds a B.S. in Electric Power Engineering (1969) and an M.E. in Electric Power Engineering (1970) from the Rensselaer Polytechnic Institute in Troy, New York. Carl is a Registered Professional Engineer in New York State.
Carl currently serves on Board of Directors of Family Services, Inc. (Chair), Mid-Hudson Pattern for Progress, Inc. (2nd Vice Chair), Mount Saint Mary College (Chair, Development Committee), Vassar Brothers Medical Center, and the Winnakee Land Trust (Treasurer). He is also Chair of the SUNY New Paltz Business Advisory Council Technology Committee.
Carl has previously served on the Board of the Family Partnership Center and the United Way of Dutchess County (1993 Campaign Chair).